Best Monkey Knife Fight picks for Thursday Night Football: Rams vs Seahawks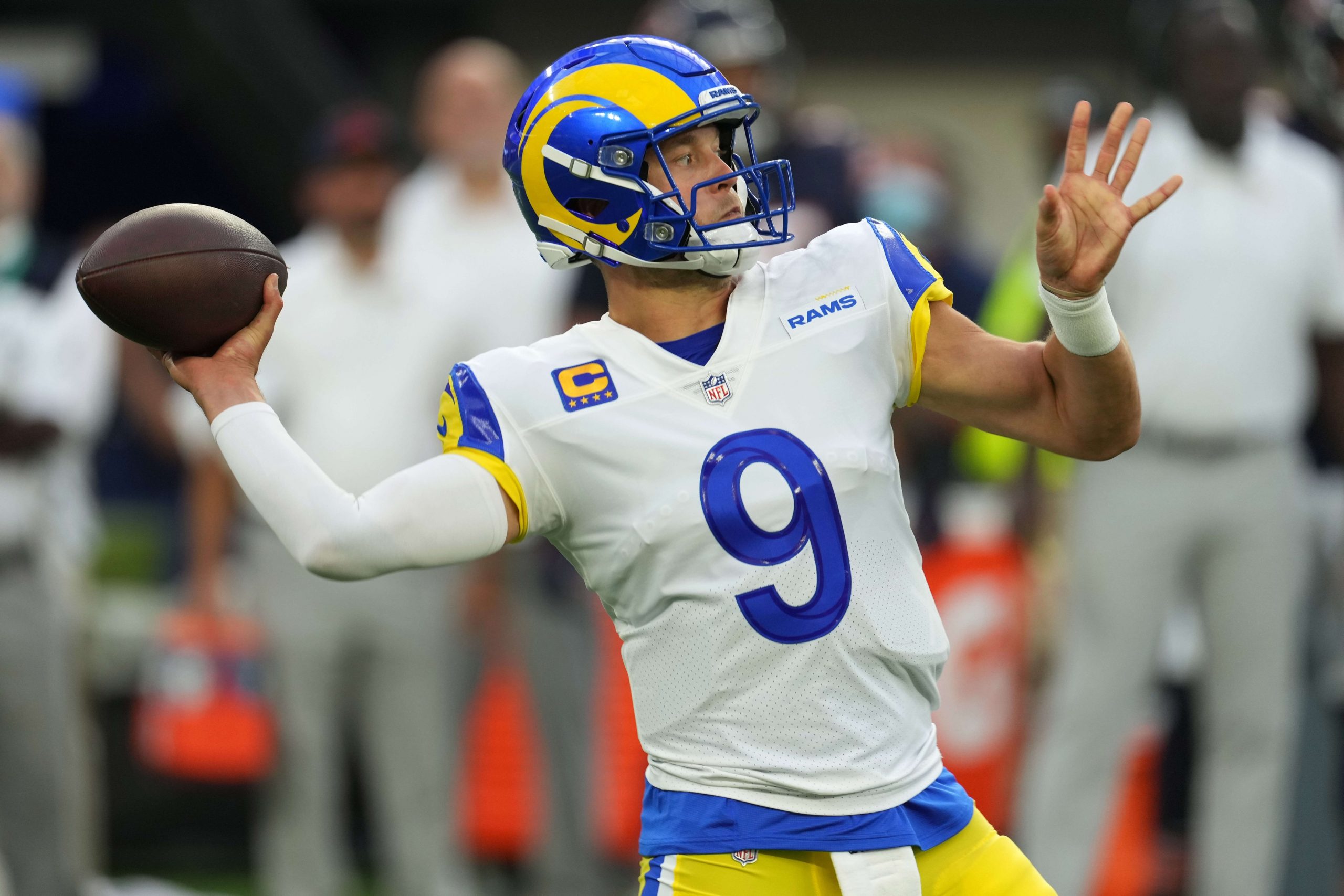 Thursday Night Football is back for Week 5. The NFL's primetime standalone games have been awesome so far, and hopefully, that can continue here as the Seattle Seahawks host the Los Angeles Rams. It's a pivotal NFC West clash with huge implications for what is arguably the best division in football. The Rams are coming off a disappointing loss to the Cardinals, their first of the season, while the Seahawks improved to 2-2 with a road win over the 49ers.
The public is betting the Rams here and we of course have our own thoughts on the side and total, as well, but right now we're talking Monkey Knife Fight and the games they have available to play for TNF.
MKF is one of the fastest-growing daily fantasy sports sites in the U.S. with a unique offering of player props games. You don't have to play against a bunch of professionals with algorithms and it's super easy to use.
Here are my favorite couple of plays for Thursday Night Football, one 'More or Less,' and one 'Rapid Fire.'
Don't forget to check out our free NFL picks on the side and total for every game in Week 5!
New Monkey Knife Fight customers can take advantage of the promotion below and claim their 100% deposit match up to $100!
'More or Less' – Matthew Stafford more than 301.5 passing yards, Russell Wilson less than 270.5 passing yards
Looking at this passing yards 'more or less,' I'm going 'more' for Matthew Stafford but 'less' for Russell Wilson. The first year of the Stafford/Sean McVay partnership has exceeded even the most optimistic predictions, as the Rams' passing game is back to being dynamic. Stafford is averaging a whopping 9.1 yards per attempt, and should be able to take advantage of a leaky Seahawks secondary. Seattle hasn't exactly faced an elite slate of quarterback so far, and they've still struggled to slow down opposing passing games. In Week 1, Stafford got to 321 yards despite attempting only 26 passes. We certainly don't need a ton of pass attempts from Stafford to get to 302 when the Seahawks are so prone to giving up big plays.
For the second half of this Thursday Night Football  'More or Less,' I'm fading Wilson. For starters, the Rams clearly know how to defend him. In three starts against Los Angeles last year, Wilson had 174, 225, and 248 passing yards. He never came particularly close to eclipsing 270. Jalen Ramsey can take away D.K. Metcalf, and Aaron Donald will provide pressure up the middle to fluster Wilson. It's also important to factor in that Seattle's new offensive coordinator is Shane Waldron, a former McVay assistant. McVay knows what his former passing game coordinator wants to do, and that familiarity will hurt Wilson here.
What is More or Less?
One of MKF's most popular games, More or Less gives you a list of players and their yardage lines, and you simply have to choose More if you think they'll go over, or Less if you think they'll go under. It can include two or more selections, and if you get them all right you win! The more selections there are, the better the payout.
Be sure to check out our full game preview for Los Angeles Rams vs Seattle Seahawks
'Rapid Fire' – Matthew Stafford, Darrell Henderson
For this 'Rapid Fire' we're given the choice of Stafford vs. Wilson +31.5 bonus yards, and Darrell Henderson vs. Chris Carson +15.5 bonus yards. Even with the bonus yards for the Seahawks guys, I still prefer the Rams players. I just laid out why I'm optimistic about Stafford. The best two quarterbacks the Seahawks have faced have been Ryan Tannehill and Kirk Cousins. Tannehill went 27-of-40 for 347 yards against Seattle, while Cousins was 30/38 for 323 yards. Stafford is better than both those guys, and should be in for a big night.
Henderson seems like the no-brainer choice over Carson. First, it's unclear whether Carson is even going to play here. He's dealing with a neck injury that held him out of practice on Tuesday, and even if he gives it a go he won't be 100 percent. Either way he hasn't been seeing a super heavy workload, getting 13 or fewer carries in three straight games. Henderson has been very efficient this season, and even managed to rack up 89 rushing yards last week in a game that the Rams lost by 17. The game-script should be much more favorable on Thursday.
What is Rapid Fire?
Similar to More or Less, Rapid Fire is an either/or game, where you choose players at certain positions, with one getting a headstart over the other (eg Tom Brady +35.5 passing yards and Aaron Rodgers at quarterback), and you decide who you think will come out on top. It can include two or more selections, and again, the more selections there are, the better the payout.
Read our same game parlay for Rams vs Seahawks (+1528 odds!)