Best Monkey Knife Fight picks for Thursday Night Football: San Francisco 49ers vs Tennessee Titans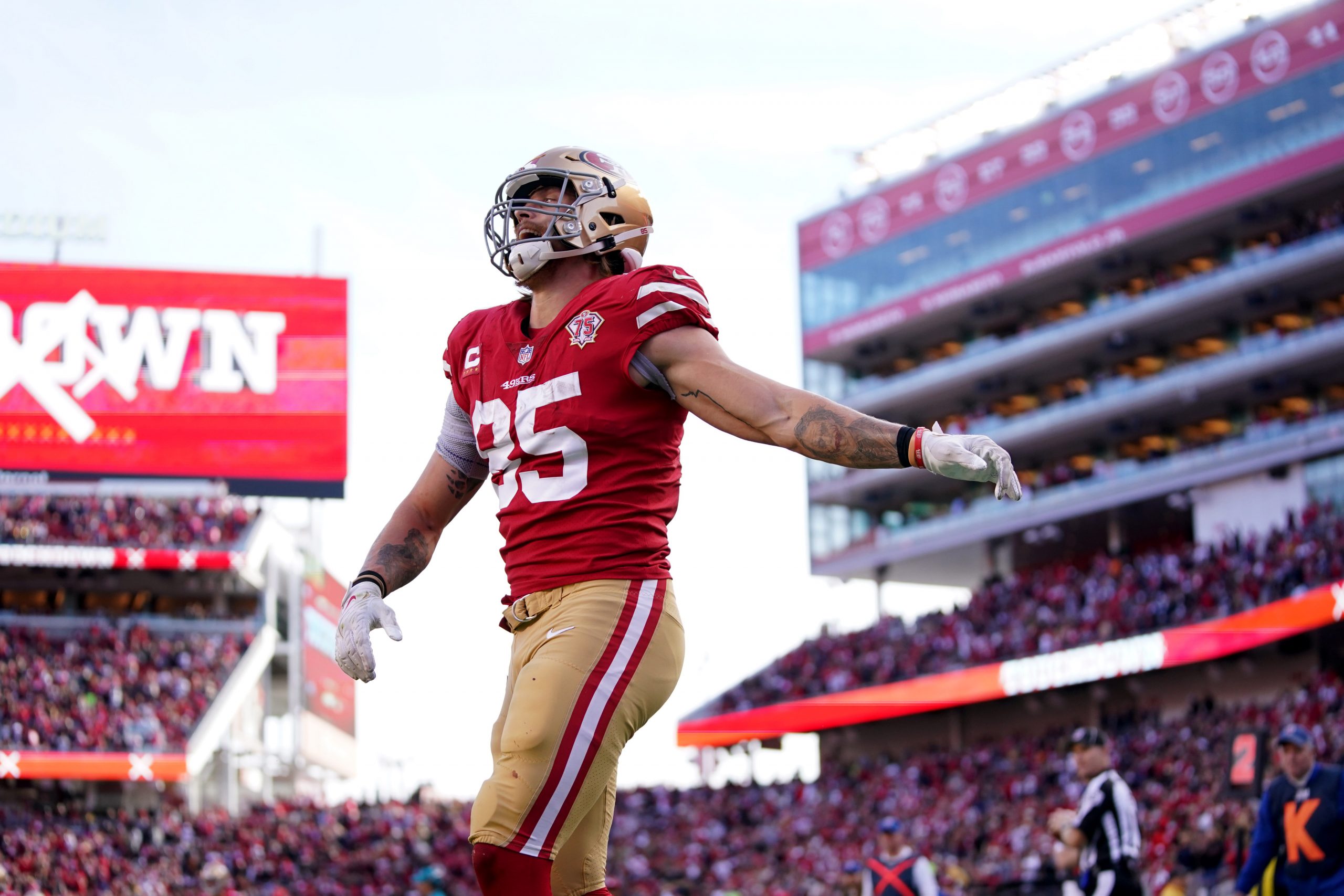 Thursday Night Football is back for Week 16. As we approach the home stretch of the 2021 NFL season it will be an interesting cross-conference matchup between the San Francisco 49ers and Tennessee Titans. Will the 49ers keep their recent momentum going, or will Ryan Tannehill stop the Titans' bleeding? The spread is at right about 3 points with the 49ers being modest road favorites. We of course have our own thoughts on the side and total, but right now we're talking Monkey Knife Fight and the games they have available to play for TNF.
MKF is one of the fastest-growing daily fantasy sports sites in the U.S. with a unique offering of player props games. You don't have to play against a bunch of professionals with algorithms and it's super easy to use.
Here are my favorite couple of MKF plays for Thursday Night Football.
Don't forget to check out our free NFL picks on the side and total for every game in Week 16!
New Monkey Knife Fight customers can take advantage of the promotion below and claim their 100% deposit match up to $100!
Monkey Knife Fight More or Less – Jimmy Garoppolo more than 240.5 passing yards, Ryan Tannehill less than 205.5 passing yards
Looking at this passing yards More or Less, I'm going more for both quarterbacks. Let's start with Garoppolo. He gets talked about like he's one of the worst starting quarterbacks in the league, but like it or not his numbers are great. Jimmy G is averaging an eye-popping 8.5 yards per attempt this season, which is the best mark in the entire NFL. Tennessee's defense is being overrated because they've faced a really soft schedule recently. Four of the Titans' past five games have come against struggling Saints, Texans, Jaguars and Steelers offenses. The one game in that span against a competent offense came against the Patriots, and they gave up 36 points. Mac Jones had 310 yards in that game, so I don't think Garoppolo will have much trouble eclipsing 240 here.
As for Tannehill, I'm no big fan of this Titans offense, but 205.5 feels conservative. For starters, Tennessee's passing game has only been so bad recently because of the injuries. Earlier this week it looked like Julio Jones might miss this game, but then he surprisingly practiced fully on Wednesday and has no injury designation for the game. It also looks like the Titans might get AJ Brown back, which would be a massive boost. And the weakness of this 49ers team is their cornerbacks. This is a team that's relying on 34-year-old Josh Norman to be an every down player.
What is More or Less?
One of MKF's most popular games, More or Less gives you a list of players and their yardage lines, and you simply have to choose More if you think they'll go over, or Less if you think they'll go under. It can include two or more selections, and if you get them all right you win! The more selections there are, the better the payout.
We've hit several TNF same game parlays this season, so make sure you read our SGP for 49ers vs Titans (+1096 odds!)
Rapid Fire – Ryan Tannehill +35.5 over Jimmy Garoppolo, Jeff Wilson Jr over D'Onta Foreman +10.5
For this Rapid Fire we have the choice of Tannehill +35.5 bonus yards vs Garoppolo, and Wilson vs Foreman +10.5 bonus yards. I'm going with Tannehill and Wilson here. 35 just seems like too big of a gap here, for the reasons I outlined for my Tannehill play in the section above. Tennessee's pass-catchers are getting healthier, and San Francisco's secondary is exploitable. I also expect the 49ers to be winning this game late, which means the Titans are likely to be passing while the 49ers are running. Which brings us to the second half of this Rapid Fire.
Playing Wilson correlates nicely with Tannehill. If the 49ers are up big, which I think is a real possibility, the Titans will be chucking while San Francisco looks to kill the clock. Elijah Mitchell is out here, ensuring Wilson has another game where he dominates the running back touches. JaMychal Hasty isn't a real threat to his workload, and Wilson carried the ball 21 times for 110 yards last week. Foreman has been a nice story with a couple of solid games, but I'm skeptical he'll keep it going. The Titans will also be down multiple starters on the offensive line, and the 49ers aren't easy to run on.
What is Rapid Fire?
Similar to More or Less, Rapid Fire is an either/or game, where you choose players at certain positions, with one getting a headstart over the other (eg Tom Brady +35.5 passing yards vs Aaron Rodgers at quarterback), and you decide who you think will come out on top. It can include two or more selections, and again, the more selections there are, the better the payout.
Read PropBetGuy's best player prop for 49ers vs Titans!