NFL Anytime Touchdown Scorer Predictions and Prop Bets for the Conference Championships
As is often the case given that only the best teams in the NFL are still remaining at this point in the season, the star power is off the charts for conference championship weekend. The four starting quarterbacks still playing football are Patrick Mahomes of the Kansas City Chiefs, Josh Allen of the Buffalo Bills, Aaron Rodgers of the Green Bay Packers, and Tom Brady of the Tampa Bay Buccaneers. Three of the four are already Super Bowl MVPs (only Allen isn't) and those three share eight Super Bowl victories (six for Brady alone) and six MVPs (four for Brady). Also taking the field this week are Tyreek Hill, Travis Kelce, Stefon Diggs, and Davante Adams—stars left and right.
Which of those guys have the best chance of scoring a touchdown this weekend? Which longshots could find themselves in the endzone? Let's take a look at the best anytime touchdown scorer bets.
Favored to score – Stefon Diggs, WR, Buffalo Bills (-106)
It took a while for the Allen-Diggs connection to get going in the receiver's first year with Buffalo, but it's positively on fire now. In the last seven games (two playoff outings included), Diggs has caught 61 of 76 targets for 824 yards and six touchdowns. For most WRs in the sport, that is a solid season's worth of stats. Diggs has scored in three of the past four contests, with five TDs in total during this stretch. Kansas City's pass defense is no better than mediocre, so you have to like Diggs' chances of finding paydirt in a third straight playoff game.
Slight underdog – Aaron Jones, RB, Green Bay Packers (+115)
Jones has scored 12 touchdowns this season (playoffs included). It is true that Tampa Bay boasts the No. 1 rushing defense in the NFL, but Jones is not merely a threat on the ground. During the regular season, he caught 47 passes for 355 yards and two scores. With Rodgers obviously drawing a ton of attention and Adams doing the same especially in the red zone (the star receiver has 19 total touchdowns in 2020-21), the Buccaneers may have no choice but to let Jones get loose near the endzone at least once.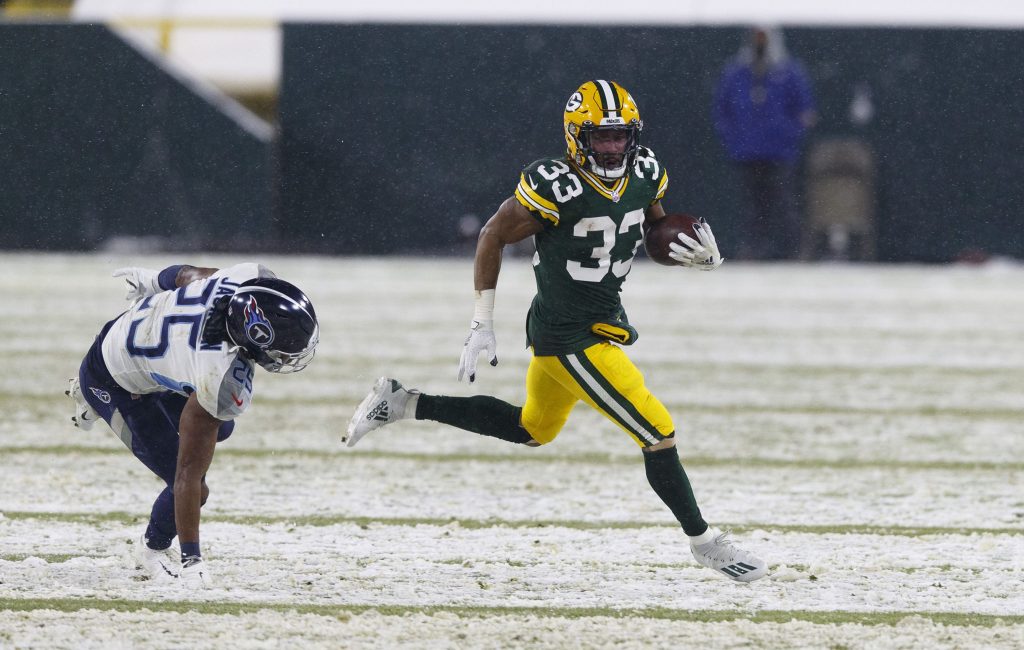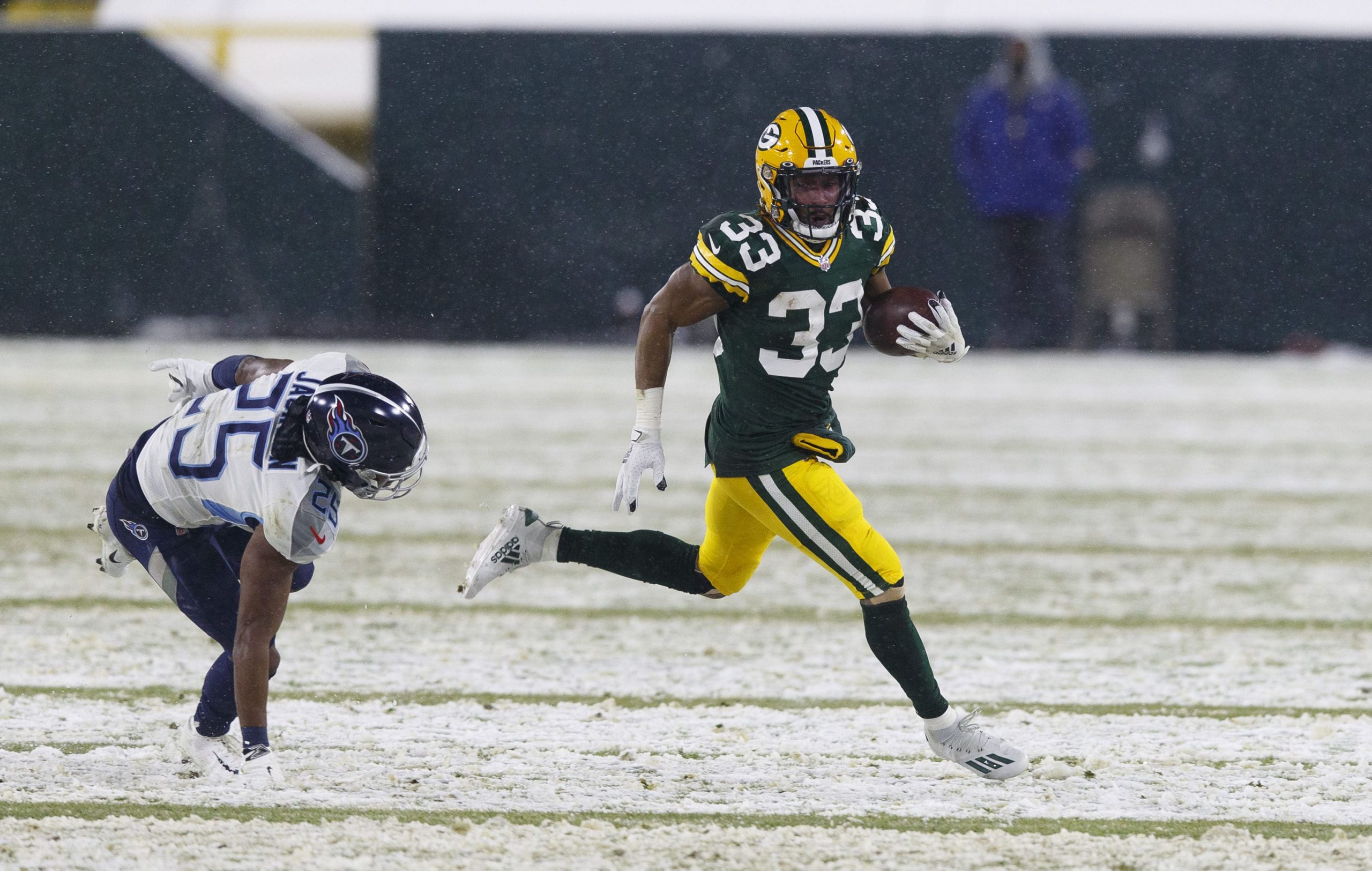 Bigger underdog – Chris Godwin, WR, Tampa Bay Buccaneers (+165)
From Week 16 through the wild-card round, Godwin scored in three consecutive contests (four touchdowns in total during that stretch). He almost found the endzone again in last weekend's 30-20 upset of New Orleans, but a deep ball from Tom Brady went off his fingertips. The former University of Georgia standout still extended his streak of at least seven targets to four straight games. He is getting plenty of chances, and that may result in more touchdown success in Sunday's NFC Championship.
Longshot – Darrel Williams, RB, Kansas City Chiefs (+210)
Clyde Edwards-Helaire (ankle) may be able to return for this one (he is questionable), but the rookie running back has not played since Week 15. Whatever the case, CEH will likely be less than 100 percent and at best his workload will be limited. Le'Veon Bell isn't really a factor in the offense these days and he is dealing with a knee injury of his own, anyway. Williams got 17 touches (13 carries, four catches) against Cleveland last Sunday and parlayed them into 94 yards from scrimmage. He has good value to score a touchdown against a Buffalo defense that allowed the sixth-most rushing TDs during the regular season (21).
Free NFL Playoffs Conference Championship Picks and Predictions
Be sure to check out our full-game previews for every matchup this weekend:
We've also got plenty of expert articles to make sure you're as informed as possible before making your conference championship bets:
Anytime touchdown scorer FAQs
What does "anytime touchdown scorer" mean?
Anytime touchdown scorer is a popular player prop bet that NFL bettors can wager on throughout the season. But what is it, and how do you win?
As the name suggests, placing a wager on the anytime touchdown scorer market is when you tip a particular player to score a touchdown during a game. This can be a rushing or receiving touchdown for an offensive player, or you can wager on a team's defense/special teams to score a touchdown by interception return and fumble return or kickoff and punt returns.
If your player or defense scores a touchdown, you win! The odds will differ from player-to-player depending on the sportsbooks' calculated probability of that player scoring.
Does anytime touchdown scorer include passing touchdowns?
Not for a quarterback, no. A player must get into the endzone, himself, in order to qualify as an anytime touchdown scorer. If a quarterback throws a touchdown pass, only the player who caught it counts as the scorer. If Tom Brady throws a touchdown pass to Rob Gronkowski, wagers placed on Gronkowski as an anytime touchdown scorer will cash. However, those placed on Brady as an anytime touchdown scorer will not. See below for more on what the anytime touchdown scorer market means for quarterbacks.
What does anytime touchdown scorer mean for a QB?
For a wager on a QB to be an anytime touchdown scorer to cash, he must follow the same rules as a running back, tight end, or receiver. He must get into the endzone himself, either as a runner or a pass-catcher.
In the age of the mobile quarterback, QBs such as Mahomes, Allen, Lamar Jackson, and Kyler Murray are often seen rushing in for a touchdown on any given Sunday. And don't forget the occasional Philly Special, either. QBs can sometimes catch passes for TDs, too.
Be sure to check out the Pickswise NFL Computer Picks and score predictions. With predictions available across the top NFL betting markets including Moneyline, Totals, and Against the Spread predictions for every game.