Fantasy football picks, Week 16 positional rankings: Points aplenty in Packers vs. Titans
If you find yourself deep in your fantasy football playoffs, Week 16 in the NFL could be an especially big one you. Even if not, daily fantasy is always there to come to the rescue. Whatever the case, it is always worthwhile to forecast which players are in line to be the most productive on the gridiron. Will Patrick Mahomes slam the door on Aaron Rodgers in the NFL MVP race this weekend? Are Derrick Henry and Travis Kelce once again at the top of their respective positions? Which defenses can be expected to turn in dominant performances?
Let's take a look at our position by position outlook.
Positional rankings
Quarterbacks
1. Patrick Mahomes, KC (vs. ATL)
2. Aaron Rodgers, GB (vs. TEN)
3. Kyler Murray, ARI (vs. SF)
4. Tom Brady, TB (@ DET)
5. Jalen Hurts, PHI (@ DAL)
As if Mahomes—the MVP favorite at -400—needs any help, he gets to face an unimposing Atlanta defense on Sunday. Rodgers also has a friendly matchup on his hands against a Tennessee unit that has an anemic pass rush. Meanwhile, Hurts has looked good in two starts for Philadelphia and now goes up against a Dallas team that has surrendered the most passing touchdowns this year (tied with Jacksonville). Josh Allen would be next on our list, as he is always a strong play even though this week the matchup with New England isn't an ideal one. We also like Lamar Jackson and Deshaun Watson, while caution must be taken when considering Justin Herbert or Russell Wilson for a starting spot.
Running Backs

1. Derrick Henry, TEN (@ GB)
2. Alvin Kamara, NO (vs. MIN)
3. Nick Chubb, CLE (@ NYJ)
4. Dalvin Cook, MIN (@ NO)
5. Aaron Jones, GB (vs. TEN)
Is it going to be a shootout in Green Bay this week? Quite possibly. The Titans' only real defense will be trying to keep Rodgers and company off the field, and the only way to do that is by running the football. Tennessee does that anyway, and Henry—the best running back in the league—should be able to control the clock against a Packers defense that allows 4.5 yards per carry. Cook is a great option in the same game, as well–although perhaps not quite as good as Kamara, Chubb, and Cook. Miles Sanders and David Montgomery also inspire confidence this week thanks in part to favorable matchups. The same cannot be said of Josh Jacobs (vs. Miami) or JK Dobbins (vs. the Giants).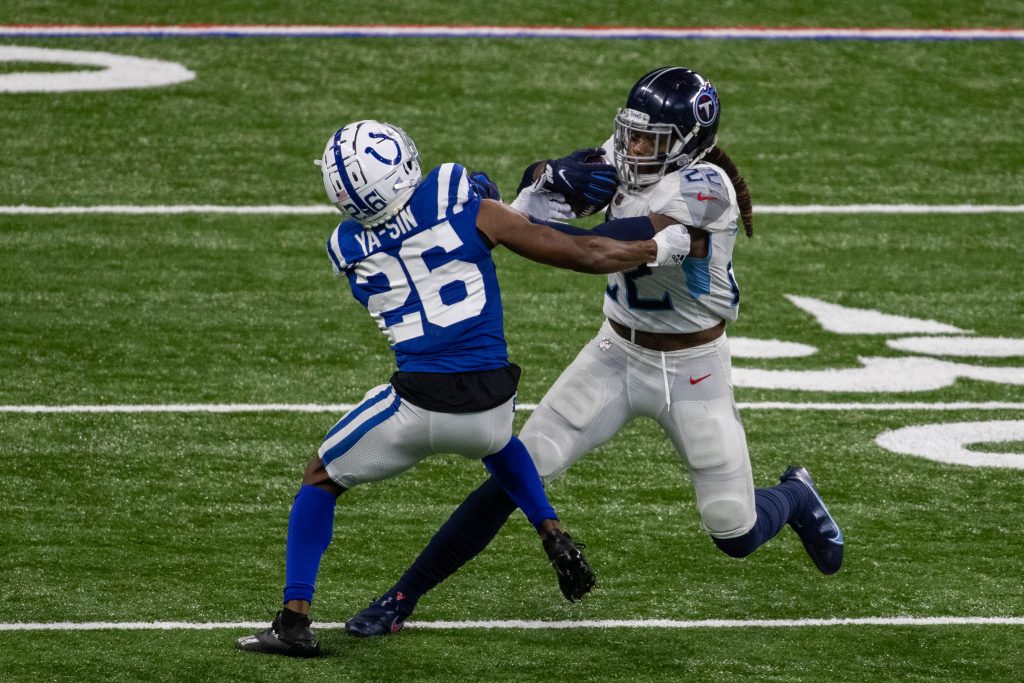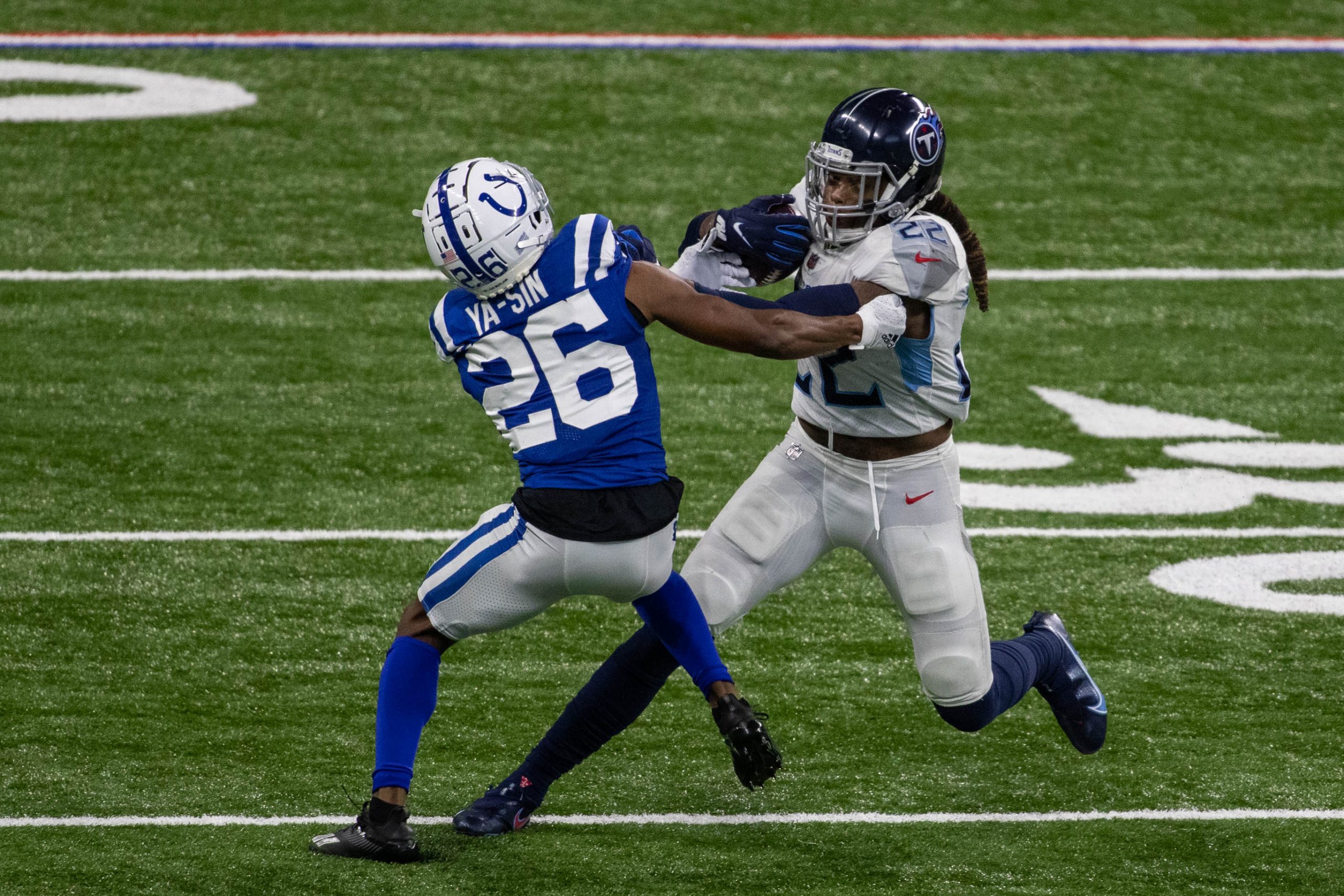 Receivers

1. Davante Adams, GB (vs. TEN)
2. Tyreek Hill, KC (vs. ATL)
3. DeAndre Hopkins, ARI (vs. SF)
4. Stefon Diggs, BUF (@ NE)
5. Calvin Ridley, ATL (@ KC)
As has already been the case on more than a few occasions, Adams and Hill occupy the top two spots among receivers. Diggs is often in the top two or three, but we are knocking him down just a bit because New England's defense ranks sixth in the NFL against the pass and has given up the third-fewest TD passes through the air in 2020. Hopkins has a more favorable matchup with a San Francisco squad that has been eliminated from playoff contention. As for Ridley, he is a force no matter what but he has been even more valuable when teammate Julio Jones is out. Jones is questionable, so continued to monitor his status. Other solid starts at the WR position include Robert Woods, Mike Evans, and Allen Robinson II.
Vote me pro bowl y'all

— CALVIN RIDLEY (@CalvinRidley1) December 17, 2020
Tight Ends

1. Travis Kelce, KC (vs. ATL)
2. Darren Waller, LV (vs. MIA)
3. T.J. Hockenson, DET (vs. TB)
4. Mark Andrews, BAL (vs. NYG)
5. Robert Tonyan, GB (vs. TEN)
Kelce and Waller—in that order—are basically locks for the top two spots on this list week in and week out regardless of opponent. Throw in the fact that Kelce is facing the Falcons and he becomes even more of a slam dunk in the No. 1 spot. Neither Waller nor Hockenson have particular favorable matchups, but they are too good to have any fantasy owner lose faith in their abilities. Tonyan, on the other hand, does have a favorable matchup and should be able to capitalize with Rodgers throwing the ball all over the Titans' defense. George Kittle—if he returns—and Rob Gronkowski could also be worth a look.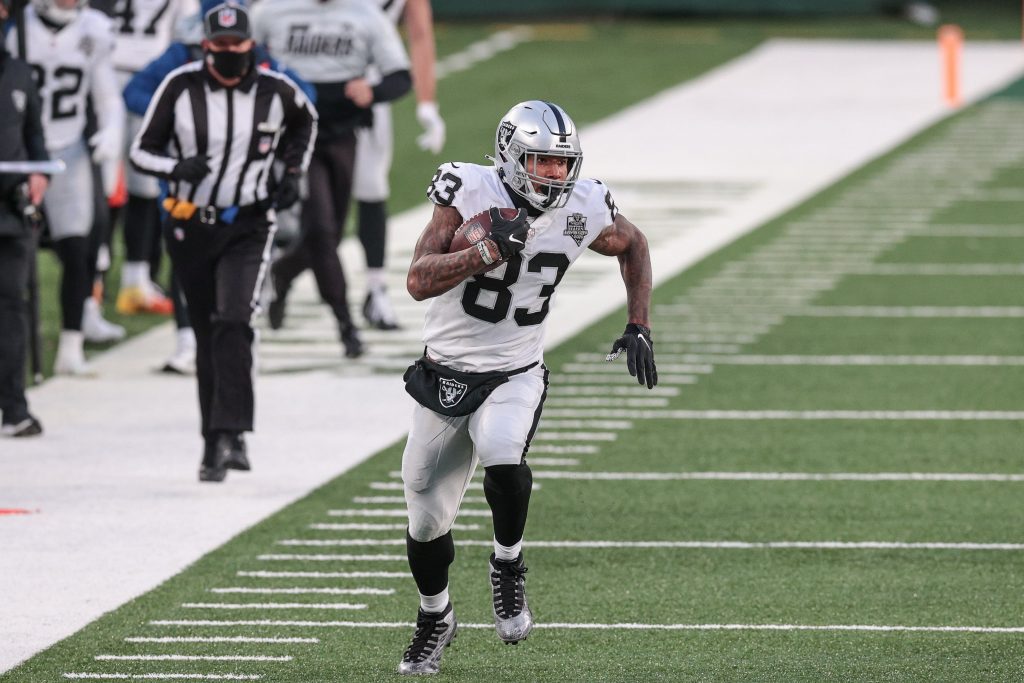 Kickers
1. Harrison Butker, KC (vs. ATL)
2. Younghoe Koo, ATL (@ KC)
3. Justin Tucker, BAL (vs. NYG)
4. Jason Sanders, MIA (@ LV)
5. Cairo Santos, CHI (@ JAX)
There will probably be a lot of touchdowns scored in the Chiefs-Falcons game, but if any redzone struggles ensue (Atlanta is obviously a likely candidate for that) then there could be just as many field goals. Both of the kickers in that contest—Butker and Koo—hold the top two spots in the rankings. Sanders and Santos are not far behind thanks to their respective matchups with Las Vegas and Jacksonville. As always, Rodrigo Blankenship of Indianapolis and Tyler Bass of Buffalo are also solid options.
Defense

1. Ravens (vs. NYG)
2. Bills (@ NE)
3. Football Team (vs. CAR)
4. Browns (@ NYJ)
5. Bears (@ JAX)
Okay, the Rams were an obvious choice as the No. 1 defense last week and they somehow failed to knock it out of the park against the previous winless Jets. That doesn't mean we are about to shy away from the Jets' next opponent. Cleveland's defense is nothing special, but it's still hard to see that New York offense doing something good in back-to-back weeks. Of course, the Browns aren't as valuable as the NFC North rival Ravens. With the Giants paying a visit to Baltimore, this defense could be in line for a dominant performance. Miami (at Las Vegas), Houston (vs. Cincinnati), and Carolina (at Football Team) may find success, as well. Heck, even the Colts (at Pittsburgh) are an option given the Steelers' alarming struggles.
Pickswise is the home of free NFL picks. Check out the latest NFL props and NFL parlays as well as expert underdog predictions and computer picks.