Jared Smith's NFL Week 9 best bets and market insights: Packers not getting enough Love, Josh Allen builds his MVP case, Bengals bounce back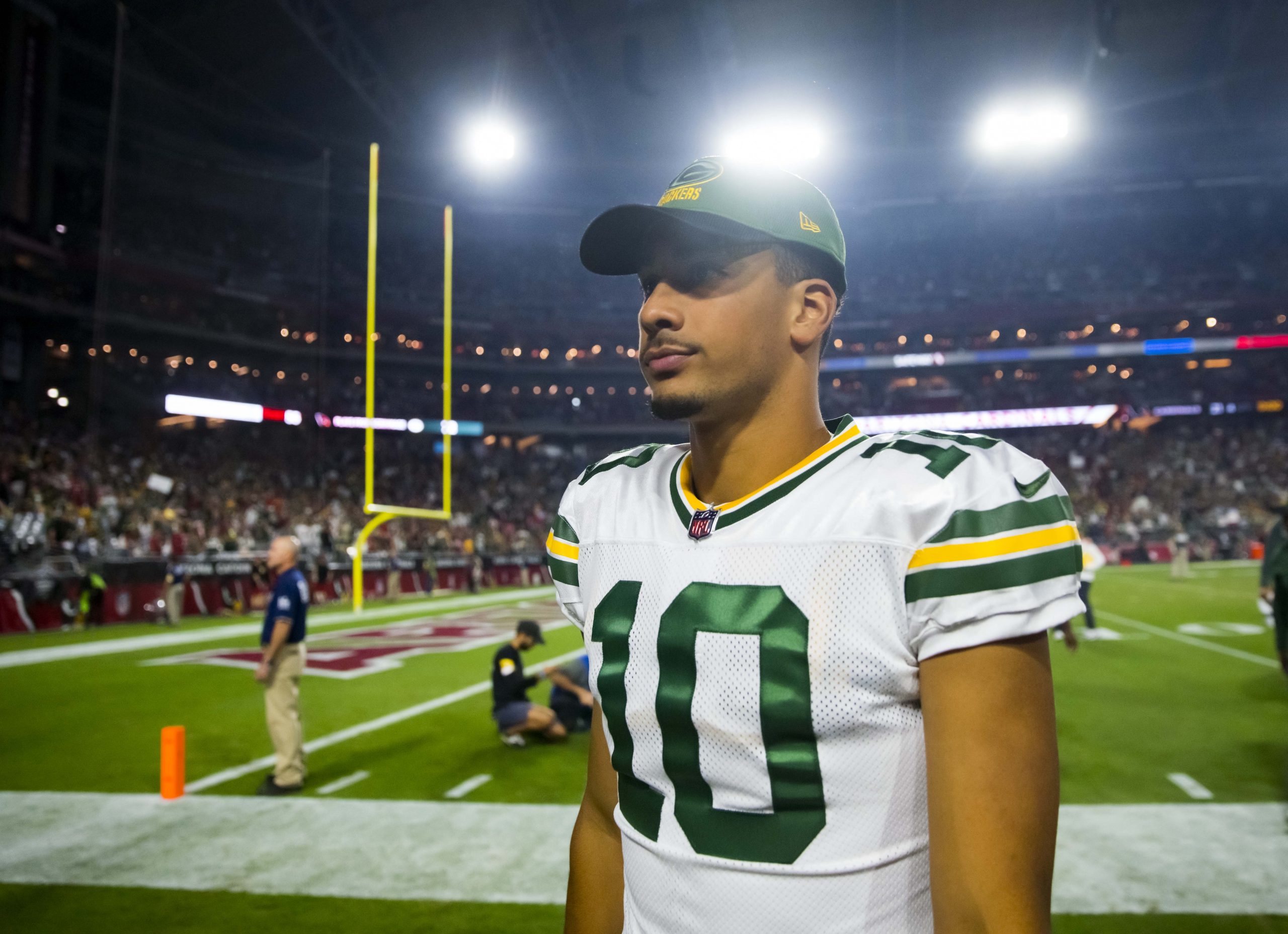 What a wild and wacky week it's been already in the NFL before one game even kicks off. First, we learned about the trade of Von Miller to the Rams, the non-trade of Deshaun Watson to the Dolphins, the injury to Derrick Henry, and the positive COVID test for Aaron Rodgers. I can't recall a two-day stretch where four All-Pro, perhaps Hall of Fame-caliber players, had breaking news surrounding them.
Now that the dust has settled, we can sink our teeth into this week's card. But first, a brief therapy session about last week, which was our worst of the season. I blame Mike White and Cooper Rush, who were the two quarterbacks responsible for the carnage. But there's always a lesson to be learned, and for me, it was that the line usually moves more for one player than the actual true market value, mostly because of public narrative and enhanced media coverage. I will attempt to apply that lesson with this week's selections. Keep in mind, unless otherwise indicated, all bets are a flat 1-unit. 

Green Bay Packers at Kansas City Chiefs
Packers +8.5
*Bet Wednesday at FanDuel, would play down to +7.5
Wednesday morning was exciting. It felt like I was on the floor of the New York Stock Exchange, and just got a call from my commodities chief that it was time to buy. This line was a pick'em when the Rodgers news broke. It reopened minutes later at Packers +8.5, before eventually settling at 7.5 later in the afternoon. I was fortunate to grab 8.5 with Green Bay at FanDuel during the shuffle. I know, Aaron Rodgers is a bona fide Hall of Famer, but if this season (and last week) has taught me anything, it's that these backup quarterbacks are proficient, and it's difficult for me to declare their worth as over a full touchdown less than the starter.
There is certainly a lot of volatility attached to backing a second-year quarterback making his first career start, but I believe the floor is a touchdown, and the ceiling is significantly higher, so at worst I am confident in getting slightly better than fair market value at 7.5. We don't know much about Jordan Love except for some limited preseason reps. He had a prolific college career at Utah State, the same conference that produced Josh Allen, which is the only comparison I'll make between those two. Mentality-wise, Love will get a chance to prove why Green Bay controversially chose him with a first-round pick in 2020.
Regardless of who is under center for the Packers, the Chiefs defense is still one of the worst units in the league, and Green Bay should get back several other key pieces, including WRs Davante Adams and Allen Lazard, and LT David Bakhtiari. "The Packers' rushing attack and getting the points is a very enticing bet," said WynnBET Trader Sawyer Johnson. Queue up some Aaron Jones props if you're feeling frisky, and definitely sprinkle the money line, because based on last week's gutty performance against Arizona without two key weapons on offense, I would not be shocked if Green Bay won this game outright.

Buffalo Bills at Jacksonville Jaguars
Bills -13.5
*Bet Sunday at DraftKings, would play up to -14
I recommended a play on Buffalo in this week's "Early Birds" column, and the market has agreed with me. I just don't see how the Bills offense is going to be stopped against a Jaguars defense ranked 32nd in DVOA and allowing 6.1 yards per play. Jacksonville's performance was embarrassing off the bye in Seattle last week. The Jags gained just 4.2 yards per play against a Seahawks defense that was allowing nearly 6.0 coming in. I give the Bills a pass for their sluggish first-half performance against the Dolphins, as they were facing Miami for the second time in six weeks. Buffalo eventually got things rolling and even front-doored the spread depending on what number you had. 

Another factor to consider for me this week is the MVP angle. With Dak Prescott sitting last week, and Kyler Murray losing for the first time while also possibly injuring himself in the process, this is the week for Josh Allen to entrench himself as the favorite. I have a +1500 MVP ticket on Allen in my back pocket from the preseason, and you can still find +300 at Caesars and the Westgate SuperBook. If Allen feasts on Sunday, I would not be shocked to see his odds to win the MVP get shorter by Monday.
In terms of line movement, considering the spread for this game has moved north of 14, it becomes a less valuable bet. However, if you want an alternative way to play it, Buffalo -7.5 in the first half is enticing. The Bills are 5-2 ATS in the 1st half this season, tied for the best mark in the league.
Cleveland Browns at Cincinnati Bengals
Bengals -2.5
*Bet Wednesday at the Westgate SuperBook, line readily available at time of posting
What a mess in Cleveland. The Odell Beckham saga likely came to an end this week, and while his status will not impact the point spread, it's hard to say it won't matter in the Browns' locker room. The relationship between OBJ and Jarvis Landry is significant, and of course how all of that relates to the mentality of Baker Mayfield is vital. It won't help that his left tackle Jack Conklin is sidelined with an injury, and that the Bengals are coming off an embarrassing loss to the Jets, one I would expect them to bounce back from with vigor. "Yeah that was a classic letdown spot," said TwinSpires Trading Analyst Zachary Lucas. "We're seeing a lopsided handle so far on Cincy so there's little to no chance this crosses 3 barring any major injuries."

That's sound advice, and if you want to wait until Saturday night or Sunday morning to bet this, you should be able to still grab the Bengals under a field goal. Cincinnati's analytics have been a surprise for me this season, as they are ranked 3rd in Net Yards Per Play and 13th in DVOA. They are also gaining 6.7 yards per play on offense over their last three games, the best mark in the NFL during that stretch.
Meanwhile, the Browns offense has taken a significant dip, averaging just 12.67 points per game over their last three. On defense, Cleveland is also showing signs of wear and tear. Keep an eye on the injury status of Jadeveon Clowney (ankle/knee/hip), Malik McDowell (illness), and Takkaris McKinley (groin), as neither practiced on Wednesday.
Make sure you also find out John Hyslop's best NFL underdog picks in The Dog House!
6-Point Teaser -120 (1.5 units)
New Orleans Saints pk
San Francisco 49ers +8.5
*Bet Tuesday at DraftKings, would play 49ers down to +7
There is some uncertainty with the quarterback situation in New Orleans as Taysom Hill made his return to practice this week. I can see both him and Trevor Siemian getting playing time on Sunday, but regardless of who starts, I trust Sean Payton to make the right moves. The bigger boost for the Saints offense was the return of Mark Ingram, who added a nice changeup to Alvin Kamara in the running game on Sunday against the Bucs, and should have more running lanes this week against a bad Falcons front. Atlanta was shut out in the second half against the Panthers, and I just don't see Matt Ryan leaving the Superdome with a win, so in a low total game, moving this line down to a pick'em is an appetizing teaser leg.
This is a really good spot for the 49ers, who seem to be catching the Cardinals at the right time. San Francisco played one of its most complete games of the season Sunday in Chicago, and now with questions surrounding Kyler Murray's health, the smart money is selling Arizona. "I think that some regression in the future is inevitable," said WynnBET Trader Sawyer Johns. "The 49ers could have won their first matchup. Trey Lance just didn't make enough plays. Now, with their starting quarterback, George Kittle most likely returning and being at home, the 49ers should win this game in my eyes." If you want to sprinkle an extra half-unit on the 49ers outright, that's not a bad play either, I just bumped up the risk on my teaser instead to gain some added exposure here.
Bonus 6-Point Teaser -120
Los Angeles Rams -1.5
Pittsburgh Steelers -0.5
*Bet Wednesday at Caesars, lines widely available at time of posting

I don't like this teaser as much as the other, mainly because of the elevated total in the Titans/Rams game, but sometimes, it's okay to make a slight exception if multiple key numbers are involved. "Yeah, the general rule of thumb when teasing is to target lower totals, but crossing 3 and 7 is why I like it," said TwinSpires Trading Analyst Zachary Lucas. It's tough to disagree with that logic, as it's equally tough to see the Derrick Henry-less Titans beating a Rams team that is just behind Buffalo for the NFL lead in Net Yards Per Play. Von Miller is also expected to suit up, which will provide an immediate boost to the defense, which was slightly underachieving this season.
Once the Steelers line hit 6, it moved to near the top of my teaser board for the week. Pittsburgh has rejuvenated its season over the last three games after a tough 1-3 start, and if the playoffs started today, they would be the 6-seed. Justin Fields showed some flashes of brilliance on Sunday against the 49ers, but this Steelers defense is playing better than San Francisco's right now, and Chicago is tied for last with the Texans in Net Yards Per Play, a dubious distinction that does not bode well for their chances of strolling into Heinz Field and leaving with a win.
Good bets, but not "Best Bets"
*Play up to a 0.5-unit each
Broncos +10: This moved hard off the lookahead of Broncos +7.5, despite Denver winning on Sunday. Yes, the Cowboys have not lost against the spread this season, but I expect regression at some point. Sharps took 10 here with the Broncos as I've started to see this number creep towards 9 at some shops. If you wait until Sunday, it might get back to double-digits, but I'm not so sure it will. The Cowboys defense is allowing 6.1 yards per play this season – only the Lions, Ravens, Texans and Chiefs are allowing more – and don't even get me started with the Teddy Bridgewater road underdog ATS trend.
Vikings +6: I must be crazy to want to bet on Minnesota after the disaster we saw on Sunday, right? Perhaps, but I also know a good deal when I see it. As mentioned above, the Ravens defense is bleeding yards this season, and Kirk Cousins is not only desperate, but also not playing in primetime, which is clearly his kryptonite. There's a chance this line continues to drift towards Baltimore, as they are drawing all of the early action, but at some point (likely +6.5 or +7) I expect sharp buyback on the Vikings, and the backdoor should be open in this game.
Need some advice for your Survivor pool? Check out our best Survivor picks for NFL Week 9
—
Last week: 1-4, -3.65u (Sides: 1-2 / Totals: 0-0 / Teasers: 0-2)
2021 season: 26-21-1, +2.35u (Sides: 17-14-1 / Totals: 1-3 / Teasers: 8-4)
Pickswise is the home of NFL Picks. Check out our latest playoff picks and round-by-round analysis as well as our free Super Bowl predictions.