Man vs Machine: Pickswise expert vs the computer model NFL Week 13 best bets
Man vs Machine
Welcome to the 2021 edition of Man vs Machine. This NFL season, I'll be making my five best NFL bets each week. Our Pickswise supercomputer will make its best five bets, and then we'll compare. May the best man (or machine) win.
Our computer model gives probabilities and projections for the main NFL betting markets (spread, total & money line), best bets for spread, total, money line, and same game parlays. It also features prop bet probabilities for first and anytime touchdown scorer, plus individual player projections for passing, rushing, receiving yards, and touchdowns for betting and fantasy use.
For more information on how the supercomputer works and how it generates picks, scroll down to the bottom of this page. Now let's look at the picks: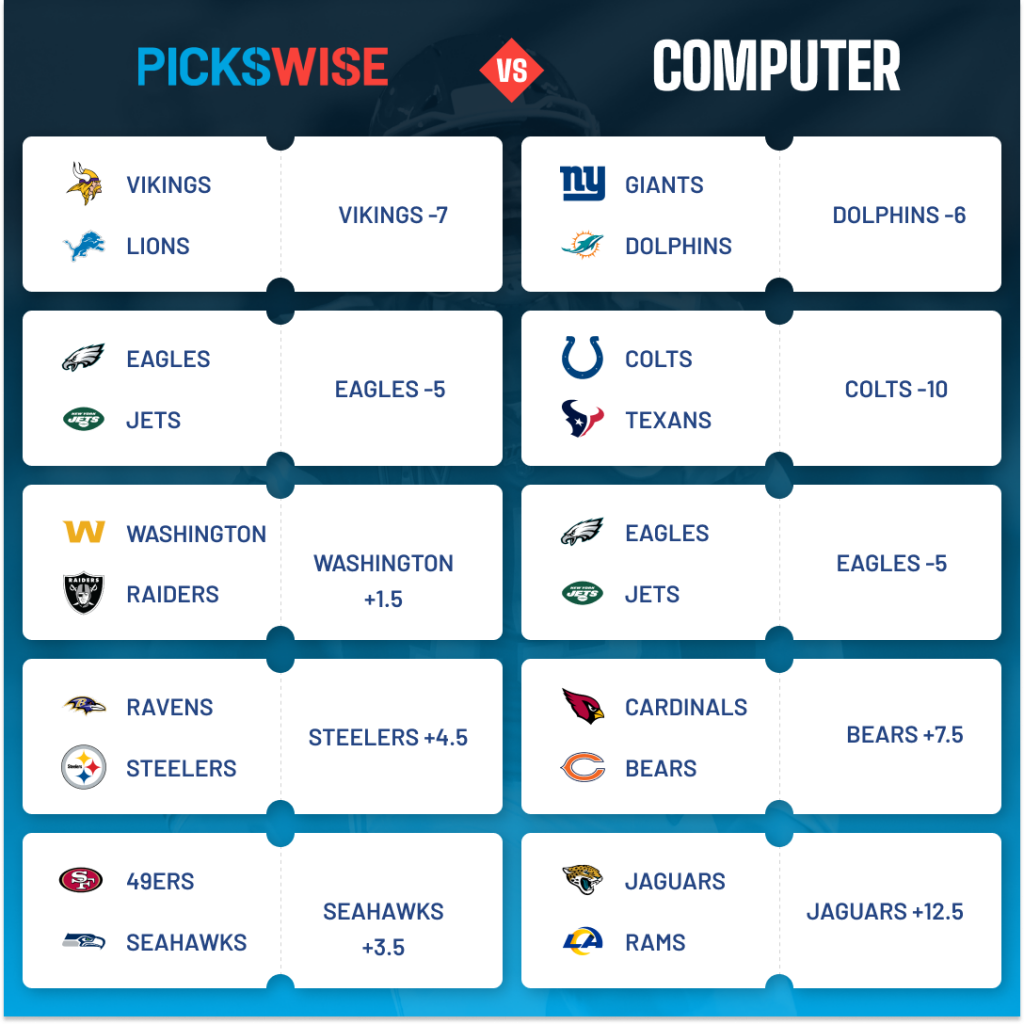 My 5 best bets
Vikings -7 over Lions
Detroit's defense has looked somewhat competent recently, but that's because they've faced sputtering Bears, Browns and Steelers offenses the past three weeks. The last time they played a competent offense was against Philly a few weeks ago, and they lost 44-6. Minnesota is a lot better than their record indicates, and they should steamroll the Lions.
Eagles -5 over Jets
This line dropped from seven to five upon news that Eagles QB Jalen Hurts likely won't play, and I think that's an overreaction. Hurts doesn't do anything as a passer, and it's not much of a downgrade from him to Gardner Minshew. No matter who is at quarterback for the Eagles, their defense should dominate Zach Wilson.
Washington +1.5 over Raiders
Don't look now, but Washington is making a serious run. They've won three in a row, including a double-digit victory over the Bucs. The defense is playing its best ball of the season, and so is QB Taylor Heinicke. On the other hand, the Raiders have scored 16 or fewer points in three of four and they'll now be without top weapon Darren Waller.
Steelers +4.5 over Ravens
Plug your nose and bet the Steelers this week. Pittsburgh has looked truly awful recently, but this number is too high. Just last week, the Steelers were a smaller favorite on the road against the Bengals. If there was ever a chance for a last stand for Mike Tomlin's team, it would be here.
Seahawks +3.5 over 49ers
Speaking of last stands, I think the Seahawks will make one against the 49ers. San Francisco relies on their ground game to carry the offense, but Seattle is very solid against the run. Jimmy Garoppolo isn't going to go on the road and put on a show, especially with Deebo Samuel out for this one.
Computer picks
Dolphins -6 over Giants, Colts -10 over Texans, Eagles -5 over Jets, Bears +7.5 over Cardinals, Jaguars +12.5 over Rams
The computer and I are both on the Eagles this week, as the machine isn't concerned about Hurts' potential absence either. Our system faded the Texans last week and backed the Jets, and now they're fading Houston once again. This is the second time they've backed the Jags recently, so our model isn't afraid to pick off value with some bottom-feeders. Last week I went 3-2, while the computer went an impressive 4-1 for the second week in a row.
2021 season results
Pickswise Expert (29-31)
Pickswise Computer (36-23-1)
Don't forget to check out our free picks on the side and total for every NFL game. You can also view all of our computer picks.
How are the pre-game win probabilities calculated?
The Pickswise supercomputer creates pre-game probabilities using machine learning techniques as inputs to a Monte Carlo approach. This means we simulate a sporting event 10,000 times, catering for the deep range of outcomes and probabilities within a given event. We first predict the performance of each individual player based on hundreds of algorithmic variabilities, which we use to run our event simulations.
Why do the win probabilities and predictions change over time?
The probabilities are dynamic in nature and get updated as new information becomes available. This includes but is not limited to team news, weather conditions, and moves in the betting market.
What does a 'value bet' mean?
A value bet is where we've identified that the probability of the event occurring is more likely than the listed sportsbook odds. Taking these bets gives you an increased chance of being a successful gambler.
How is the change in win probability calculated during a live game?
Live win probability is a statistical metric that projects the team's likelihood of winning at any given point by simulating the remainder of the game. Based on the performance of historical teams in the same situation and the current state of the game, the model updates in real-time following every major event during the game.
Pickswise is the home of free NFL Picks and NFL Odds. Check out the latest NFL Prop Bets and NFL Parlays as well as expert NFL Underdog Picks and NFL Computer Picks.