Man vs Machine: Pickswise expert vs the computer model NFL Week 5 best bets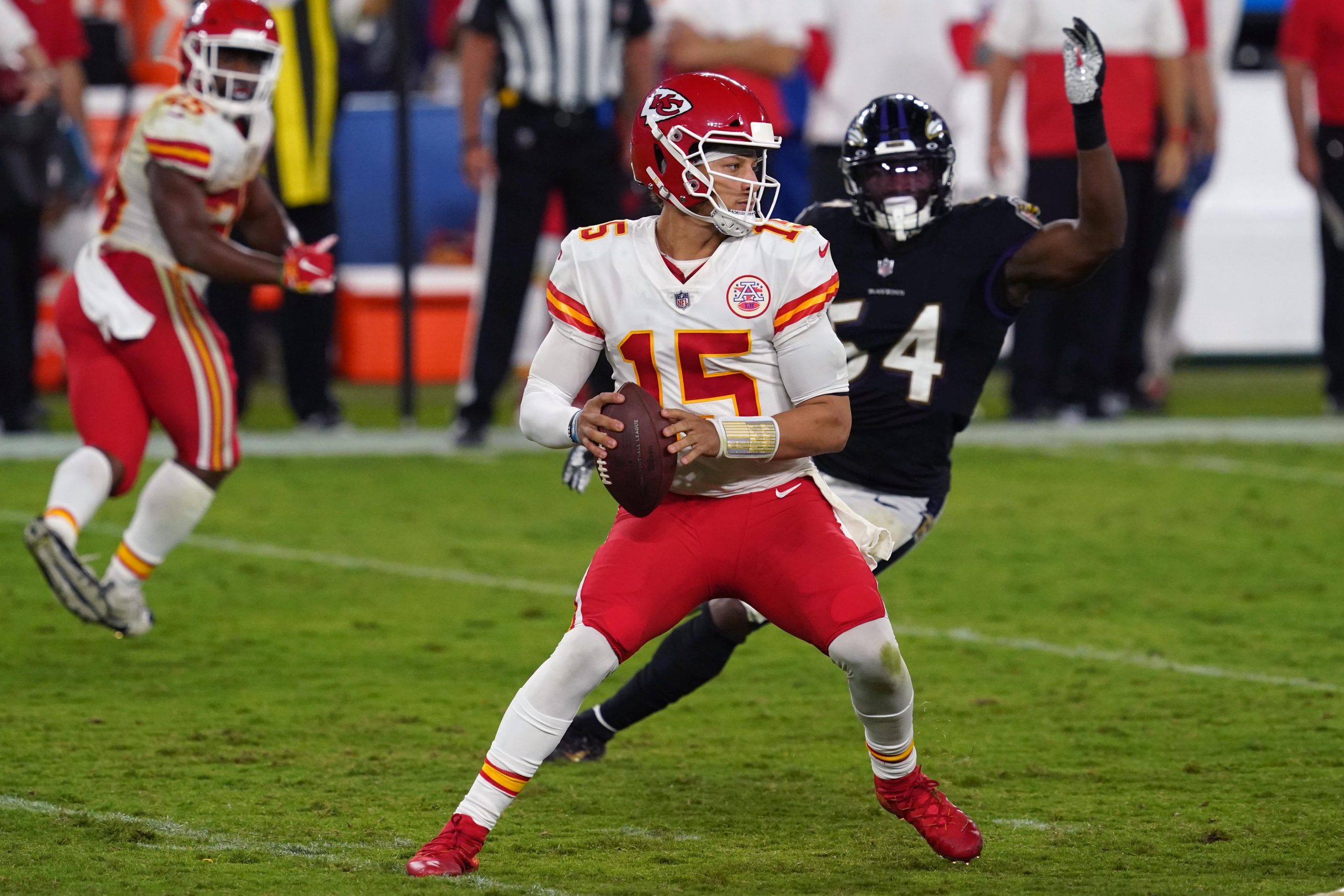 Man vs Machine
Welcome to the 2021 edition of Man vs Machine. This NFL season, I'll be making my five best NFL bets each week. Our Pickswise supercomputer will make its best five bets, and then we'll compare. May the best man (or machine) win.
Our computer model gives probabilities and projections for the main NFL betting markets (spread, total & money line), best bets for spread, total, money line, and same game parlays. It also features prop bet probabilities for first and anytime touchdown scorer, plus individual player projections for passing, rushing, receiving yards, and touchdowns for betting and fantasy use.
I've gone 4-1 in each of the past two weeks, and I'm hoping to keep it going in Week 5.
For more information on how the supercomputer works and how it generates picks, scroll down to the bottom of this page. Now let's look at the picks: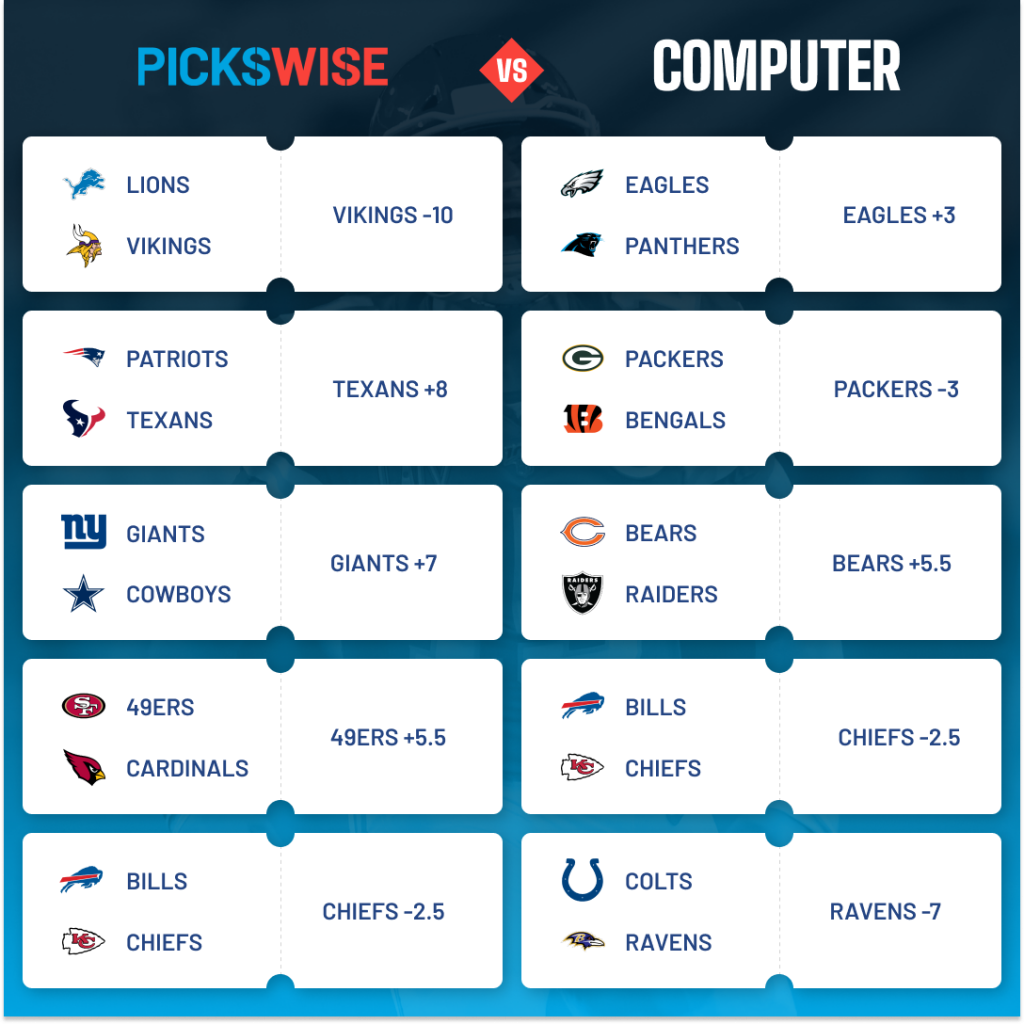 My 5 best bets
Vikings -10 over Lions
The Vikings are one of the best 1-3 teams of all time. If a few balls had bounced their way, they'd be sitting at 4-0 right now. Their record is incredibly misleading, and they should steamroll a winless Lions team here. Jared Goff already folds under the slightest semblance of pressure, and now Detroit will be without starting center Frank Ragnow against a talented Minnesota defensive front.
Texans +8 over Patriots
Plug your nose and bet the Texans. There's just no reason for Mac Jones to be this large of a road favorite. And I felt that way even before it became clear that the Patriots were going to be missing four of their five starters on their offensive line. With all those guys out, there's no way you can back New England.
Giants +7 over Cowboys
The Giants were being underestimated as a seven-point underdog last week, and that's the case again this week. I took them as one of my five last weekend, and I'm going right back to the well for Week 5. Nobody is giving him any credit, but Daniel Jones has taken a huge leap in his third year.
49ers +5.5 over Cardinals
Now is the time to sell high on the Cardinals when their market perception is at an all time high. They're riding high off their win over the Rams, and they'll be humbled by Kyle Shanahan here. Trey Lance didn't look great in his first real action last week, but now Shanahan has had a full week to game-plan to his strengths. At the beginning of the season this line would've been around even money.
Chiefs -2.5 over Bills
Everyone has gotten bored of the Chiefs, but they're still the best team in the league. Close losses to really good Ravens and Chargers teams doesn't change that. Especially when you factor in that Kansas City controlled both of those games and threw up all over themselves to lose them. Buffalo has played a truly ridiculously soft schedule to this point, and this will be a rude awakening.
Computer picks
Eagles +3 over Panthers, Packers -3 over Bengals, Bears +5.5 over Raiders, Chiefs -2.5 over Bills, Ravens -7 over Colts
The computer and I agree on Kansas City. Our model is also going with the Eagles, Packers, Bears, and Ravens to round out their selections. After going 4-1 each of the last two weeks, I'm now 13-7 on the year. The computer was nearly flawless through the first two weeks at 9-1, but they've now fallen to 13-7 after back to back 2-3 weeks. I was finally able to even things up in Week 4, now let's see if I can take the lead in Week 5…
2021 Season Results
Pickswise Expert (13-7)
Pickswise Computer (13-7)
Don't forget to check out our free picks on the side and total for every NFL game. You can also view all of our computer picks here.
How are the pre-game win probabilities calculated?
The Pickswise supercomputer creates pre-game probabilities using machine learning techniques as inputs to a Monte Carlo approach. This means we simulate a sporting event 10,000 times, catering for the deep range of outcomes and probabilities within a given event. We first predict the performance of each individual player based on hundreds of algorithmic variabilities, which we use to run our event simulations.
Why do the win probabilities and predictions change over time?
The probabilities are dynamic in nature and get updated as new information becomes available. This includes but is not limited to team news, weather conditions, and moves in the betting market.
What does a 'value bet' mean?
A value bet is where we've identified that the probability of the event occurring is more likely than the listed sportsbook odds. Taking these bets gives you an increased chance of being a successful gambler.
How is the change in win probability calculated during a live game?
Live win probability is a statistical metric that projects the team's likelihood of winning at any given point by simulating the remainder of the game. Based on the performance of historical teams in the same situation and the current state of the game, the model updates in real-time following every major event during the game.
Pickswise is the home of free NFL Picks and NFL Odds. Check out the latest NFL Prop Bets and NFL Parlays as well as expert NFL Underdog Picks and NFL Computer Picks.