Man vs Machine: Pickswise expert vs the computer model NFL Week 9 best bets
Man vs Machine
Welcome to the 2021 edition of Man vs Machine. This NFL season, I'll be making my five best NFL bets each week. Our Pickswise supercomputer will make its best five bets, and then we'll compare. May the best man (or machine) win.
Our computer model gives probabilities and projections for the main NFL betting markets (spread, total & money line), best bets for spread, total, money line, and same game parlays. It also features prop bet probabilities for first and anytime touchdown scorer, plus individual player projections for passing, rushing, receiving yards, and touchdowns for betting and fantasy use.
For more information on how the supercomputer works and how it generates picks, scroll down to the bottom of this page. Now let's look at the picks: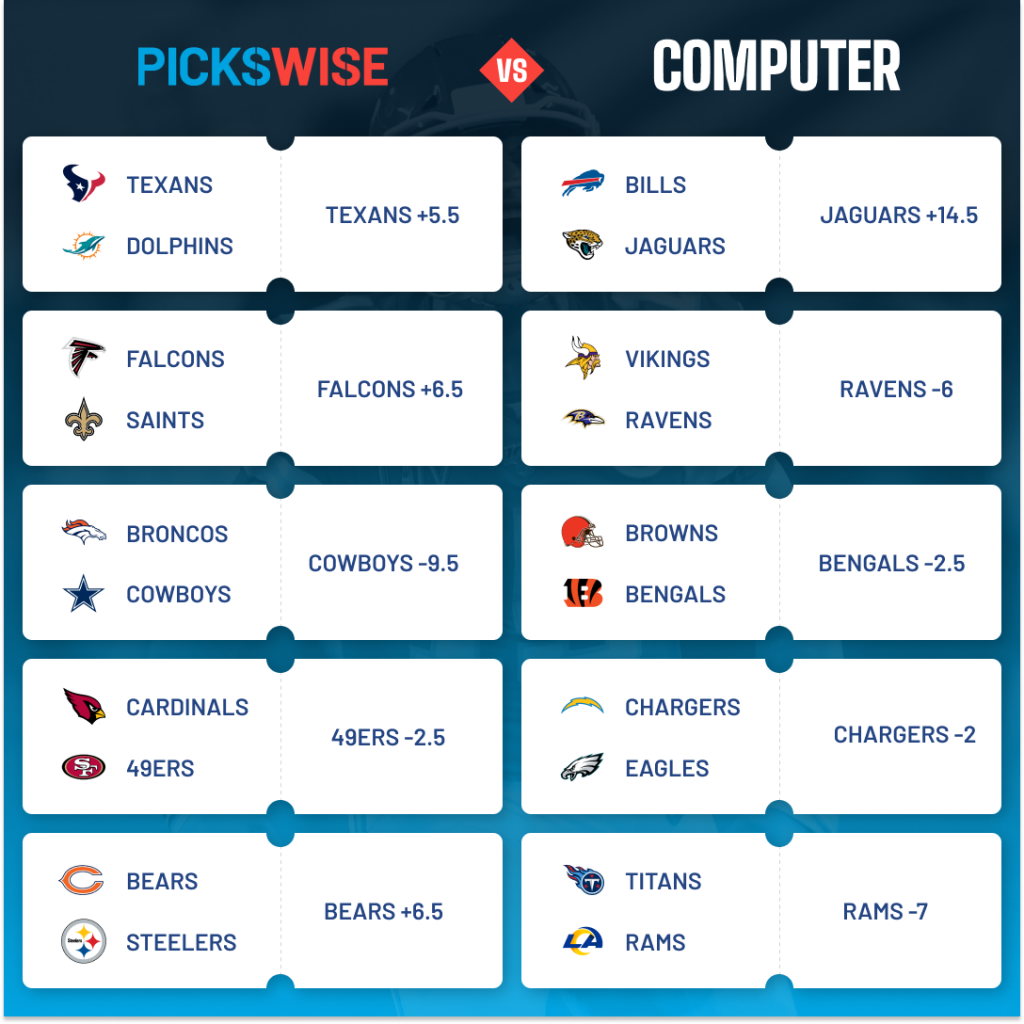 My 5 best bets
Texans +5.5 over Dolphins
The Dolphins are 1-7, and their only win came by a single point because of some lucky Patriots fumbles in Mac Jones' first career start. I can't imagine laying this many points with Tua Tagovailoa, especially not with Tyrod Taylor returning for the Texans. Remember, Houston's offense actually looked really good in the first game and a half before Taylor went down.
Falcons +6.5 over Saints
Speaking of quarterbacks, I have no interest in laying nearly a touchdown with, the same goes for Trevor Siemian. Siemian has started one game since 2017, and he threw all of six passes before getting hurt. He was awful in 2017, his last stint as a starter. There's a reason he was on the Titans' practice squad and almost out of the league for most of last year.
Cowboys -9.5 over Broncos
I think the Cowboys might blow the Broncos out of the water. Denver is 1-4 in their past 5 games, and the win was extremely close against a really bad Washington team. They just traded away Von Miller, signaling that they're officially throwing in the towel on the season, and the team will be demoralized.
49ers -2.5 over Cardinals
I was going to like the 49ers this week even if Kyler Murray played. Now, it looks like both Murray and DeAndre Hopkins might not suit up. San Francisco, on the other hand, is starting to get a lot healthier, and their offense looked great last week against the Bears.
Bears +6.5 over Steelers
For my final pick I'm going to Monday Night Football. Ben Roethlisberger is one of the worst quarterbacks in the league at this stage of his career, and the total in this game is less than 40. Justin Fields made major strides last week, and should only get better as the season progresses.
Computer picks
Jaguars +14.5 over Bills, Ravens -6 over Vikings, Bengals -2.5 over Browns, Chargers -2 over Eagles, Rams -7 over Titans
For the first time I can recall, the computer and I aren't on any of the same games. We've got completely different sides, as we aren't aligned or opposing each other on any games. Maybe we can both go 5-0. I'm coming off a tough 1-4 week, while the computer went 2-3. Hopefully we both improve in Week 9…
2021 Season Results
Pickswise Expert (19-21)
Pickswise Computer (23-16-1)
Don't forget to check out our free picks on the side and total for every NFL game. You can also view all of our computer picks here.
How are the pre-game win probabilities calculated?
The Pickswise supercomputer creates pre-game probabilities using machine learning techniques as inputs to a Monte Carlo approach. This means we simulate a sporting event 10,000 times, catering for the deep range of outcomes and probabilities within a given event. We first predict the performance of each individual player based on hundreds of algorithmic variabilities, which we use to run our event simulations.
Why do the win probabilities and predictions change over time?
The probabilities are dynamic in nature and get updated as new information becomes available. This includes but is not limited to team news, weather conditions, and moves in the betting market.
What does a 'value bet' mean?
A value bet is where we've identified that the probability of the event occurring is more likely than the listed sportsbook odds. Taking these bets gives you an increased chance of being a successful gambler.
How is the change in win probability calculated during a live game?
Live win probability is a statistical metric that projects the team's likelihood of winning at any given point by simulating the remainder of the game. Based on the performance of historical teams in the same situation and the current state of the game, the model updates in real-time following every major event during the game.
Pickswise is the home of free NFL Picks and NFL Odds. Check out the latest NFL Prop Bets and NFL Parlays as well as expert NFL Underdog Picks and NFL Computer Picks.