MLB World Series predictions - 2020 World Series betting odds, players, matchups and preview
The road has not been long, as the Major League Baseball season did not begin until July. But it also hasn't been easy. Between them, the Tampa Bay Rays and Los Angeles Dodgers survived five elimination games en route to the 2020 World Series.
Who will be the World Series champions? That is a question that will be answered over the coming week, but we will attempt to answer it now by breaking down the two teams and the key matchups.
MLB Playoff Odds – World Series Betting Odds
The Rays erased the Toronto Blue Jays in round one, battled past the American League East rival New York Yankees in an ALDS showdown that went the five-game distance, and held off the Houston Astros in Game 7 of the ALCS. Seven games were also required in the NLCS, as the Dodgers overcame a 3-1 deficit to defeat the Atlanta Braves. MLB betting odds have Los Angeles as a -200 favorite to win the World Series, while Tampa Bay comes in as a +160 underdog.
If you are looking for riskier plays to get longer odds on your MLB betting picks, correct series score markets could present some intriguing value. Let's take a look at those specific MLB playoff odds.
Tampa Bay Rays 4-0: +2000
Tampa Bay Rays 4-1: +1200
Tampa Bay Rays 4-2: +750
Tampa Bay Rays 4-3: +650
Los Angeles Dodgers 4-0: +775
Los Angeles Dodgers 4-1: +500
Los Angeles Dodgers 4-2: +350
Los Angeles Dodgers 4-3: +425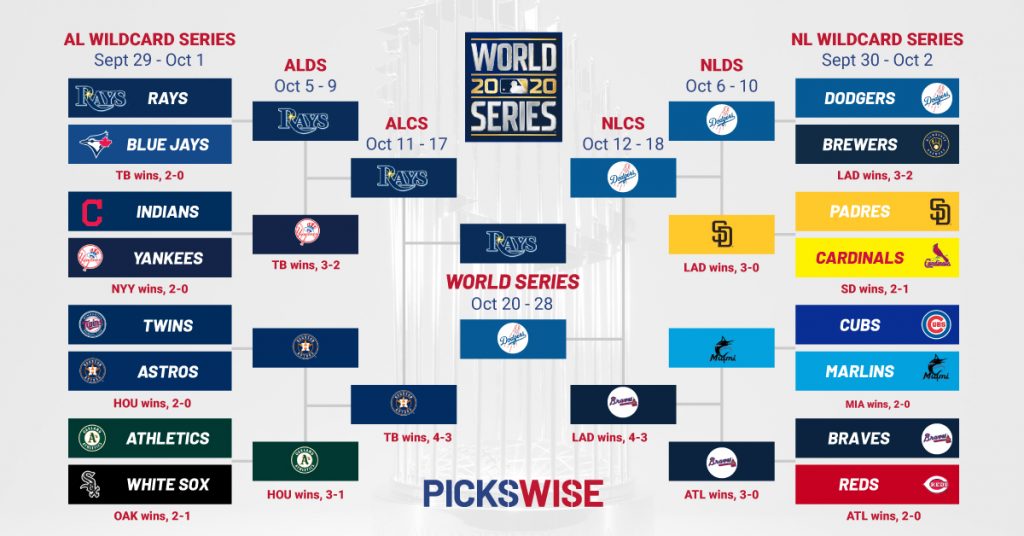 Tampa Bay Rays – World Series Roster, Pitchers & Key Players To Watch
Tampa Bay Rays Record
Regular season: 40-20
Postseason: 9-5
Blake Snell 
Snell went 4-2 with a 3.24 ERA during the regular season. He is 2-2 with a 3.20 ERA so far in the playoffs. Snell is expected to start Game 2 of the World Series.
Tyler Glasnow 
Glasnow compiled a 5-1 record in the regular season despite a modest 4.01 ERA. He struck out 91 batters while walking 22 in 57.1 innings of work. Glasnow, who will start Game 1 on Tuesday, is 2-1 with a 4.66 ERA though four playoff outings.
Randy Arozarena 
Arozarena did not do much during the regular season, playing in 23 games with 64 at-bats. He made the most of them with seven home runs and decent .281 average, earning himself a spot in the lineup for the playoffs. The 25-year-old outfielder has been on fire ever since, with seven homers in 14 postseason games and a .382 average.
Brandon Lowe
Lowe was one of Tampa Bay's best hitters during the regular season, batting .267 with a team-leading 14 home runs, 37 RBIs, and 36 runs scored. The Rays need him to heat back up, as his postseason average is a disastrous .115.
Los Angeles Dodgers – World Series Roster, Pitchers & Key Players To Watch
Los Angeles Dodgers Record
Regular season: 43-17
Postseason: 9-3
Clayton Kershaw 
Kershaw was an outstanding 6-2 with a 2.16 ERA during the regular season. As usual, though, the playoffs have been a problem. The veteran southpaw pitched only once in the NLCS because of back spasms and is a modest 2-1 with a 3.32 ERA though three playoff appearances. He will start Game 1 on Tuesday against Glasnow.
Walker Buehler 
Buehler went 1-0 with a 3.44 ERA in eight regular-season starts. He is 1-0 with a 1.89 ERA through four playoff appearances. The 26-year-old will likely start Game 3 on Thursday to give him full rest following his Game 6 start this past Saturday.
Corey Seager
Seager slammed 15 homers during the regular season in addition to his .307 average and 41 RBIs. He was even more on fire in the NLCS, with five more home runs. He is batting .298 with six HRs and 15 RBIs during the playoffs.
Cody Bellinger
Bellinger struggled to the tune of a .239 average in the regular season and he is batting a mediocre .250 in the playoffs. None of that matters, though, as he delivered what proved to be the game-winning home run in Game 7 against the Braves.
Tampa Bay Rays vs. Los Angeles Dodgers World Series Matchups to Watch
Tyler Glasnow vs. Clayton Kershaw
Given that Glasnow and Kershaw are the Game 1 starters, in all likelihood you are going to see them go head-to-head twice in the World Series—most likely again in Game 5. And seeing as these were the two best teams in baseball throughout the regular season (and obviously in the playoffs, too), you can bet this Fall Classic is going to last at least five games. One of these two pitchers is going to get his team off to a fast start, and whichever team that is could ultimately have the edge.
Rays bullpen vs. Mookie Betts
Really this is the Rays bullpen vs. everyone in the Dodgers' lineup, but Betts is capable of being L.A.'s best hitter (even though that distinction belongs to Seager right now). It should also be noted that Betts batted .323 against right-handed pitchers during the regular season compared to .200 against lefties—a curious stat since Betts is right-handed, himself. Tampa Bay's relievers are almost exclusively right-handed, so this is going to be interesting.

2020 World Series Predictions
The Dodgers have been the best team all season long for a reason. They have a ton of momentum having won three in a row to end the NLCS, whereas Tampa Bay lost three straight before finally righting the ship in Game 7 against Houston. Los Angeles also survived in the NLCS even though Kershaw pitched only one game—and lost it. Arozarena is carrying the Rays' lineup, but the Dodgers can turn to anyone such as Betts, Seager, Bellinger, and plenty of others on any given night. And L.A.'s bullpen, which was awesome in Game 7 on Sunday, can match that of Tampa Bay. Joe Kelly and company are no joke. The Dodgers also have the ability to use Tony Gonsolin and Dustin May either out of the bullpen or as starters.
When it is all said and done, our World Series prediction is that the Dodgers will simply be too deep and too good in all facets of the game. Dodgers in six.
Pickswise is the home of free MLB picks and predictions. Check out the latest MLB Prop Bets and MLB Parlays as well as Best Bets from the experts.