Monday Night Football DFS/DraftKings lineup advice for Seattle Seahawks vs. Philadelphia Eagles
The Seattle Seahawks (7-3) are no strangers to primetime appearances and they will once again be a part of the festivities when they visit the Philadelphia Eagles on Monday Night Football. Seattle will be trying to remain in the solo lead atop the NFC West thanks to the Rams' loss to San Francisco on Sunday. Even though the Eagles are 3-6-1, this is also a huge game for them. After all, they reside in the moribund NFC East and that record has them one win away from being in first place.
It might be a big game in your effort to make the fantasy football playoffs, too, but either way, daily fantasy is always an enticing option. In an effort to end your fantasy Week 12 on a high note, let's take a stab at the best possible DFS/DraftKings lineup for this Seahawks-Eagles showdown.
Captain: Russell Wilson, QB, Seahawks ($12,600, or $18,900 as captain)
The Eagles may be sixth in the NFL against the pass, but their 7.1 yards allowed per attempt rank in the bottom half of the league. They have also recorded the fewest interceptions in the entire NFL (three). Wilson should be able to capitalize. Although he hasn't been as on fire as he was for much of the first half of 2020, the 31-year-old is coming off a two-touchdown, no-interception performance during a big win over the Cardinals.
Flex: DK Metcalf, WR, Seahawks ($11,200)
Metcalf has been kept in check the past two weeks, making a combined five catches for 74 yards and one touchdown in that pair of games. Of course, the second-year receiver out of Ole Miss is prone to erupt at any time. He has two multi-TD performances in 2020 and has scored nine touchdowns in total. If Wilson can once again play mistake-free football, Metcalf will surely be one of the beneficiaries.
Flex: Tyler Lockett, WR, Seahawks ($9,600)
Just looking at the physical nature of Seattle's two star receivers, you would think Metcalf is more of an all-or-nothing threat. But it is actually Lockett who has been boom or bust in 2020. Six of his eight touchdowns have come in two games (three against Dallas and three during the loss to Arizona). Lockett has been targeted nine times in each of the past two contests and he scored once in a Week 11 win over the Cardinals. He may be due for another massive showing.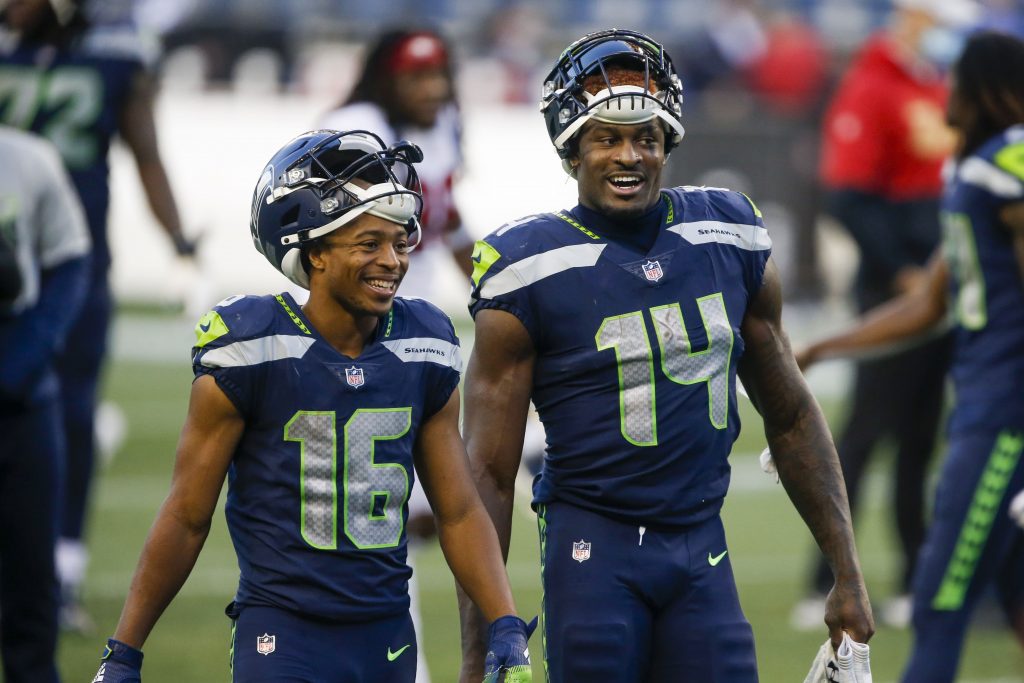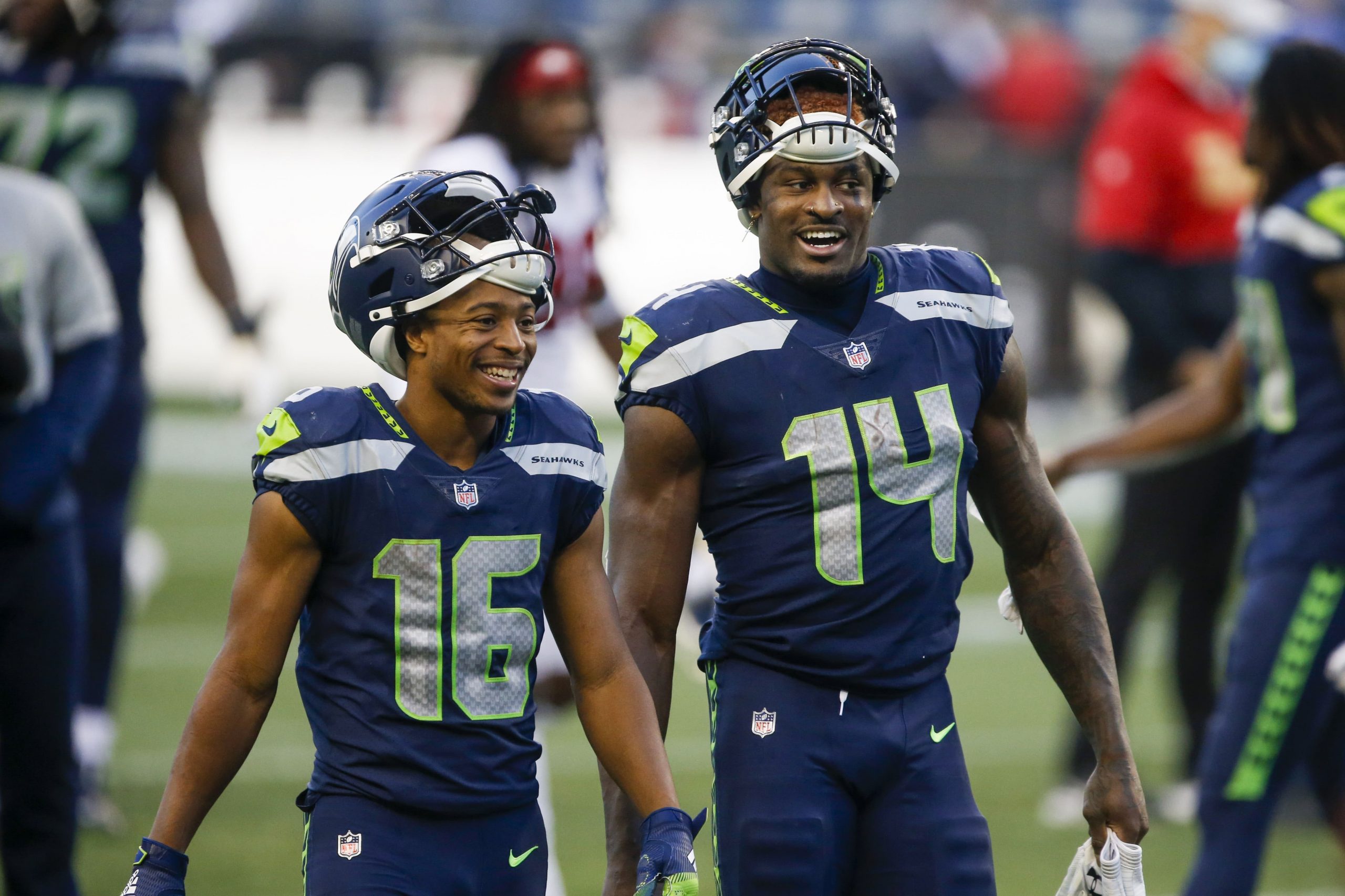 Flex: Jason Myers, K, Seahawks ($4,200)
You could restructure your lineup and avoid some of the high-priced Seattle standouts, thus leaving you money left over for guys like Chris Carson and Carlos Hyde or Philadelphia running back Miles Sanders. But Carson and Hyde may cancel each other out, while Sanders has gone three games without scoring and hasn't had more than 95 yards from scrimmage in either of the last two. Thus we are rolling with Myers, who almost always has plenty of opportunities thanks to the Seahawks' dynamic offense. He has booted seven field goals in the past three outings.
Flex: Seahawks Defense ($3,800)
It's all Seahawks all the time for us. Carson Wentz has thrown multiple interceptions in a ridiculous six different games this year and he has been picked off 14 times in total. He has also lost six fumbles. That's 20 turnovers, for those counting. You can't make this stuff up, folks. The chance of Seattle's defense forcing a lot of turnovers and perhaps even finding the endzone in its own right is too much to pass up.
Flex: Alshon Jeffery, WR, Eagles ($1,600)
Okay, it's not all Seahawks. With your spare change, take a stab at Jeffery. He may be the Eagles' fourth receiver, but even their fourth option could do some damage against the word passing defense in the NFL. And Seattle isn't just the worst; it's by far the worst. Its 343.7 passing yards allowed per game are at least 43 more than every other team in the league.
Pickswise is the home of free NFL picks. Check out the latest NFL props and NFL parlays as well as expert underdog predictions and computer picks.