Monday Night Football reaction: Dolphins win 7th straight, Ian Book flops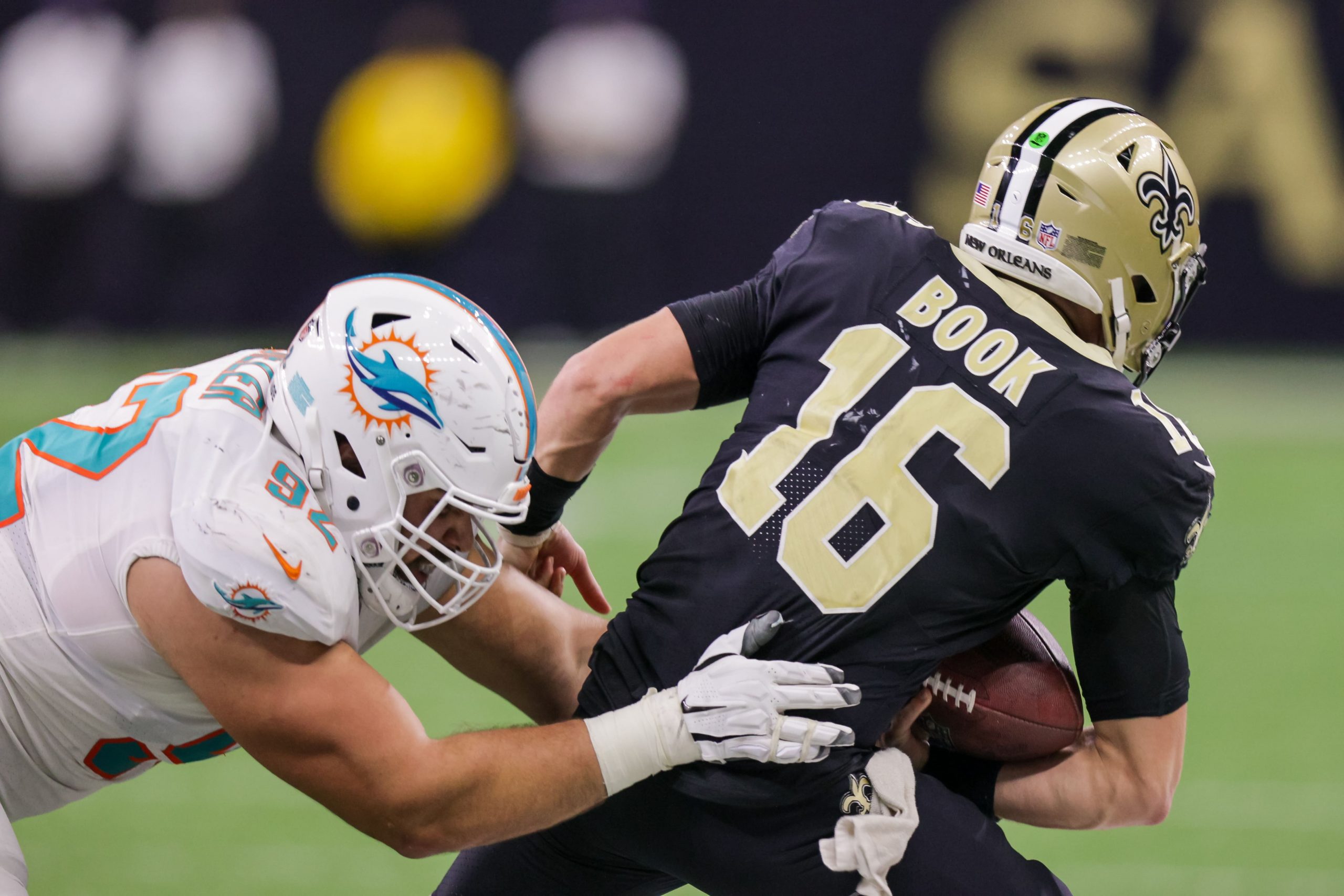 Week 16 is officially in the books. Monday Night Football wrapped up the slate, and unfortunately it was a bit of a snooze-fest. The game between the Miami Dolphins and New Orleans Saints wasn't the most exciting, but it did have major implications nonetheless.
There are still a couple of weeks left in the regular season, and don't forget to check out our free picks on the side and total for all of those games. But first, let's talk MNF. The Dolphins rattled off their seventh straight win, keeping their playoff hopes alive in the AFC. Let's break down what we just witnessed:
Dolphins keep incredible turnaround going
Miami went up 7-0 on an early pick-six courtesy of Ian Book and never looked back. Both the Dolphins on the spread and the under were easy winners. That's music to the ears of Pickswise readers, since we were on both Miami and the under!
No matter what happens next, tip your cap to head coach Brian Flores. The Dolphins started the year off 1-7, and just about everybody buried them. People were talking about Flores potentially getting fired this offseason. Not anymore. Miami has since rattled off seven straight victories, putting it firmly in the playoff mix.
That being said, I wasn't exactly blown away by the Fins' performance on Monday night. Their defense looked so dominant mostly because they were facing a rookie fourth-string quarterback who was thrust into a job he had no business doing, and their offense was pretty anemic for most of the night. This recent winning streak has come against an incredibly soft schedule.
And the rest of their schedule isn't exactly a cakewalk, either. The Dolphins will go on the road next week to play the Titans, and then will have a tough matchup with the Patriots in Week 18. If they win both of those games, they're in. If they go 1-1, they're likely out. Can Tua Tagovailoa deliver when it matters most? I can't wait to find out….
During the Dolphins seven-game winning streak they have faced…

HOU: Tyrod Taylor
BAL: Lamar Jackson
NYJ: Joe Flacco
CAR: Cam Newton + P.J. Walker
NYG: Mike Glennon
NYJ: Zach Wilson
NO: Ian Book

Are you buying into the Dolphins? 🤔 pic.twitter.com/TKxdsG3UHQ

— Pickswise (@Pickswise) December 28, 2021
Ian Book falls flat
Saints fans were hoping for a miracle with their rookie from Notre Dame, and it didn't materialize. Book's NFL debut went just about as well as you probably would have expected. He looked overmatched for most of the night and the rest of New Orleans' offense certainly didn't do him any favors.
New Orleans isn't out of the playoff hunt yet, and FiveThirtyEight's calculator still gives it a 35 percent chance of making the postseason. Two winnable games against the Panthers and Falcons remain, but they aren't guaranteed to get in even if they win both of those.
They could still sneak into the playoffs, but the Monday Night Football loss to the Dolphins made it clear this team's season ended when Jameis Winston went down. And that's a damn shame, because their defense is ferocious. Unfortunately it won't matter until they get the quarterback figured out, and it will be very interesting to see what Sean Payton does there this offseason…
Don't forget to check out our free picks on the side and total for every Week 17 game when they are posted
Pickswise is the home of free NFL Picks and NFL Odds. Check out the latest NFL Prop Bets and NFL Parlays as well as expert NFL Underdog Picks and NFL Computer Picks.