Monday Night Football reaction: Packers win, but red flags persist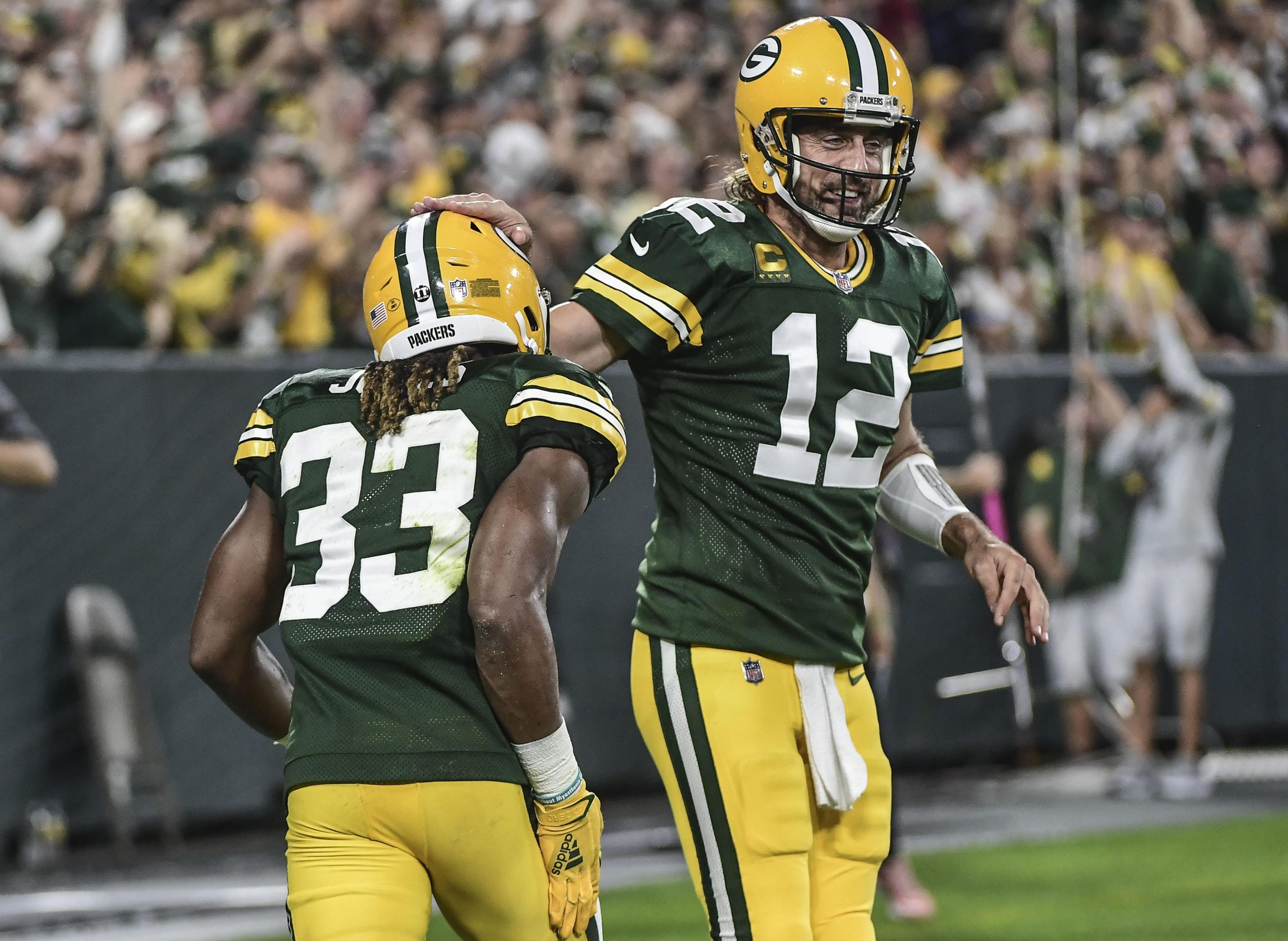 We weren't going to keep this streak going forever. The 2021 NFL season opened with a string of incredibly exciting primetime games. The latest standalone nationally televised game wasn't quite as thrilling, but Monday Night Football between the Detroit Lions and Green Bay Packers still had plenty of interesting takeaways.
Green Bay emerged with a 35-17 victory, but the win wasn't nearly as impressive as that final score might suggest. Let's break down what just happened.
Red flags persist for Packers
The Packers won, and that's all that matters to them. Full stop. But for those of us watching at home, there were plenty of red flags — the kind of red flags that would have me very concerned moving forward if I was a Green Bay fan.
A double-digit home favorite, the Packers trailed at halftime. They trailed Jared Goff and a Lions team widely expected before the season to compete with the Texans to be the league's worst. Goff absolutely carved up their defense in the first half, and after the Week 1 debacle I have major questions about new defensive coordinator Joe Barry.
Green Bay mostly got whatever it wanted on offense, too, but things won't be nearly as easy whenever it faces a defense with a pulse. The Packers got dominated by New Orleans' much tougher defense last week. They put up only 323 yards of total offense on Monday night, so it's not like they were putting on a clinic, despite dropping 35. They were the beneficiaries of several lucky breaks as well, including a botched Lions snap.
Most troublingly, the schedule will toughen up immediately. A Sunday Night Football matchup with the 49ers in San Francisco looms for Week 3. After that game against the Niners, 9 of their next 12 opponents are teams that made the playoffs last season.
Despite the desperately needed victory, I'm not much more optimistic about the Packers than I was before the game. I certainly won't be betting any Green Bay futures, and the Vikings have some value at +400 to win the division (the Packers are -225).
Jared Goff has the Lions ROLLING 🦁pic.twitter.com/Xdxz6tmnCc

— Pickswise (@Pickswise) September 21, 2021
Some positives for Lions
Tip your cap to the Lions. Despite being overmatched talent-wise in back to back weeks, they have fought hard. Last week they nearly battled back from a three-touchdown deficit. Against Green Bay they came out with some juice and led at halftime.
This roster is nowhere close to being able to compete this season. But there have been some positives, and it looks like the guys in the locker room are buying what new head coach Dan Campbell is selling. After the locker room became toxic under Matt Patricia, that's a big relief for Detroit. Goff still isn't the quarterback of the future, but I'll admit he's flashed more potential than I expected. His touchdown pass to TJ Hockenson tonight was an absolute dime.
This season will probably still be painful for Lions fans, but it looks like they might get a bit more joy out of it than many thought.
Pickswise is the home of free NFL Picks and NFL Odds. Check out the latest NFL Prop Bets and NFL Parlays as well as expert NFL Underdog Picks and NFL Computer Picks.