Monday Night Football reaction: Rams in real trouble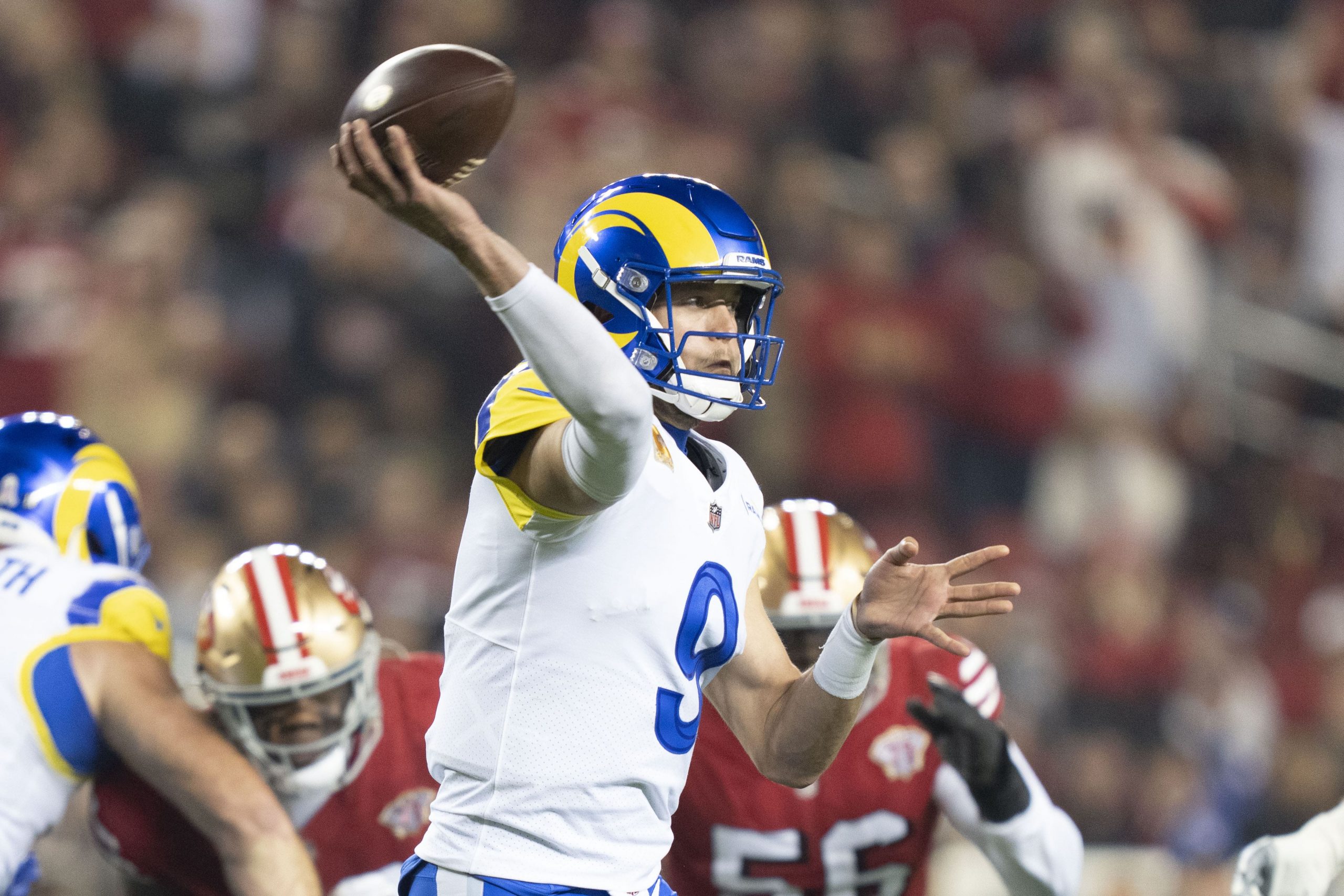 If it wasn't already clear, it sure is now: the Los Angeles Rams have major issues.
That's just about the only thing you can say after what we just witnessed on Monday Night Football. The San Francisco 49ers dominated from start to finish, emerging with a blowout victory that was never really in doubt.
Los Angeles failed to capitalize on the Cardinals' loss yesterday, while the 49ers may have just clawed their way back into playoff contention. Let's break down what we just saw.
Honeymoon is over for the Rams
Following a 7-1 start, everything sure was rosy in Los Angeles. All the talk about the Rams was about how well the Matthew Stafford/Sean McVay partnership was going and how the team looked like a surefire Super Bowl contender. Not anymore. Things started to unravel last week with a different primetime loss to the Titans, and the wheels came off tonight.
The highly anticipated Rams debut of Von Miller didn't do much for the defense. And the addition of Odell Beckham (albeit in a limited role) certainly didn't do anything for the offense. In hindsight, it seems like the Rams hype was always clearly premature. Their last three wins prior to the Titans game? The Texans, Lions and Giants.
Now that they're no longer facing the league's weakest teams, they have really been struggling. The Rams came into the game as 3.5-point favorites, and had a huge opportunity. With Arizona losing to the Panthers yesterday, Los Angeles could have moved into a tie for first place in the NFC West.
Stafford has been horrendous in back-to-back games now, and his offensive line isn't nearly as good as we thought it would be. The ACL tear to Robert Woods earlier this week may prove to be devastating.
But all that being said, all is not lost. This team still has elite talent at nearly every position. The Rams thankfully have a bye week after this and I can't wait to see how they come out of it. A tough game against the Packers at Lambeau Field awaits in two weeks. I expect the Rams to rally and respond, but Monday Night Football made it clear McVay has a lot of work to do…
So Deebo Samuel is really, really good

(via @NFL) pic.twitter.com/zJfAoC7pxu

— Pickswise (@Pickswise) November 16, 2021
49ers back from the dead
Just when you think you're out, they pull you back in. The 49ers seemed just about dead and buried last week when they lost at home to Colt McCoy and the Cardinals to fall to 3-5. But right when it seemed like the nail was in the coffin, head coach Kyle Shanahan kicked it back open. You have to tip your cap to San Francisco after tonight.
It was an impressive performance on both sides of the ball and an emotional win for a team that has suffered through a lot of bad luck. It felt like things were finally breaking through for the Niners and it will be very interesting to see if they can keep it going. A winnable game in Jacksonville awaits them in Week 11.
If they can win that one, they will climb back to .500 with seven games left to go. It's an uphill battle, but this team still has some fight left in it. If there was ever a such thing as a statement win, this victory over the Rams was one.
Anybody interested in taking a nibble on some 49ers futures Tuesday morning?
Pickswise is the home of free NFL Picks and NFL Odds. Check out the latest NFL Prop Bets and NFL Parlays as well as expert NFL Underdog Picks and NFL Computer Picks.