Monday Night Football reaction: Ravens and Raiders play thriller, but neither team looks good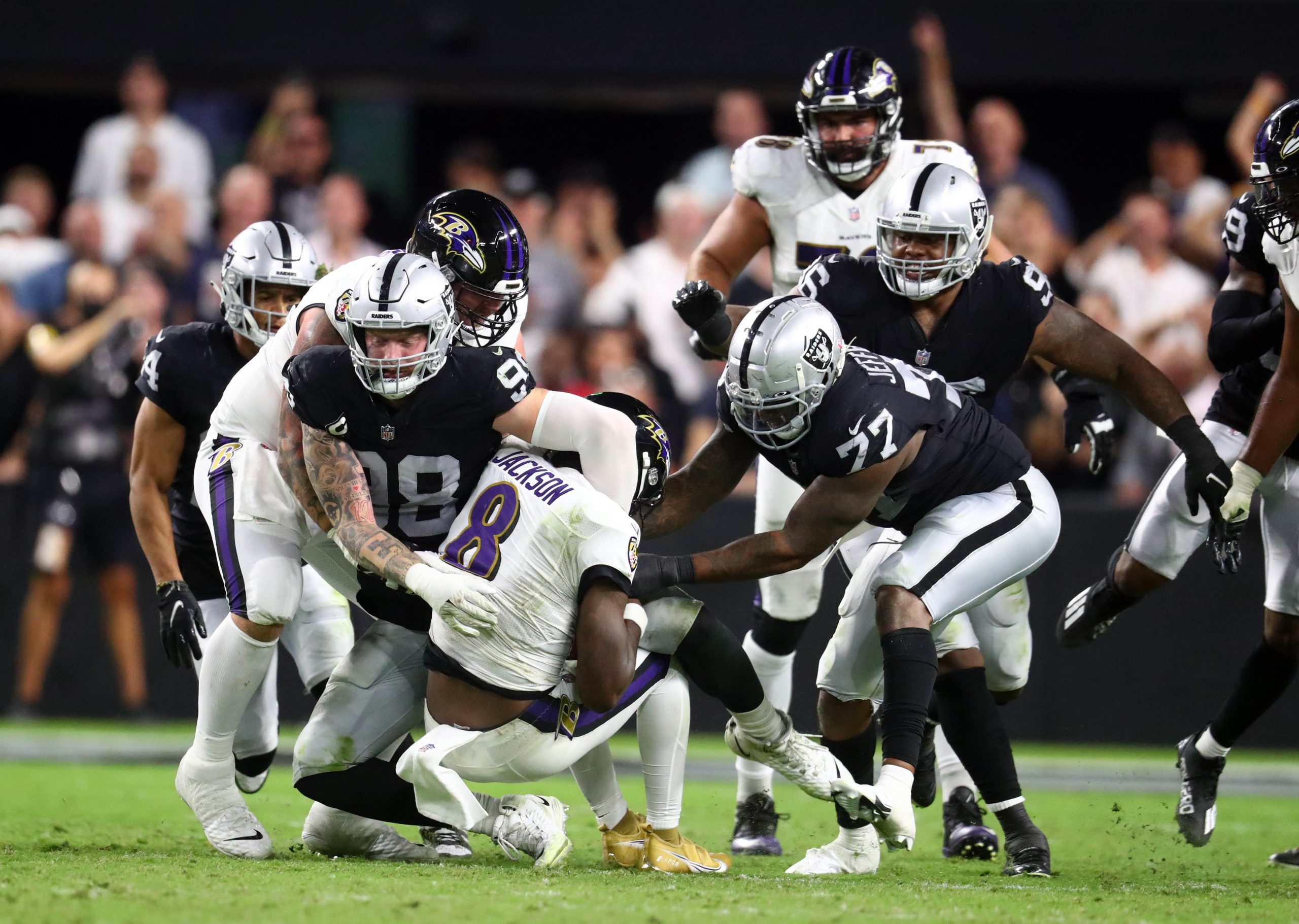 I'm not quite sure what we just saw. Monday Night Football was highly entertaining if nothing else, as the Raiders won an overtime thriller over the Ravens. We probably won't ever see another game like that, at least not for a long time. It was an absolute rollercoaster that took a million twists and turns down the stretch.
The Raiders emerged with the 33-27 victory, but neither side looked sharp. Both teams looked sloppy, and both suffered key injuries that have me worried about their outlooks moving forward.
Let's break down what we just saw on MNF:
The Ravens blew it
The Ravens have dominated openers in recent years, but they certainly didn't dominate this one. Quite simply, they blew a game they controlled for most of the night. Lamar Jackson was solid enough as a passer, but his O-line often let him feel pressure from a Raiders team not exactly known for their ferocious pass-rush.
Jackson, of course, also lost a couple of crucial fumbles. while Alejandro Villanueva, replacing the younger and much better Orlando Brown Jr. at tackle, struggled mightily.
He was getting abused by Maxx Crosby and Carl Nassib all night. That's not a good sign for when they have to face teams like the Steelers and Browns four times in the coming weeks. I also wasn't impressed by Baltimore's defense. They lost some key guys from last year's unit, including Yannick Ngakoue and Matt Judon.
The Ravens did a good job pressuring Derek Carr at times. But that's to be expected against a patchwork Raiders offensive line that's a complete mess at the moment. Their secondary repeatedly got beaten by Carr in the second half, and especially so when it mattered most.
At times they couldn't cover Hunter Renfrow. Then it was Bryan Edwards looking like a star on a couple of the game's biggest plays. Were it not for Carr misfiring on several occasions, the damage could have been worse.
Making matters worse, starting left guard Tyre Phillips had to be carted off with what looks like a serious knee injury. That will really hurt an O-line that was already struggling. Baltimore has a tough test coming up against the Chiefs next week, and after this showing I'm not particularly optimistic about how that will go.
Gruden was FIRED up after the win 🔥pic.twitter.com/CnULBkLOzh

— Pickswise (@Pickswise) September 14, 2021
Check out our betting reaction to the Sunday Week 1 games, where the return of fans didn't see a return of home-field advantage
Raiders win, but I'm not impressed
The Raiders eventually turned things on late in the game, but Carr and the offense looked pretty bad early on. Even after they improved, they still managed to almost snatch defeat from the jaws of victory. Their incredible meltdown on the half-yard line (a false start followed by a disastrous deflected interception), showed that not too much has changed with this team.
They got bailed out by the Ravens' own incompetence, but their execution toward the end of the game was indefensible. On their bizarre final drive, Gruden initially sent out his field-goal unit to attempt a 43-yarder on second down. They promptly got a delay-of-game penalty in the confusion that followed.
They were lucky Baltimore choked harder than they did, that's the simple truth. It won't be possible to get away with as many miscues as they did tonight the vast majority of the time. Las Vegas also suffered a couple of injuries that should scare Raiders fans.
Gerald McCoy and Yannick Ngakoue both went down with leg injuries in the fourth quarter, potentially striking a serious blow to their defensive front depending on the severity of those injuries.
Tonight was a ton of fun. It was also an absolute mess, and despite the thrilling nature of the game it didn't reflect well on either team.
Read our breakdown of the current college football futures market