NBA Finals series preview and prediction: Golden State Warriors vs Boston Celtics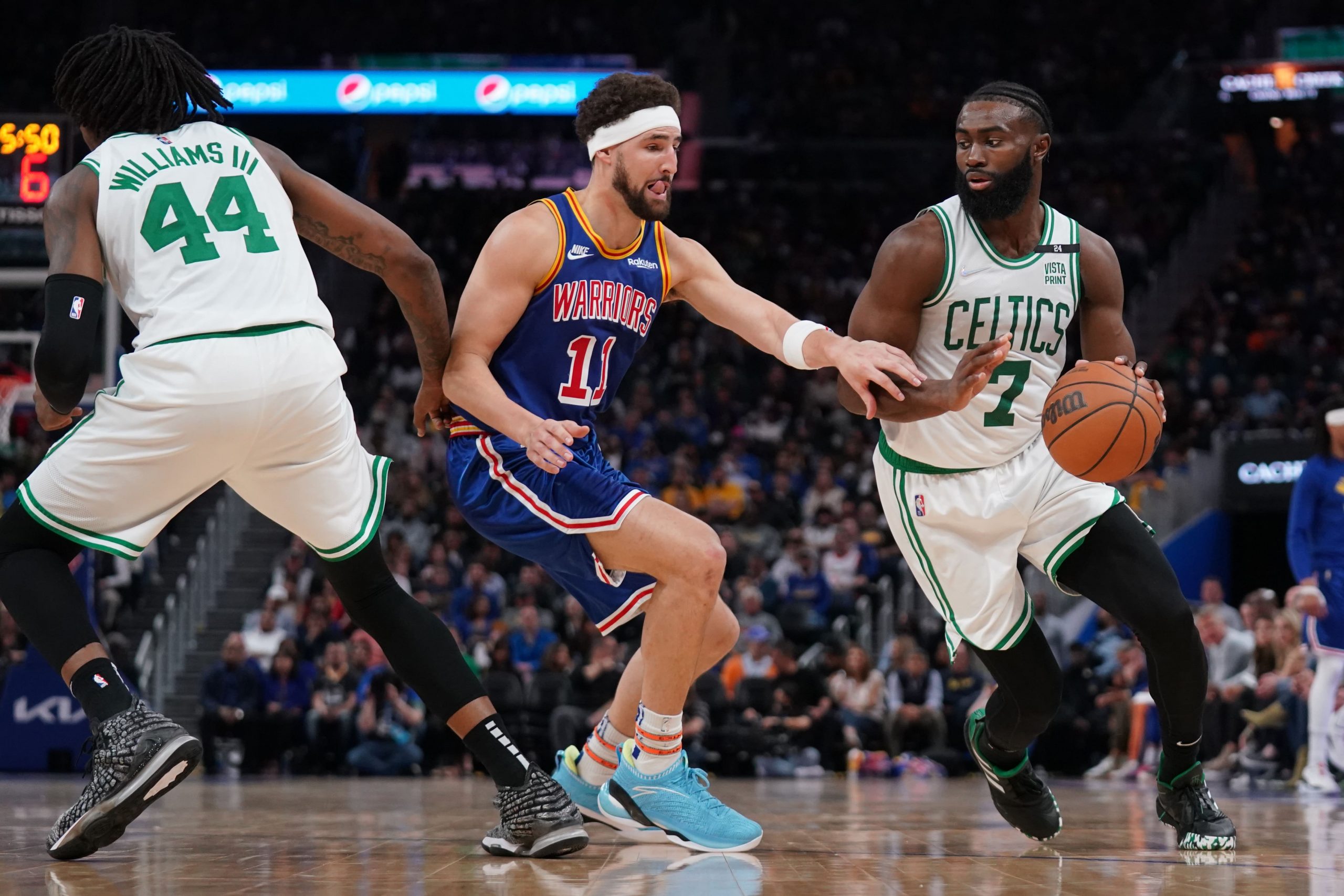 Neither the Milwaukee Bucks nor the Phoenix Suns made it back to the NBA Finals this season, but nonetheless, there will be some familiar jerseys on the court over the next two weeks. It will be the league's most recent dynasty (the Golden State Warriors) going up against one of the most storied franchises in all of sports (the Boston Celtics).
Following a two-year hiatus from the playoffs amidst Kevin Durant's departure and Klay Thompson's injury woes, Golden State is back on top of the Western Conference. It is making its first NBA Finals appearance since 2018-19 (lost to the Toronto Raptors in six games) and is hoping to lift the Larry O'Brien Trophy for the fourth time in the span of eight seasons. Boston is playing in the NBA Finals for the first time since 2009-10 (lost to the Los Angeles Lakers in seven games) and is bidding for its first title since 2007-08 (beat the Lakers in six).
Let's break down the two teams and discuss our best bet for the series.
Be sure to check out our Game 1 preview for Boston Celtics vs Golden State Warriors
Breaking down the Golden State Warriors
The Warriors were a bit of a question mark heading into the playoffs. They were seeded behind both the Suns and Memphis Grizzlies in the Western Conference, plus Stephen Curry had been sidelined for a month because of a foot injury. Well, there are questions no more. Head coach Steve Kerr's squad really had no trouble advancing out of the Western Conference. In between five-game series with the Denver Nuggets and Dallas Mavericks, the Dubs needed only six games to vanquish the Memphis Grizzlies. It is true that Golden State benefited from both an injury to Ja Morant and the Phoenix Suns' surprising second-round exit to Dallas. Still, this team has been impressive.
In this series, the Warriors are facing an opponent that led the NBA in scoring defense. The good news for them is that they have more than just Curry and Thompson to throw at Boston — a lot more. Former No. 1 overall pick Andrew Wiggins is thriving in his role with Golden State and Jordan Poole is arguably the most improved player in the association. Even a defensive force like the Celtics can't guard everyone. Kerr can go to a small lineup that runs circles around opponents or when he goes bigger center Kevon Looney has been stepping up in a big way. Add Draymond Green's dirty work on defense and ball distribution on offense, and basically what you have is an extremely versatile team with zero noticeable weaknesses.
Check out our report on the NBA Finals' opening lines
Breaking down the Boston Celtics
The Celtics aren't afraid of anyone. Case in point: they were unafraid to snag the No. 2 seed in the Eastern Conference despite knowing full well that the dangerous Brooklyn Nets would likely get the No. 7 seed and therefore be their first-round opponent. That is exactly what happened, and a confident Boston squad proved to be way good for a beleaguered Brooklyn team throughout a four-game sweep. The C's were then pushed the distance by both the Bucks and the Miami Heat; they came back from 3-2 down against the defending champions and from a 2-1 hole against Miami. Head coach Ime Udoka's team has twice staved off elimination on the road (Game 6 at Milwaukee and Game 7 at Miami).
Although facing Golden State is rarely fun for anyone, this may not be a terrible matchup for Boston. Jayson Tatum and Jaylen Brown are an answer for Curry and Thompson, while Marcus Smart is the NBA Defensive Player of the Year. As good as Looney has played for the Warriors, the Celtics should have an advantage down low with Robert Williams III and a resurgent Al Horford. Grant Williams and Derrick White have been outstanding in these playoffs, too. The question is: can a much less experienced roster step up on the biggest stage in basketball?
NBA Finals Boston Celtics vs Golden State Warriors Prediction: Warriors 4-2 (+550)
Although this proud Golden State franchise has been known for its prolific offense led by the Splash Brothers, the 2021-22 team is a defensive force. Unless Smart gets super hot from deep and Horford goes on another unexpected scoring binge, I'm not sure a club that relies so heavily on two scorers — Tatum and Brown — can put up enough points on a consistent basis to keep up with the Warriors. Not having home-court advantage also hurts Boston's chances, of course.
I like the value on Golden State at -150 to win the title, but the exact score price is also an enticing one. Warriors in 7, Celtics in 6, and Warriors in 5 all have shorter odds, so give me Warriors in 6. Kerr's crew has proven it can win on the road and Boston has shown signs of vulnerability at home. There is no reason why the Dubs can't clinch in the Garden.
Check out all of our NBA Finals coverage
Pickswise is the home of free NBA picks and predictions. Make sure to also check out our NBA parlays and NBA prop bets tabs for more expert picks.