NBA Miami Heat vs Boston Celtics Game 3 same game parlay (+825 odds): Time for Tatum?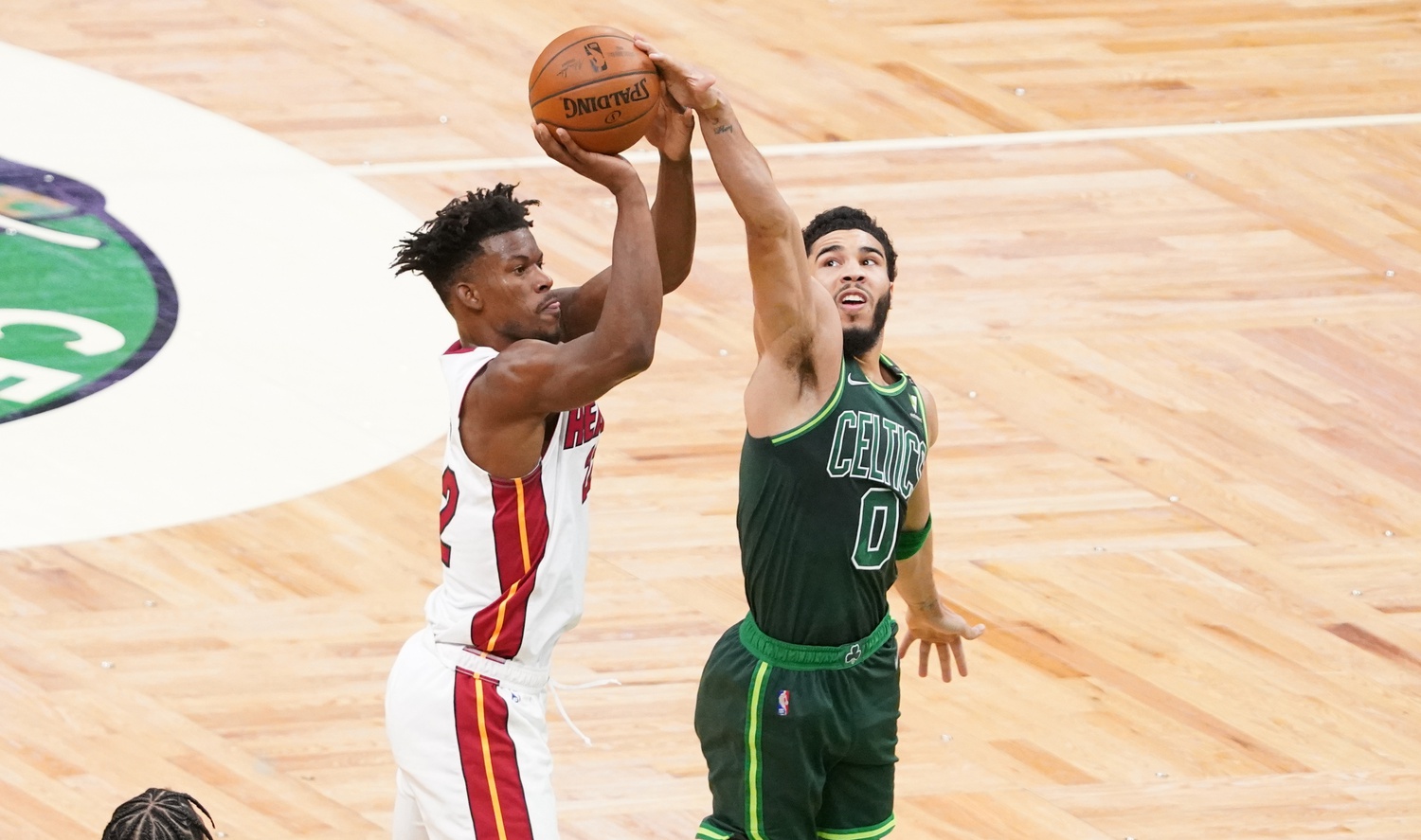 In Game 2 it was Marcus Smart who stepped up for the Celtics and helped them escape Miami with a win. Now the series switches to Beantown and it's time for Jayson Tatum to take matters into his own hands. Game 3 tips off at 8:30 pm ET on ABC and I've prepared a same game parlay. Don't forget you can check out all our NBA Playoffs coverage here.
Let's get into in!
Jayson Tatum over 3.5 made threes (-125)
Marcus Smart over 3.5 rebounds (-142)
Jaylen Brown to score 20+ points (-310)
Jimmy Butler to record 6+ assists (+124)
Jayson Tatum over 3.5 made threes (-125)
Jayson Tatum took only 13 shots in Game 2, but still managed to finish the game with 27 points. He's been efficient so far in this postseason, scoring on almost 49% of his attempts, but after failing to score 30 points in the last 3 games I'm expecting a breakout performance from him tonight. His three-ball has been falling consistently lately, he has gone over 3.5 threes in 3 of his last 4 outings and is connecting on 44.5% of his shots from the perimeter in this series. Miami's defense is elite, but they've had their fair share of issues guarding the perimeter in these playoffs. Out of the 16 teams that made it into the postseason, they rank only 7th in opponent three-point percentage, allowing 34.6%. Only the Golden State Warriors are worse than that out of the 4 teams remaining in the playoffs. Expect Tatum to get up some threes tonight.
Be sure to check out our full Game 3 preview for Miami Heat vs Boston Celtics
Marcus Smart over 3.5 rebounds (-142)
Game 2 played out exactly how I thought it would – Marcus Smart returned to the lineup and set the tone in that game. Even though he didn't have the best of shooting nights, he still finished with 24 points while making 5 threes. He also dominated other aspects of the game such as rebounding (9) and assists (12), finishing with a +/- of +31 which was the second-highest on the team. It's tough to expect him to score 20+ again, because that really isn't his job on this team. But, what I am expecting from him are hustle plays, especially on the defensive end. His presence on the court makes Jimmy Butler think twice before taking a shot, so I think the Celtics will be just fine when it comes to guarding Jimmy tonight. Smart has collected at least 5 boards in 3 games in a row, that streak should continue tonight.
Jaylen Brown to score 20+ points (-310)
Jaylen Brown is 2nd on the Celtics in scoring this postseason, averaging 22.5 points per game. He is coming off back-to-back 24-point performances to open the series and I think he will only get better with the series switching to Boston for the next 2 games. He is averaging 22.9 points per game in 36 games at TD Garden this season while shooting a consistent 46.4% from the field and a respectable 35.5% from three. For some reason he just loves playing against Miami. In 3 regular-season games he averaged 24.7 points against them and has continued that so far in this series. If you're planning on backing him to score 25+ or even more than that, I don't blame you. Brown has been playing stellar lately and the Celtics need a steady hand from their secondary scoring option in order to win tonight's game. I'm backing him to get at least 20 points, which should be very realistic.
Check out our first-basket best bet for Heat vs Celtics
Jimmy Butler to record 6+ assists (+124)
We all know Jimmy Butler can score. He has proved it on a number of occasions in these playoffs and right now only Luka Doncic averages more points per game than him from the players remaining in the postseason. He got his numbers in Games 1 and 2, but the Miami Heat will have a much better chance of winning if he gets his teammates involved. He's averaging just 4 dimes through the first 2 games. In the series against Philadelphia he averaged 5.5, but in the 4 wins he averaged 6.2 which is telling. I'm expecting him to still go over 20 points tonight, but look for Butler to change his approach a bit as he tries to get Tyler Herro or Duncan Robinson going.
Check our best player prop for Game 3 of Miami Heat vs Boston Celtics
Pickswise is the home of free NBA picks and predictions. Make sure to also check out our NBA parlays and NBA prop bets tabs for more expert picks.