NBA Playoffs predictions - First basket best bets for Wednesday: One big Holiday
While the media continues to freak out over the Philadelphia 76ers' second-round meltdown and discusses Ben Simmons' future in "The Process", the Atlanta Hawks are on to Milwaukee. Yes, the Eastern Conference finals pit the upstart Hawks against the Milwaukee Bucks. It's a surprising matchup without either Philadelphia or the Brooklyn Nets and it tips off on Wednesday night. Speaking of the tipoff, that could go a long way in determining who scores the first points of Game 1. Let's take a look at our best such bets for Wednesday's action on the professional hardwood.
Pick – Jrue Holiday +550
Longshot – John Collins +1100
Here is a breakdown of the two NBA prop plays.
Pick – Jrue Holiday +550
In the series against Brooklyn, Milwaukee big man Brook Lopez won the tip from Kevin Durant six times in seven games. On two of those occasions Holiday attempted the first shot on the first possession, albeit coming up empty. What's important is that he isn't afraid to get involved early … or at any other point, for that matter. The UCLA product attempted at least 16 field goals in five of the seven contests against Brooklyn, including more than 20 in each of the last two.
He should get an opportunity to score the first basket in Game 1 against Atlanta considering the Lopez vs. Clint Capela tipoff matchup. Lopez has the height advantage at 7'0'' to 6'10''. Capela took four of the seven jump balls from Joel Embiid in the East semis, but Embiid was playing on a partially torn meniscus. Lopez gave Milwaukee the first possession in all three games against the Hawks during the regular season, twice at Capela's expense and once while facing John Collins in the circle. I'll put my eggs in Lopez's basket … and in Holiday's, too.
Be sure to check out our full game preview for Atlanta Hawks vs. Milwaukee Bucks
Longshot – John Collins +1100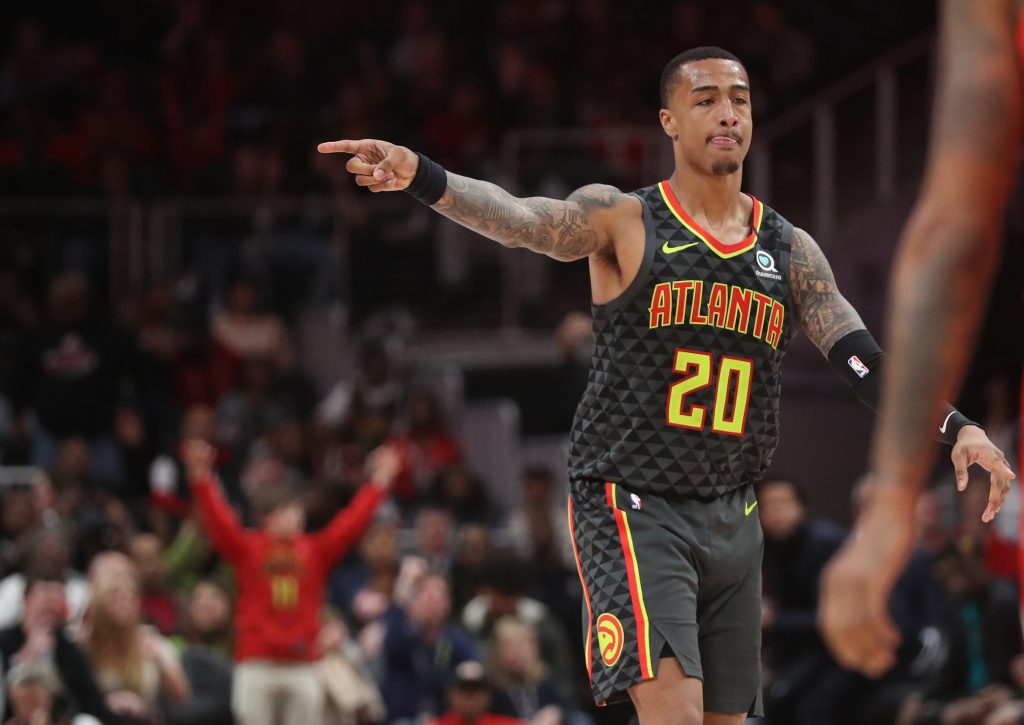 It's not like the Bucks are an absolute lock to win the tip, nor are they guaranteed to score even if they get possession. The odds are wildly in their favor when it comes to the first basket (Giannis Antetokounmpo is a +370 favorite, Khris Middleton is +480, Holiday is +550, and nobody on the Hawks is better than +700). That actually gives just about everyone on the Hawks enticing value — including Collins at +1100 (trailing Trae Young at +700 and Bogdan Bogdanovic at +900).
Collins scored the first points in both Game 6 and Game 7 against the Sixers. Although Simmons passing up a wide-open dunk in Game 7 was the series-defining play, Collins' posterization of Embiid in Game 6 was runner-up in that department. After the Hawks won the series, Collins wore a shirt with the photo of that play to his post-game press conference. It's safe to say he is feeling himself right now, and for good reason. Don't be surprised if the former Wake Forest star starts fast again on Wednesday.
Make sure you check out our same game parlay for Game 1 of Hawks vs. 76ers (+1591 odds!)
Pickswise is the home of free NBA picks and predictions. Make sure to also check out our NBA parlays and NBA prop bets tabs for more expert picks.