NBA Sunday same game parlay: Brooklyn Nets vs. Los Angeles Clippers (+1747)
We have a nice eight-game slate in the NBA on Sunday, headlined by two on national television. The first is the Boston Celtics vs. the New Orleans Pelicans during the afternoon. In primetime, the Brooklyn Nets are paying a visit to the Los Angeles Clippers. Both showdowns are getting the same game parlay treatment they deserve. Let's take a look at the best such option for Nets-Clippers, and be sure to check out our full game preview for picks on the side and total.
Clippers -6.5 (-110)
Kawhi Leonard Over 28.5 points (-104)
Serge Ibaka Over 6.5 rebounds (+108)
James Harden Over 3.5 three-pointers made (+138)
Part of the value in same game parlays, of course, is that all of its components can be correlated if you so choose. That is some of the plan here. We feel good about L.A.'s chances to take care of business at home, and another big night for Kawhi Leonard would obviously go a long way in that effort. Serge Ibaka controlling the paint would do the same. At the same time, plays that aren't correlated drive up the overall payout of the parlay. That's the case with an over bet on James Harden's threes, but there is no reason why the Clippers can't win and cover even if Harden does dial long distance more than a few times.
Clippers -6 (-110)
The Clippers are playing at home and are finally back at full strength thanks to the return of Paul George to the starting lineup. In George's last 15 games, Los Angeles is 13-2. One of those two losses has come to none other than Brooklyn, but the Clippers led by 20 points later in the third quarter before collapsing. The Nets, who came back to win 124-120, were fully stocked with Kevin Durant, Kyrie Irving, and James Harden. They won't have Durant at their disposal this time around. Brooklyn has won five games in a row, but it has done so at the expense of mostly inferior competition—or against good teams that were missing key pieces. Now the Nets are facing an L.A. squad that is healthy, well-rested, and itching for revenge.
Kawhi Leonard Over 28.5 points (-104)
If the Clippers are going to win this contest by at least seven points, you have to figure that Leonard is going to score a fair amount of points. And he has every reason to do so against Brooklyn. Leonard is averaging 26.8 ppg for the season, and an "average" performance vs. the Nets' defense is a lot more than average vs. everyone else. The 29-year-old dropped 33 points in the previous head-to-head matchup and that was without even shooting especially well (50 percent from the floor, 1-for-5 from three-point range). It should also be noted that Leonard's three most recent point totals are 36, 33, and 29.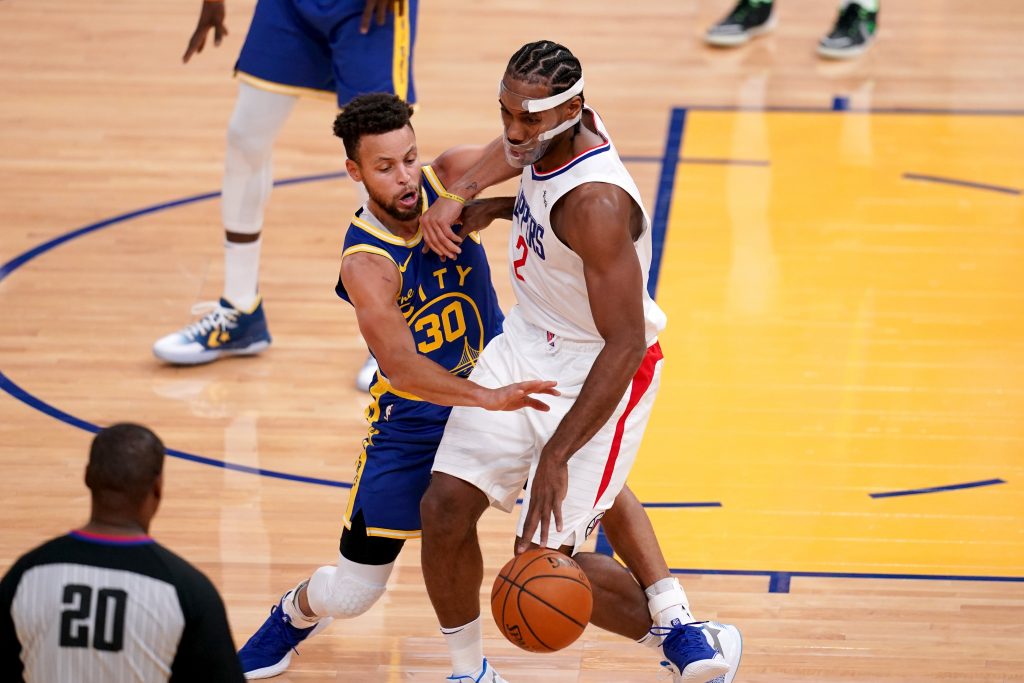 Serge Ibaka Over 6.5 rebounds (+108)
Brooklyn is in the bottom half of the NBA in rebounding, while the Clippers are sixth in overall rebounding percentage. Much of that has to do with Ibaka, who is averaging 6.7 rebounds per game. He corralled 10 against Brooklyn earlier this month, and that was while logging only 21 minutes. The veteran center is averaging more than 24 minutes per game in 2020-21, so more court time would naturally lead to more chances at rebounds. Also, the Nets are fifth in the NBA in pace of play and the Clippers are a strong defensive team. A lot of possessions against a strong defense would suggest plenty of missed shots—and therefore plenty of boards.
James Harden Over 3.5 three-pointers made (+138)
Harden has been playing unselfish ball for the most part with his new team, but with Durant sidelined he has been forced to fork up more shots than he had previously been attempting. Harden has launched 36 three-pointers over the past four outings and has converted an impressive 19 of those attempts. If Brooklyn trails most of the way on Sunday, as our ATS pick suggests, Harden will be inclined to shoot more and more three-balls in an effort to get the visitors back in it.
Pickswise is the home of free 
NBA picks and predictions
. Make sure to also check out our '
NBA parlays
'
 and '
NBA prop bets
' tabs for more expert picks.