NFL DFS Thursday Night Football showdown lineup advice: 49ers vs Titans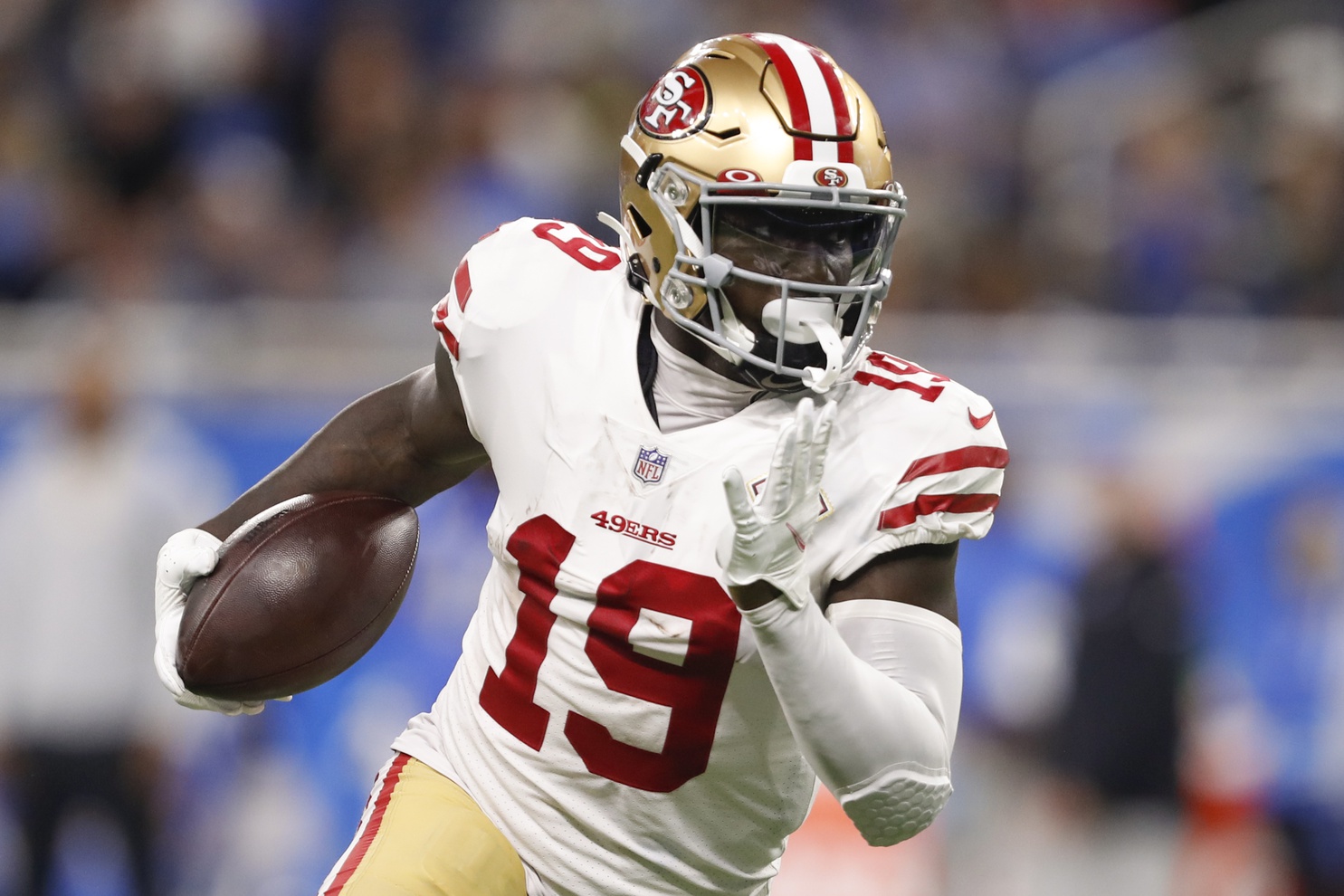 Welcome to daily fantasy football, Pickswise Nation. For those who haven't yet dipped their toes into the DFS pool, allow me to introduce myself. My name is Howard Bender and I have been working in the fantasy sports industry for more than 20 years. I am the head of fantasy sports content for Fantasy Alarm and DFS Alarm as well as a bi-weekly columnist for the New York Post. We've enjoyed tremendous success over the years, but this NFL season has been one of our best as our Playbook and Showdown write-ups have already brought in a $1,000,000 winner on FanDuel, as well as several others who have enjoyed six-figure wins. We promote the process and teach you to be a better DFS player and that has certainly been the case this year. Welcome to the #FAmily…
While NFL Week 15 only came to a close just two days ago, we're ready to jump right back into the DFS fray with the start of Week 16 here on Thursday Night Football. We've got the San Francisco 49ers traveling to Nashville to take on the Tennessee Titans, two teams desperately trying to hold onto their current playoff hold. Save for Elijah Mitchell (concussion), who has been out for a few weeks now, the 49ers are at full-strength on both offense and defense. The Titans, on the other hand, are getting a boost with the return of A.J. Brown, but also have one glaring hole which could give them some trouble tonight, that being the loss of both Taylor Lewan (back) and Roger Saffold (COVID) on the offensive line. With both defenses playing well, the game wasn't supposed to be high-scoring anyway, but this loss of players for Tennessee may give them a few extra headaches. Still, for showdown slates, it's not about how much scoring there is. It's about whether you have the guys who do score in your lineup.
MVP/Captain
Deebo Samuel, WR SF
With no Elijah Mitchell, we know Samuel is going to see a handful of carries out of the backfield, particularly inside the red zone. In fact, over his last five games, he's seen eight red zone touches which he's turned into seven rushing touchdowns. But what's even better is that last week he actually caught four passes for 60 yards, something he hadn't been doing lately with his new role. If he continues to see the receptions, then he's less touchdown-dependent and that makes for a great captain.
George Kittle, TE SF
Since returning from injury just seven games ago, Kittle has three 100-yard efforts with six touchdowns while averaging just over eight targets per game. Those numbers are just ridiculous and while Tennessee does a good job guarding the tight end, Kittle is a totally different animal. Start him here with confidence.
AJ Brown, WR TEN
How's this for a contrarian captain play? The offensive line is taking a major hit with the loss of Saffold and Lewan, and that could end up forcing Ryan Tannehill into a more pass-heavy scheme – quick, shot passes, that is, which will hopefully get Brown in a situation where he can pick up yards after the catch. It's a longshot, but not totally out of the realm of possibility.
Other Plays
Jimmy Garoppolo, QB SF
The numbers are never eye-popping, but Garoppolo has been pretty efficient over the past few games and actually has a 10:3 TD:INT over his last six. He's got the receiving weapons he needs to succeed and if he and Samuel can continue to connect on a few passes even with all the rushing efforts, he'll be a solid play.
Jalen Hurts, QB PHI
This is a tough one as Hurts had been questionable all week with an ankle issue, but enters Tuesday without any injury designation. He'll start, but if he does struggle, it doesn't seem too far-fetched to think Nick Sirianni could pull him in favor of Minshew, so using him comes with some risk. If he plays well, then this match-up is super-tasty as the Football Team is riddled with COVID cases and their pass defense has been extremely weak all year, allowing almost 260 passing yards per game with 27 touchdowns allowed through the air. 
Ryan Tannehill, QB TEN
The last three games have been rough and it doesn't get any easier with the offensive line issues. He's going to have to get rid of the ball quickly to avoid the pass-rush and get it into the hands of his play-makers. The ground game isn't expected to be effective here, so it's Tannehill or bust for this team.
D'Onta Foreman, RB TEN
You can hope for some short-yardage work if the Titans get near the goal-line, but the running game is going to find it tough to get going. The 44.5 over/under indicates a low-scoring game, so if you can get a touchdown out of him, the yardage won't really matter too much.
Jeff Wilson, RB SF
While Deebo Samuel is currently poaching most of the red zone work, Wilson remains an option for short-yardage plays near the end zone as well. He's not going to rack up a ton of yards, but if he can score a touchdown, that might be all you need on a showdown slate such as this.
Brandon Aiyuk, WR SF
Having Samuel in the backfield has helped increase the target share for Aiyuk, though last week was a major bust. Still, he's offered steady production over the past several games and has a decent floor as a role-player in showdown lineups.
Julio Jones, WR TEN
He's risky because of the injury history, but he's been cleared to play tonight and having A.J. Brown return will likely draw the tough coverage away from him. If he can catch a few passes and get some work inside the red zone, maybe he's worth the cost.
Jauan Jennings, WR SF
He's seen 11 targets over the last two games which he's turned into six catches for 74 yards and a touchdown, so he's a little more than just a dart throw. If you're in need of saving some salary and want to play for some upside potential, then he's right behind Aiyuk on that list.
Geoff Swaim, TE TEN
We expect the Titans to employ more of a short-passing game-plan which should help Swaim get some extra looks his way. The 49ers do a good job against the tight end, but with so much attention going towards Brown and Julio, perhaps things open up more for the tight end.
Nick Westbrook-Ikhine, WR TEN
He'll go back to being the third receiver in this offense and will split snaps out of the slot with Chester Rogers. However, he'll probably see the lion's share of the snaps in the three-receiver sets, so with the 49ers ranking 27th in DVOA against the slot, he could have a decent game.
Dart Throws
Kyle Juszczyk, RB SF
Kyle Shanahan loves his gimmick plays and while we saw Juszczyk score last week, there's nothing wrong with taking another stab at it and seeing if lightning can strike twice.
MyCole Pruitt, TE TEN
Everything I said above with regard to Swaim plays here for Pruitt as well, though he does see fewer snaps and run fewer routes. But inside the red zone, how many times have we see that random touchdown throw to the back-up tight end? A few more than we'd like to admit.
Pickswise is the home of free NFL Picks and NFL Odds. Check out the latest NFL Prop Bets and NFL Parlays as well as expert NFL Underdog Picks and NFL Computer Picks.