NFL MVP Predictions – Russell Wilson or the field?
Just how good has Russell Wilson been this season? Well, let's just say that DraftKings has been taking Wilson vs. the entire field bets for NFL MVP.
On Monday, Wilson was +100 while the field was -155. The Seattle Seahawks' signal-caller has since improved to -125 odds, which will likely leave the field around -115 when it comes back on the market.
Is Wilson really that much of a lock to earn the biggest individual honor in professional football? Or is the sample size (six weeks into the 2020 campaign) still too small to back one guy at those kinds of odds? Let's break down both sides of the argument for this NFL MVP bet.
The case for Wilson
Through five games, Wilson has passed for 1502 yards with 19 touchdowns and only three interceptions. He is completing 72.1 percent of his passes, which would obliterate his career high of 68.1 percent set in 2015. The 31-year-old has also kept the ball on the ground 23 times for 153 yards. Perhaps most important is the fact that his team is a perfect 5-0. The Seahawks have taken care of Atlanta, New England, Dallas, Miami, and Minnesota, climbing to the No. 2 spot in our Week 7 Power Rankings. Obviously the sample size is still small and NFC West competition has not even begun for Seattle, but if it can stay atop one of the toughest divisions in football then Wilson's MVP chances will remain outstanding.
Russell Wilson on never getting an NFL MVP vote in his career:

"I don't really want A VOTE. I want to be able to win the whole thing. … hopefully I'm headed to a place where only few can go." pic.twitter.com/1LbeMJ90fk

— First Take (@FirstTake) October 13, 2020
The case for the field
The case for the field is that…well…it's the field. You don't just get one player; you get everyone. Yes, we are talking about Patrick Mahomes, Aaron Rodgers, Lamar Jackson, Derrick Henry, Ben Roethlisberger, and plenty of other contenders. All of those guys are already lighting it up, and with 11 weeks remaining a whole host of other players still have time to get hot. Eleven weeks left also means Seattle has plenty of time to lose more than a few football games.
Let's take a look at some of Wilson's biggest threats.
Patrick Mahomes, QB, Kansas City Chiefs (+400)

The defending Super Bowl champions are off to a solid 5-1 start. With road games against Las Vegas, Tampa Bay, and New Orleans still on the schedule, they probably won't go 15-1—but 14-2 or 13-3 isn't entirely out of the question. As for Mahomes himself, he has passed for 1699 yards with 15 touchdowns and only one interception. He has also rushed for 165 yards and two scores. The 2018 NFL MVP and most recent Super Bowl MVP is up to his usual tricks.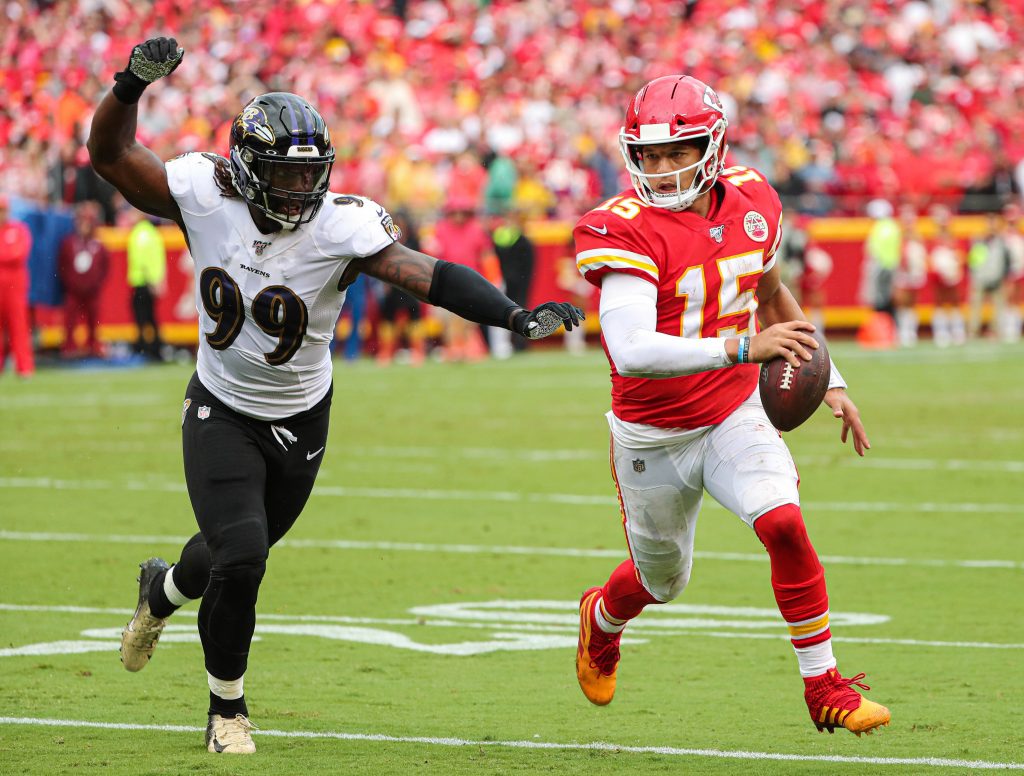 Aaron Rodgers, QB, Green Bay Packers (+600)
A lopsided loss to Tampa Bay and fellow future Hall of Fame quarterback Tom Brady is not good news for Rodgers. Nonetheless, his numbers remain impressive: 1374 passing yards, 13 touchdowns, two interceptions. The Packers have scored at least 30 points in four of five outings this year, so there is no reason why they cannot bounce back in a big way from their Week 6 setback.
Lamar Jackson, QB, Baltimore Ravens (+1600)
The reigning NFL MVP is hurt by his head-to-head loss to Mahomes in Week 3, but he has otherwise been stellar. Jackson has led the Ravens to a 5-1 record and they have scored at least 30 points in four of five wins (27 is the lone exception, and they could have scored more against Cincinnati except the game was a 27-3 laugher). The 2016 Heisman Trophy winner has 12 total touchdowns (10 passing), 1135 yards through the air, and two interceptions.
Verdict
It's simply too early in the season to jump on one player at negative money (-125) with a lot of enthusiasm. If Wilson's TD-to-INT ratio was 19-to-0 instead of 19-to-3 and most of the other marquee names in the NFL were struggling, then it would be worth a shot. But Mahomes, Rodgers, Jackson, Henry, Roethlisberger, and others most definitely aren't struggling. If even one of those guys gets even hotter than he already is and the Seahawks start losing some games (which they have come very close to doing already), then this MVP script could flip.
Pickswise is the home of free NFL predictions. Check out the latest NFL props and NFL parlays as well as expert underdog predictions and computer picks.