NFL
Back
NFL Power Rankings, Week 12: Saints assume control of NFC's top seed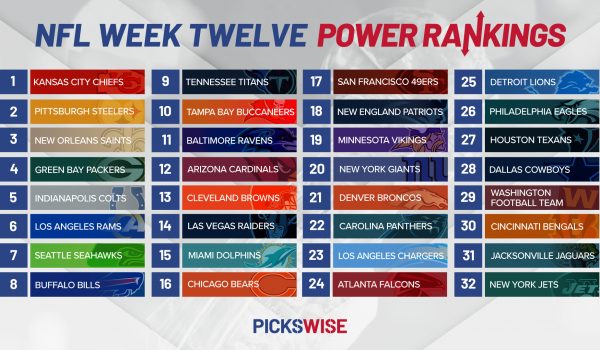 Once again, it's the Kansas City Chiefs and Pittsburgh Steelers…and then everyone else. But that's not to say that everyone else is unimportant. Even without Drew Brees, the New Orleans Saints made some serious gains in Week 11—both with their own victory and fortuitous results around the league. The Baltimore Ravens, on the other hand, continue to go in the wrong direction—both in the standings and these power rankings.
With that, let's make the Week 12 list from No. 1 Kansas City all the way down to the No. 32 New York Jets.
1. Kansas City Chiefs (9-1) – The Chiefs avenged their only loss of the season by battling past Las Vegas in a Sunday night thriller. Patrick Mahomes is now a -125 favorite to win NFL MVP. (previous: 1)
2. Pittsburgh Steelers (10-0) – Having reached double-digits unscathed, the Steelers can start to think seriously about going 16-0. They are +570 to successfully accomplish the improbable feat. (previous: 2)
3. New Orleans Saints (8-2) – Staying afloat without Drew Brees is nothing new for the Saints, who just seem to win no matter what. Taysom Hill got the job done at QB this past week. (previous: 4)
4. Green Bay Packers (7-3) – When there are only three really good teams in the NFL, you can afford a loss and stay in the top four. Plus, it came in overtime against a respectable opponent… (previous: 3)
5. Indianapolis Colts (7-3) – …And that opponent was the Colts, who are now 7-2 since somehow losing their season opener to Jacksonville. Philip Rivers has impressed over the past five games. (previous: 8)
Ballgame. #RespectTheSpecs pic.twitter.com/SuB9ioSNgX

— Indianapolis Colts (@Colts) November 23, 2020
6. Los Angeles Rams (7-3) – Speaking of impressive, the Rams' defense befuddled Tom Brady and the Buccaneers on Monday Night Football. L.A. is now a +100 favorite to win the NFC West. (previous: 11)
7. Seattle Seahawks (7-3) – Once the cream of the crop in the best division in football, Seattle has fallen to a +125 second choice. At least it returned to its winning ways by beating rival Arizona. (previous: 12)
8. Buffalo Bills (7-3) – The Bills moved up this list during their bye week, as plenty of other top 10 teams lost in Week 11. Even more importantly, every other AFC East representative lost. (previous: 9)
9. Tennessee Titans (7-3) – Tennessee's 2020 campaign has been a roller-coaster ride for various reasons. It is back on the way up thanks to a crucial overtime defeat of Baltimore. (previous: 14)
10. Tampa Bay Buccaneers (7-4) – The Bucs have been all over the place in recent weeks, and now drop down to number 10 after being beaten by the Rams with Tom Brady struggling yet again. (previous: 6)
11. Baltimore Ravens (6-4) – No team is trending downward in more alarming fashion than the Ravens. Since starting the season 5-1, they are 1-3 in their last four games. (previous: 5)
12. Arizona Cardinals (6-4) – The Cardinals (+600 to win the NFC West) are still within striking distance thanks to their Week 10 Hail Mary, but a Week 11 loss to the Seahawks hurts bad. (previous: 7)
13. Cleveland Browns (7-3) – Cleveland is four games over .500 and has a -23 point differential. You can't make this stuff up, folks. The jury is obviously still out on these Browns. (previous: 15)
14. Las Vegas Raiders (6-4) – The Raiders' AFC West hopes all but ended with Thursday's loss to Kansas City. Nonetheless, the playoffs remain well within reach—in part thanks to an easy schedule the rest of the way. (previous: 13)
15. Miami Dolphins (6-4) – Tua Tagovailoa lost for the first time as a starter in the NFL (3-1). He didn't even finish last Sunday's game against Denver, but will be back under center in Week 12. (previous: 10)
16. Chicago Bears (5-5) – The good news for Chicago is nobody had to watch its offense play. The bad news is it returns from a bye week to visit Green Bay, still saddled with a four-game losing streak. (previous: 19)
17. San Francisco 49ers (4-6) – It's a testament to just how many bad teams there are in the NFL that San Francisco is almost in the top half. The banged-up 49ers just enjoyed a much-needed bye. (previous: 23)
18. New England Patriots (4-6) – The Patriots appeared to be back in the playoff race with two straight wins, but a loss to Houston of all opponents pretty much ends their hopes in 2020. (previous: 16)
19. Minnesota Vikings (4-6) – Minnesota was also riding high for a moment, carried by Dalvin Cook to three consecutive victories. A home loss to Dallas, though, is an unmitigated disaster. (previous: 18)
20. New York Giants (3-7) – Even when they were 1-7, we said the Giants may be the best team in the NFC East. It looks like we were right. Granted, being the best team in the NFC East isn't saying a lot! (previous: 22)
21. Denver Broncos (4-6) – A 4-6 record is not going to get you anything in the AFC West (or in the AFC as a whole), but it's not bad by Denver's standards. (previous: 27)
22. Carolina Panthers (4-7) – A 4-7 record also doesn't look spectacular, but these Panthers have without question overachieved—especially given that Christian McCaffrey has missed most of the season. (previous: 24)
23. Los Angeles Chargers (3-7) – Justin Herbert has been outstanding in his rookie year; unfortunately, the Chargers don't have much to show for it. At least they took care of the Jets! (previous: 25)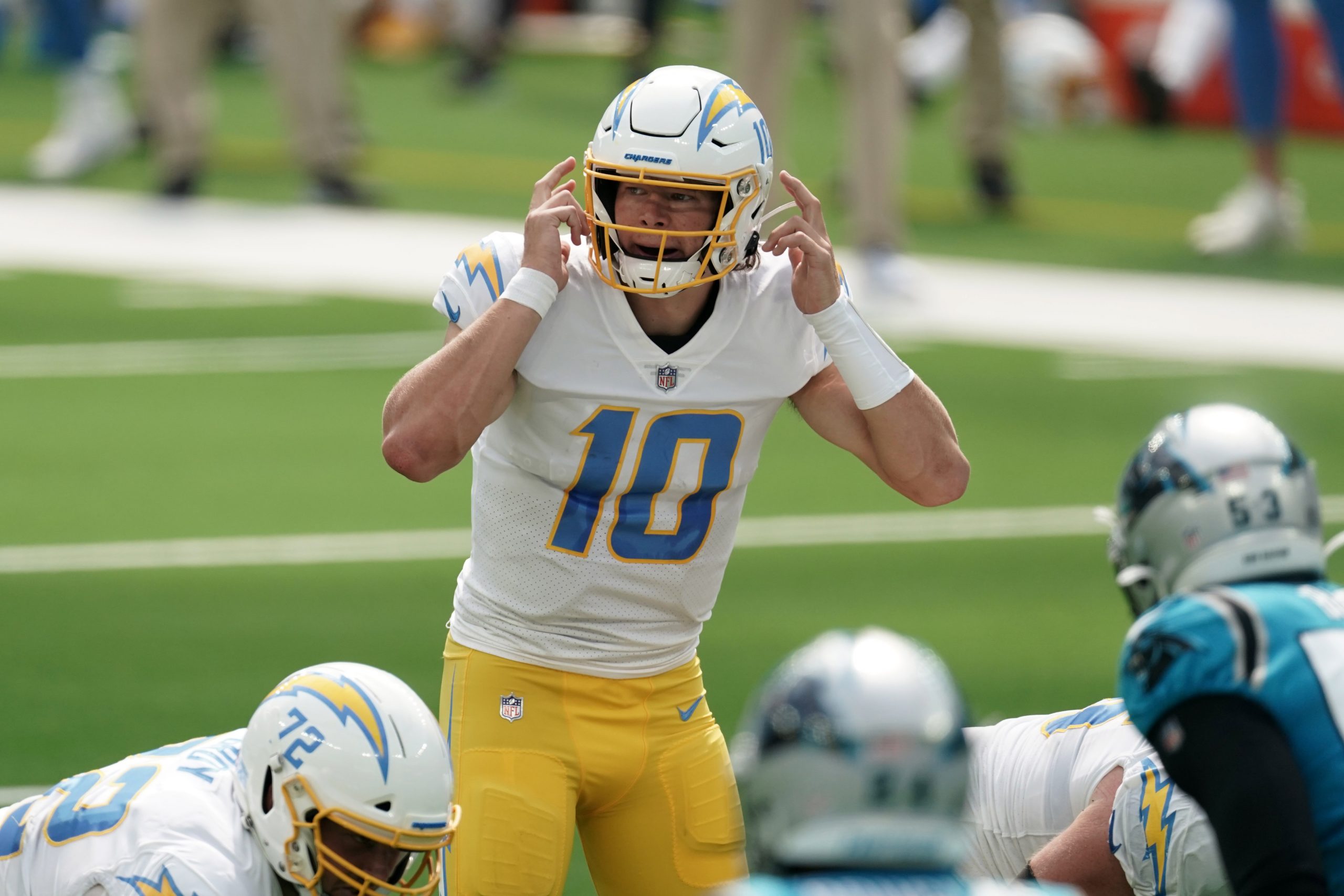 24. Atlanta Falcons (3-7) – Losing at New Orleans is one thing; getting blown out despite Hill playing QB instead of Brees is a whole 'nother thing altogether. The little momentum Atlanta had is gone. (previous: 17)
25. Detroit Lions (4-6) – When you're clinging to playoff life support at 4-5, it doesn't get much worse than a 20-0 loss to the Panthers. Seriously, how could Matthew Stafford not get his team to score one point? (previous: 20)
26. Philadelphia Eagles (3-6-1) – Why did the Eagles draft Jalen Hurts if they are just going to keep sending Carson Wentz back out there even though he continually plays terrible football? (previous: 21)
27. Houston Texans (3-7) – Heading into Week 11, the Texans were 2-0 against Jacksonville and 0-7 against everyone else. That finally changed with a decent win over New England. (previous: 28)
28. Dallas Cowboys (3-7) – Two NFC East teams won, and another didn't lose (the Giants had a bye). That's a smashing success of a week for the worst division in football. (previous: 30)
29. The Washington Football Team (3-7) – While Dallas upset Minnesota, the Football Team cruised past Cincinnati 20-9. What a thrill this NFC East race is shaping up to be!!!! (previous: 29)
30. Cincinnati Bengals (2-7-1) – Another loss doesn't matter. Joe Burrow tearing his ACL, MCL, and everything else in his left knee does matter. Ugh. (previous: 26)
31. Jacksonville Jaguars (1-9) – There are a clear-cut two worst teams in the NFL. The Jaguars continue to be one of them after scoring a grand total of three points against Pittsburgh. (previous: 31)
32. New York Jets (0-10) – Like the Steelers at the other end of the extreme, reaching double-digits means it is becoming a real possibility. The Jets are +180 to go 0-16. (previous: 32)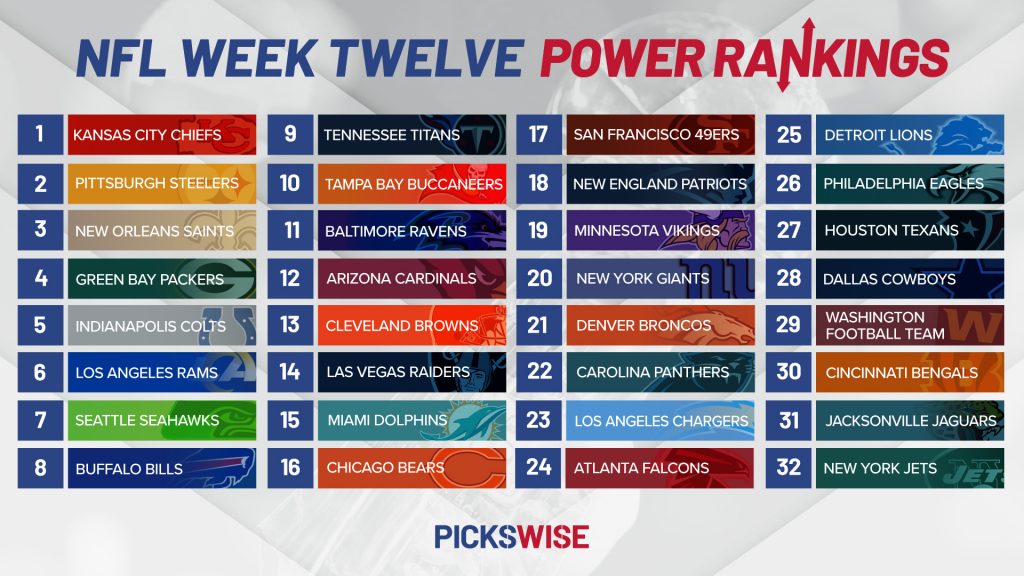 Pickswise is the home of free NFL picks. Check out the latest NFL props and NFL parlays as well as expert underdog predictions and computer picks.
Last updated: Tue 24th November 2020