NFL playoffs DFS/DraftKings lineup advice for Buffalo Bills vs. Kansas City Chiefs
Patrick Mahomes is back, baby! Well, the truth is he was never out—at least not for more than one quarter against the Cleveland Browns last weekend. And was there ever any real doubt that the Kansas City Chiefs' star quarterback would be good to go for Sunday's AFC Championship against the Buffalo Bills? Surely not. Mahomes suffered a concussion during Kansas City's 22-17 victory over Cleveland, but he cleared protocols earlier this week and will obviously be on the field against Buffalo. Does that mean it's time to throw all of your eggs into the Mahomes basket? Maybe not. After all, there is plenty of individual star power in this championship game beyond just the 2018 NFL MVP and reigning Super Bowl MVP.
Let's take a look at our six-man daily fantasy lineup for Bills-Chiefs, and be sure to check out our full game preview and prediction on the side and total.
Captain: Darrel Williams ($7,000, or $10,500 as captain)
Clyde Edwards-Helaire has been out since Week 15 with various injuries and he is questionable for Sunday. A limited participant in practice this week, the former LSU standout really does sound questionable—perhaps even questionable at best. This not simply a Bill Belichick scenario in which he lists everyone on the Patriots as questionable just for fun. If Edwards-Helaire is out, Williams will once again shoulder the load because Le'Veon Bell (who is also questionable) has basically been filtered out of the offense. Williams got 17 touches (13 carries, four catches) against Cleveland and turned them into 94 yards from scrimmage. Multiple factors point toward someone a bit under the radar being the star for Kansas City in this contest, and Williams could be that guy.
Flex: Josh Allen, QB, Bills ($11,200)
You have to take at least some risk in order to win big in daily fantasy, and the captain pick here obviously qualifies as such. Now it's time to put a few slam dunks on the roster. It would be wise to start with Allen, who is the only starting quarterback still alive in the playoffs that has never won NFL MVP. But it appears to be only a matter of time for the third-year signal-caller out of Wyoming after he racked up 45 total touchdowns (37 passing, eight rushing) during the regular season. In the last seven outings (playoffs included), Allen has 18 TD passes compared to only two interceptions.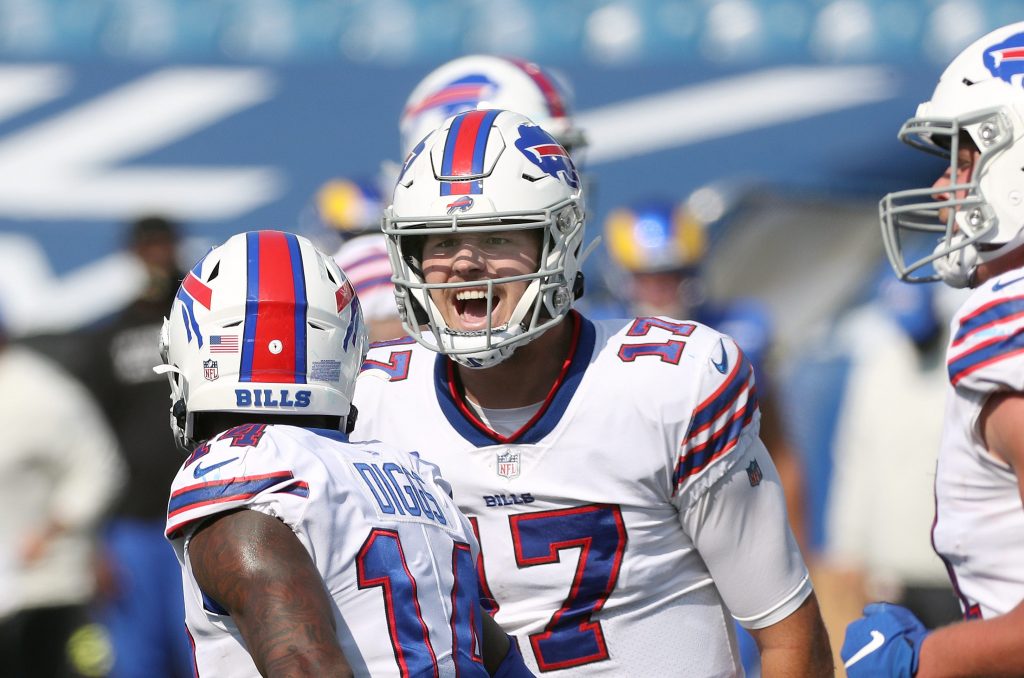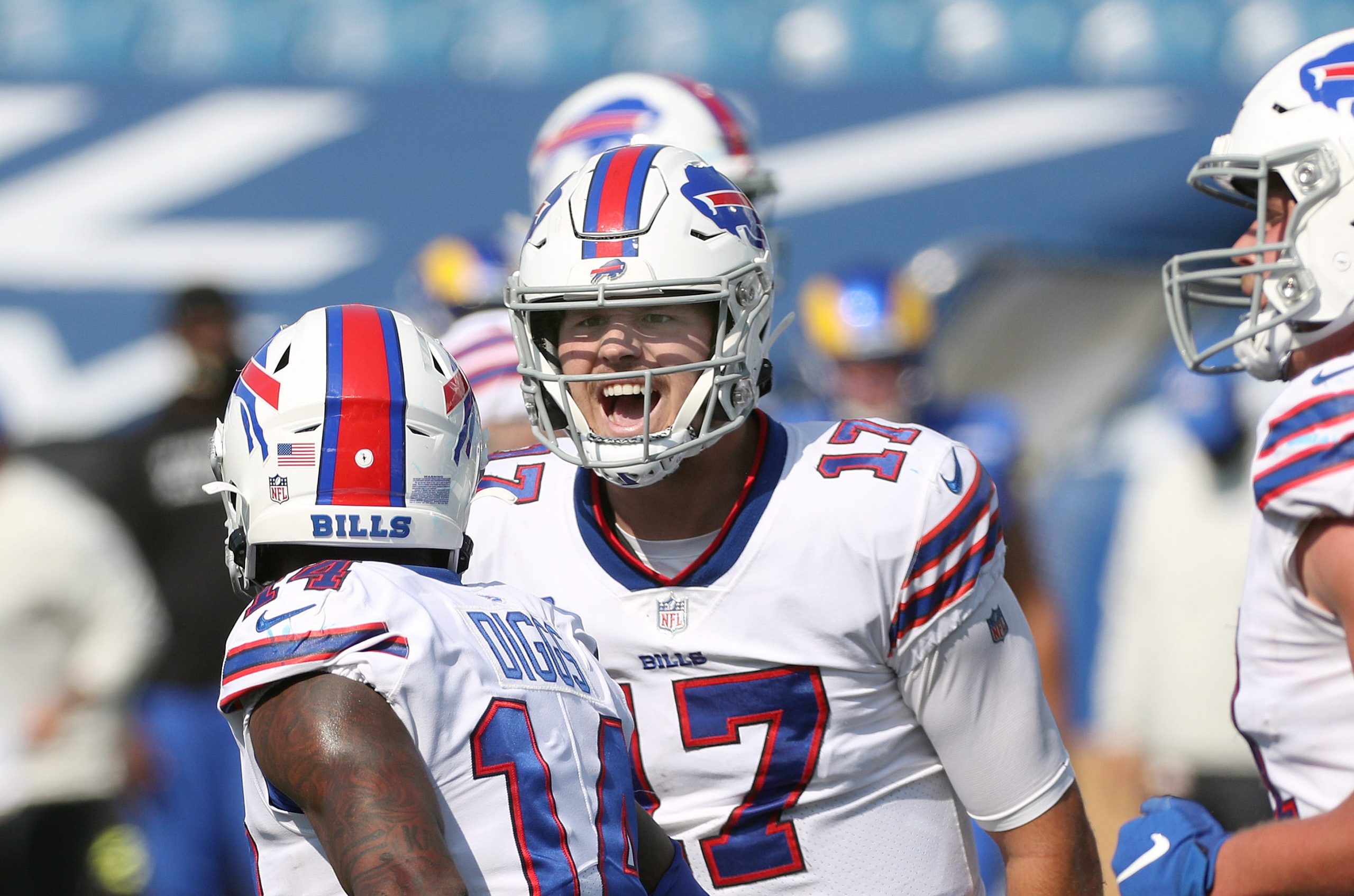 Flex: Tyreek Hill, WR, Chiefs ($10,800)
If Mahomes is less than 100 percent (that remains to be seen, of course), he is going to require some help. In addition to getting it from his running game, Hill will be critical against the Bills. Heck, Hill is always critical. He finished the regular season with 1,276 yards and 15 TDs on 87 receptions. Showing no signs of slowing down, Hill caught eight balls on 10 targets for 110 yards in the divisional round.
Flex: Stefon Diggs, WR, Bills ($10,600)
Whether you think the Bills are going to win the football game or not, you have to have Diggs somewhere on your roster—if not as captain, then at least as a flex. Even if facing the NFL's best defenses, Diggs is basically unstoppable right now. And Kansas City's passing defense is no better than mediocre. It took a while for the Allen-Diggs connection to get going in the star receiver's first year in Buffalo, but to say it is on fire right now would be a gross understatement. In the last seven games (playoffs included), Diggs has caught 61 of 76 targets for 824 yards and six touchdowns. He has found the endzone in three of the past four contests, with five touchdowns in total during this stretch.
Flex: Devin Singletary, RB, Bills ($5,600)
No offense in football has been more one-dimensional than that of Buffalo in recent weeks. The Bills pass, pass, and pass the ball some more. And more often than not when they run it, it's because Allen is tucking it and taking it himself as opposed to a premeditated rushing call. That is all well and good for the statistical prospects of Allen and Diggs. To some extent, however, things could change just a bit this weekend—to the extent that enough wealth could be spread to a running back. With Zack Moss out for the rest of the playoffs, Singletary will get the bulk of the carries. At this cheap price, Singletary has good value.
Flex: Isaiah McKenzie, WR, Bills ($1,200)
With chump change left in the salary cap, McKenzie is a decent option. He scored five touchdowns during the regular season while making 30 catches for 282 yards. In Week 17 alone, McKenzie torched Miami for 65 yards and two scores on six receptions.
Pickswise is the home of free NFL picks. Check out the latest NFL props and NFL parlays as well as expert underdog predictions and computer picks.