NFL Playoffs Divisional Round same game parlay (+1114 odds): San Francisco 49ers vs Green Bay Packers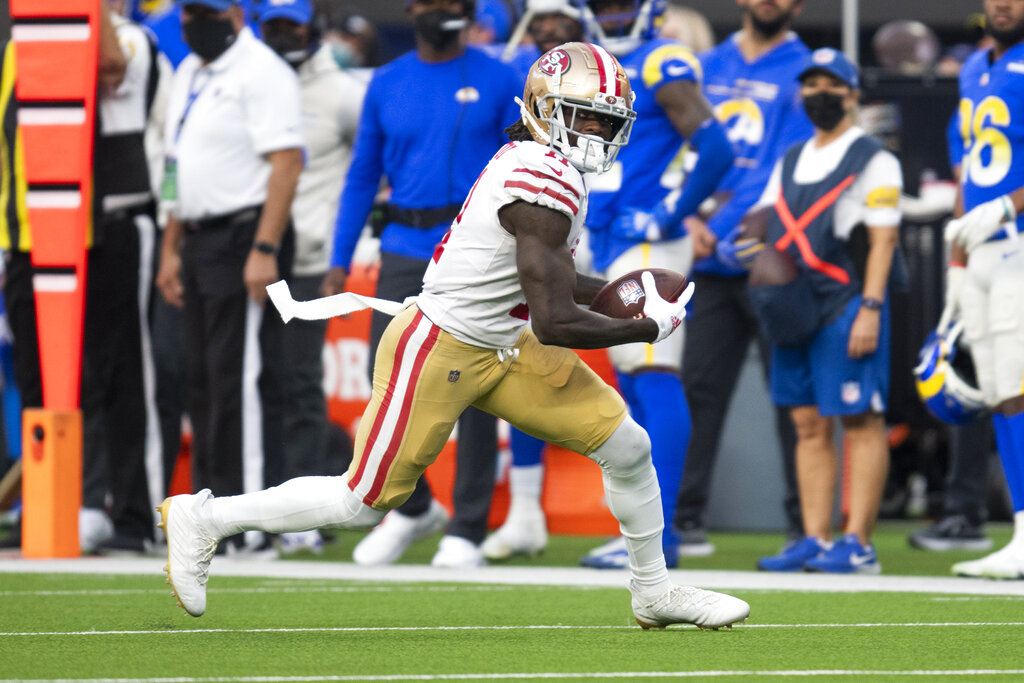 Wild card weekend sure was a lot of fun. And now it's time to turn our attention to the divisional round. The nightcap of Saturday's action is a highly anticipated NFC showdown, and what better way to celebrate the occasion than by betting a same game parlay? The Packers and 49ers will do battle for the second time this season, and I've cooked up an SGP for the occasion.
Here we go:
Green Bay Packers -5.5 (-110)
Davante Adams 100+ receiving yards (+108)
Davante Adams to score 2+ touchdowns (+420)
We have a 3-leg same game parlay, which pays out at north of 11/1 with FanDuel Sportsbook. Let's break it down.
Green Bay Packers -5.5 (-110)
To start this same game parlay we've got the Packers on the spread. I just don't have any confidence in Jimmy Garoppolo coming into Lambeau and having a good game in freezing temperatures while nursing multiple injuries. Garoppolo has now picked up a shoulder issue in addition to his thumb injury. He said the ailments were bothering him in the dome in Dallas last week, so they should be much more noticeable here outside in frigid conditions.
Fred Warner, the quarterback of their defense, is also now banged up. Green Bay on the other hand is coming off a bye week, and they're about to get a bunch of key guys back from injury. The 49ers beat the Cowboys last week, but I don't think they actually looked that impressive. Garoppolo had only 172 yards in that game, and he's going to have to do a lot more here.
Be sure to check out our full game preview for San Francisco 49ers vs Green Bay Packers
Davante Adams 100+ receiving yards (+108)
I think this correlates nicely with the first leg of our same game parlay. The Packers are 7-1 this season when Adams goes for over 100 yards. Adams having a big game means the Packers' offense had a big game. Cornerback is a position of weakness for the 49ers, and Adams shredded them for 132 yards when these teams first played in Week 3. Adams has put up at least 100 yards in five of his past seven games, and one of the only two times he didn't in that span was when the Ravens paid crazy amounts of defensive attention to him and chose to leave other guys running wide open. Aaron Rodgers leans extra heavily on Adams in the team's biggest games, and that should be the case once again here. In all four of the Packers' playoff games over the last two years, Adams has drawn double digit targets.
Davante Adams to score 2+ touchdowns (+420)
This also correlates heavily with the rest of our same game parlay. Adams finished the regular season by scoring multiple touchdowns in three of his last seven games, so I think getting +420 has some standalone value as well. When these teams first played toward the beginning of the season, Adams got an absurd 18 targets. His volume should once again be off the charts, and volume is king for touchdown scorer prop bets. San Francisco is great at stopping the run, so the Packers should be passing a bit more than usual. And Rodgers thrives in the cold weather.
Find out Prop Bet Guy's best prop bet for 49ers vs Packers!
What is a Same Game Parlay?
Check out our guide on what is a same game parlay and where can I bet it?