Week 15 same game parlay: Kansas City Chiefs vs. New Orleans Saints (+1312)
As if this showdown between the Kansas City Chiefs and New Orleans Saints wasn't already big enough, Drew Brees is back! Yes, a potential preview of Super Bowl LV will feature both Brees and Patrick Mahomes under center for their respective teams on Sunday afternoon.
Not that this showdown needs any spicing up, but you might as well make it even more intriguing by trying your hand at a same parlay. You know you'll be in front of the television screen anyway, so why not raise the stakes? Let's take a look at the best SGP option for Chiefs vs. Saints, and be sure to check out our full preview of the game for picks on the side and total.
Chiefs -6.5 alternate spread (+170)
Over 52.5 game totals (-110)
Patrick Mahomes Over 15.5 rushing yards (-112)
Alvin Kamara Over 53.5 receiving yards (-118)
Parlay odds: +1312
Part of the value in same-game parlays is that all of its components can be correlated if you so choose. That is mostly the plan here, as big games by Mahomes and Alvin Kamara would naturally lead to this contest going over the total. Correlated plays don't necessarily lead to the biggest payouts, but we feel like the value on this quartet is well worth a shot.
Chiefs -6.5 alternate spread (+170)
Kansas City is 12-1 and has won eight in a row, including victories over Buffalo, Tampa Bay, and Miami. Mahomes has surged past the rest of the field in the MVP race to the extent that he is a -200 favorite. He is averaging 384.8 passing yards over the past six contests, during which he has thrown 17 touchdown passes. Although this is an intriguing quarterback battle now that Brees is returning and Taysom Hill can go back to his backup/wildcat role, an obvious edge goes to Mahomes. Brees has not played in more than a month because of broken ribs and a punctured lung. It remains to be seen just how effective the 41-year-old will be right off the bat. A Chiefs victory by a touchdown or more would not be surprising.
Over 52.5 game totals (-110)

Kansas City has exceeded the 30-point mark in five of its last seven contests. Mahomes is on fire and his offense is good enough such that it generally wins a matchup with a good defense, which is the kind of matchup we are going to see here. It is also worth noting that New Orleans' defense took a step back last weekend, yielding 24 points to Philadelphia—a slumping team that was giving Jalen Hurts' his first NFL start. As for the Saints' offense, it has not been kept below the 21-point mark this entire year. Although Brees may not set the world on fire, he is obviously better than Hill at directing the overall ship. The math isn't hard: the Chiefs should score more than 30 and the Saints should score more than 20.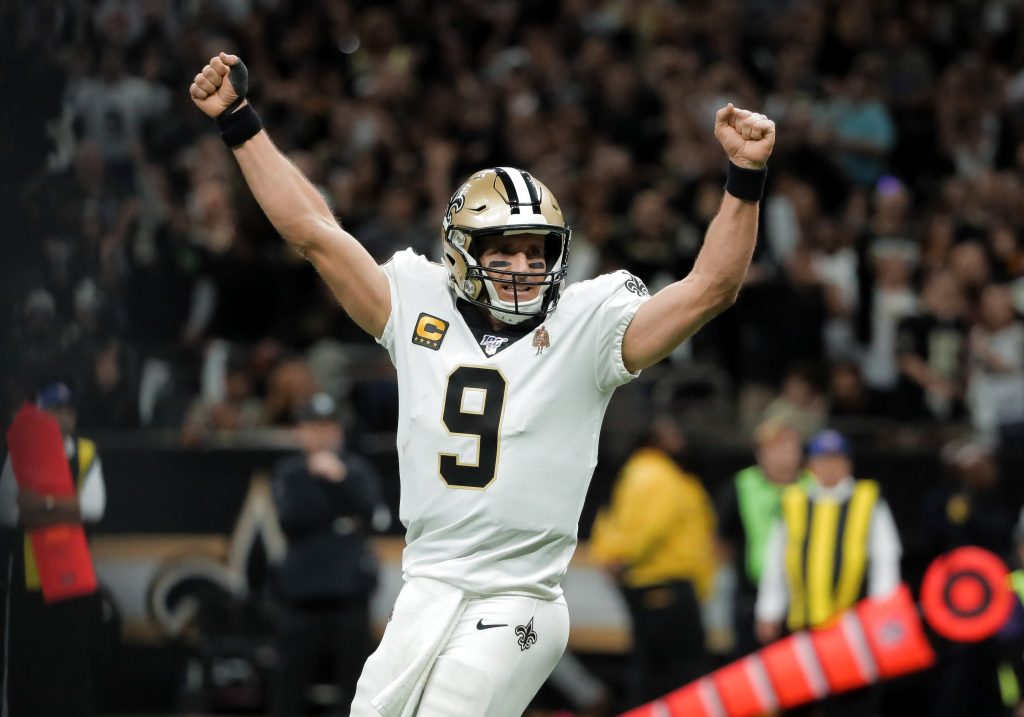 Patrick Mahomes Over 15.5 rushing yards (-112)
The Saints are one of the best defenses in football—even though their numbers are inflated by that game against Denver in which the Broncos literally didn't have a quarterback. Things aren't always going to come easy for Mahomes against New Orleans. That means he may have to tuck it and run more often than usual. Needless to say, 15.5 is not a big number under any circumstances. Mahomes has exceeded that quote eight times this year, including in three of the past four outings.
Alvin Kamara Over 53.5 receiving yards (-118)
Brees' arm strength already wasn't the best; then he suffered a whole bunch of broken ribs. In other words, he isn't going to be launching the ball down the field on a consistent basis in this one. Dump passes to Kamara—which Brees already loved even before the injury—will be the theme of the afternoon. Kamara has exceeded this number six times in 2020 and for the season he has 77 receptions on 96 targets for 699 yards. He will likely have a big day in the pass-catching department.
Pickswise is the home of free NFL picks. Check out the latest NFL props and NFL parlays as well as expert underdog predictions and computer picks.