NFL Sunday same game parlay (+950 odds): San Francisco 49ers vs Detroit Lions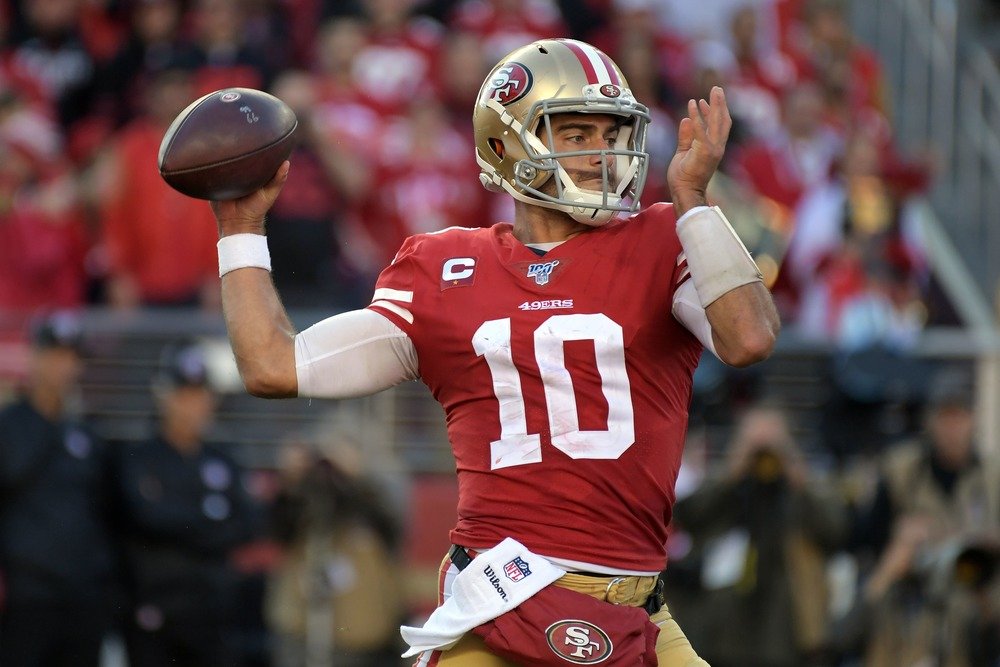 The 2021 NFL season got off to a great start on Thursday and another possible Super Bowl contender makes its debut on Sunday when the San Francisco 49ers visit the Detroit Lions. Much of the interest heading into the Ford Field showdown has focused on the 49ers' quarterback situation, with veteran Jimmy Garoppolo now expected to take most–but perhaps not all–of the San Fran QB snaps as rookie Trey Lance comes back from a minor finger injury.
We've put together a 3-leg same game parlay that pays +950 odds with DraftKings Sportsbook. Let's check it out.
San Francisco 49ers -12.5 alternate spread
Under 45.5 total points
Jared Goff over 219.5 passing yards
We've gone down the route of adding a slightly contradictory leg to boost the odds here, but in reality all 3 legs could work quite nicely together. I see this as a game between potentially one of the strongest teams in the NFC this season–the 49ers–and Detroit, one of the weakest in many people's minds. What we need to land this parlay is for Kyle Shanahan's team to score a clear-cut victory in a game that doesn't turn into a shootout, with home QB Jared Goff doing his best to make an impression on his Detroit debut without much success on the scoreboard.
Let's explain the thinking behind each leg.
Read our extensive 32-page Pickswise Preview of the 2021 NFL season here
San Francisco -12.5
The first 2 legs of the parlay are just an enhanced version of our picks for the side and total in our main game preview (see link below). But instead of the 49ers -7.5 taken there, we've pumped up the odds a little by asking them to cover an extra 5 points. Week 1 can often expose the differences in abilities and preparation levels of teams more brutally than midseason games, by which time teams have settled down. The variance can be higher in the first week and beatdowns can occur. San Fran to win by 2 touchdowns or more doesn't seem such a big ask.
Be sure to check out our full game preview for San Francisco vs Detroit
Under 45.5 total points
The Lions could be our best friends here, as while we need the 49ers to score at least 13 points–and probably more–we are hoping the Lions won't contribute a great deal to the total score. Again, that is not too outlandish against a defensive unit that could again be one of the best in the NFL now last year's injury hell is over. The Lions, who went 0-3 in preseason, could struggle to put together sustained drives. San Francisco is run-first and steady scorers on offense, which grinds the clock and keeps the score low.
Jared Goff over 219.5 passing yards
This is the slightly contrary leg, as Goff completing passes both reduces the prospects of a wide-margin SF win and potentially adds to the points total. But it's a pretty low figure all the same and Goff could easily throw for 220 to 240 yards without doing substantial damage to the margin of victory or total. He could even go 60 yards and throw a pick, which takes up time, brings no points, and hands the ball back to the 49ers. That's all good for this parlay. Goff went 10-5 on this line last season, admittedly with better receivers in Los Angeles with the Rams. But with the Lions likely to be trailing for some time in this game, he's going to need to put the ball in the air more than usual.
Pickswise is the home of free NFL Picks and NFL Odds. Check out the latest NFL Prop Bets and NFL Parlays as well as expert NFL Underdog Picks and NFL Computer Picks.