NFL Week 13 millionaire money line parlay for Sunday's schedule (+175381 odds!): Washington keeps rolling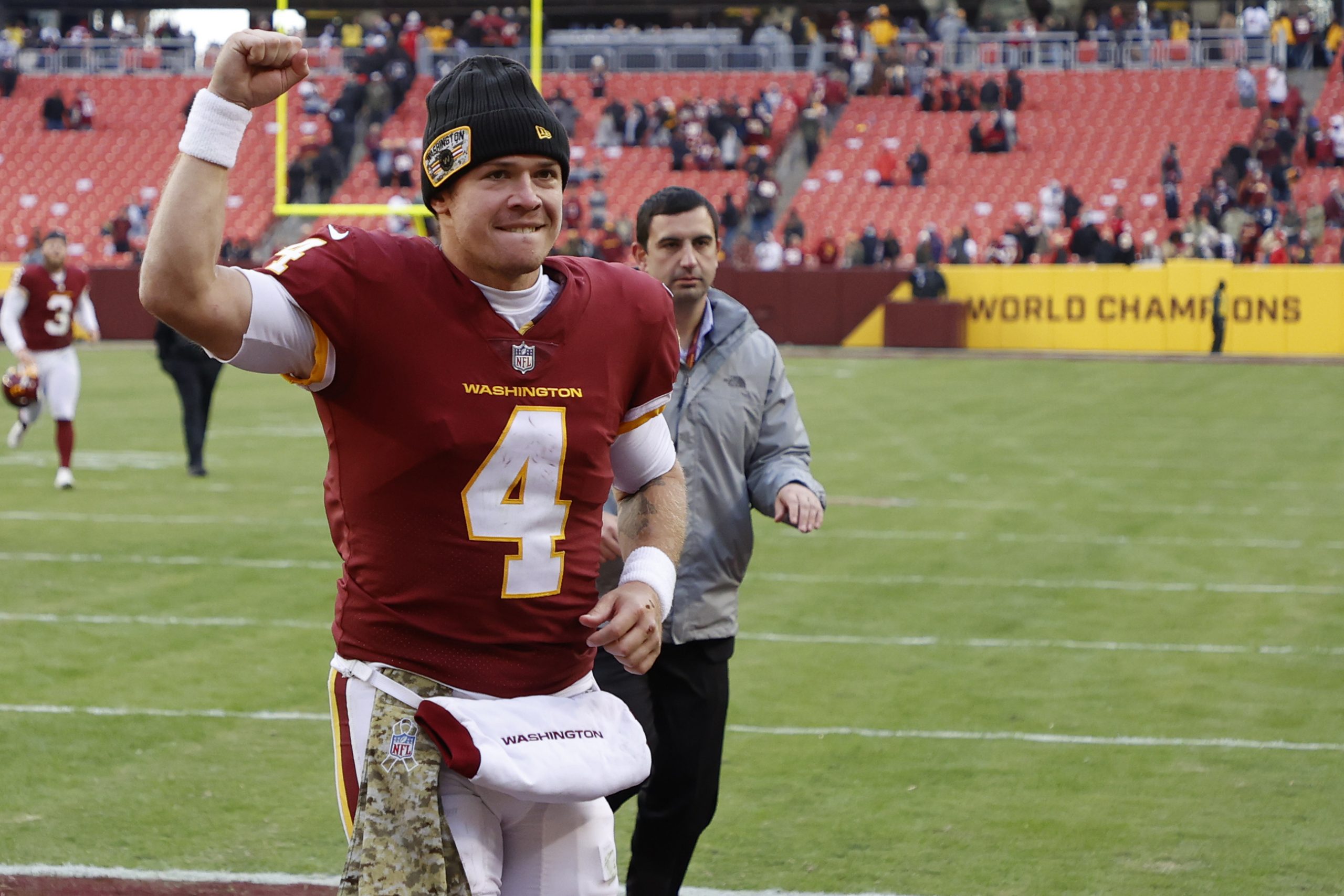 Whew! The first few months of the 2021 NFL season sure have been a wild ride. The action has been truly thrilling, and we've still got plenty left. We have a great Week 13 slate continuing on Sunday, which will be highlighted by a classic AFC North rivalry game between the Steelers and Ravens and a Sunday Night Football showdown between the Broncos and Chiefs. It's an NFL Sunday; we might as well celebrate by trying to hit the jackpot and score a massive payday, right?
Each week we'll be doing a millionaire parlay, picking every Sunday game on the money line for the chance at a ridiculous payday. You never know!
Without further ado, here is our 12-leg Week 13 millionaire parlay.
Miami Dolphins (-210) over New York Giants

Mike Glennon on the road going up against a surging Miami defense? Yeah, I'll pass, thanks. Glennon is certainly a much worse option than Daniel Jones, while the Dolphins are one of the hottest teams in the league right now.
Indianapolis Colts (-410) over Houston Texans
The Colts are 6-3 in their last nine games, and each of those three losses were extremely close. They could easily be riding a nine-game win streak if a few balls had bounced their way. Houston on the other hand is circling the drain, and they just lost to the lowly Jets last week.
Minnesota Vikings (-310) over Detroit Lions
The Lions still haven't got the first win of the Dan Campbell era, and they aren't going to get it here against a Minnesota team that is a lot better than their record suggests. Detroit is going to be without D'Andre Swift here, pretty much their only bright spot on offense.
Philadelphia Eagles (-280) over New York Jets
The Jets picked up a rare win over the Texans last week, but they won't be so lucky again here. Even though New York emerged victorious, Zach Wilson still missed a ton of easy throws, and he won't get bailed out here against Philly.
Chicago Bears (+260) over Arizona Cardinals
We were really chalky to start this parlay, but we've got to make things interesting with at least a few money line 'dogs. I think Chicago has a good chance to pull an upset here at home. Kyler Murray and DeAndre Hopkins will be playing for the first time in a long time, and they should be rusty on the road.
Cincinnati Bengals (-165) over Los Angeles Chargers
I don't want any part of the Chargers right now. The defense is thin, and the offense has been underachieving. Los Angeles' defense can't stop teams that out-physical them, and the Bengals' running game is starting to take off with Joe Mixon.
Atlanta Falcons (+410) over Tampa Bay Buccaneers
Call me crazy, but this is a millionaire parlay after all. We have to go bold at some point. Give me the Falcons at better than 4/1 at home. Atlanta has a very low floor as we've all seen, but they've also managed to go 5-6. They were down three with the ball in the fourth quarter when these teams met early in the year in Tampa.
Washington Football Team (+115) over Las Vegas Raiders
Don't look now, but Washington is quietly catching fire. The defense was never as bad as it seemed, they've just played all of the league's best offenses. That unit is improving rapidly, and Taylor Heinicke is playing genuinely well.
Los Angeles Rams (-720) over Jacksonville Jaguars
The Rams have very real issues, but that's not anything near enough to get me interested in taking the Jaguars on the road. Jacksonville is just too incompetent on both sides of the ball.
Pittsburgh Steelers (+165) over Baltimore Ravens
The Steelers have looked about as bad as any team in the league recently, but this is their last stand. And the Ravens have been far from impressive. Their offense looked awful even in their win over the Rams, and I don't think they should be this large of a favorite on the road.
Seattle Seahawks (+150) over San Francisco 49ers
Speaking of last stands, this is certainly one for the Seahawks. Seattle has a strong run defense which is the key to stopping the 49ers, and San Francisco will be without Deebo Samuel who has really elevated their offense lately.
Kanas City Chiefs (-435) over Denver Broncos
I lean toward the Broncos on the spread, but I'm not betting against the Chiefs to win coming off the bye week. Andy Reid has shown to be a true magician coming off the bye, and I'm not all the way back in on the Broncos just because they beat the Chargers at home.
12-team parlay pays out +175381!
Pickswise is the home of free NFL Predictions  and NFL Odds. Check out the latest NFL Prop Bets and NFL Parlays as well as expert NFL Underdog Picks and NFL Computer Picks.