NFL Week 13 same game parlay (+900 odds): Baltimore Ravens vs Pittsburgh Steelers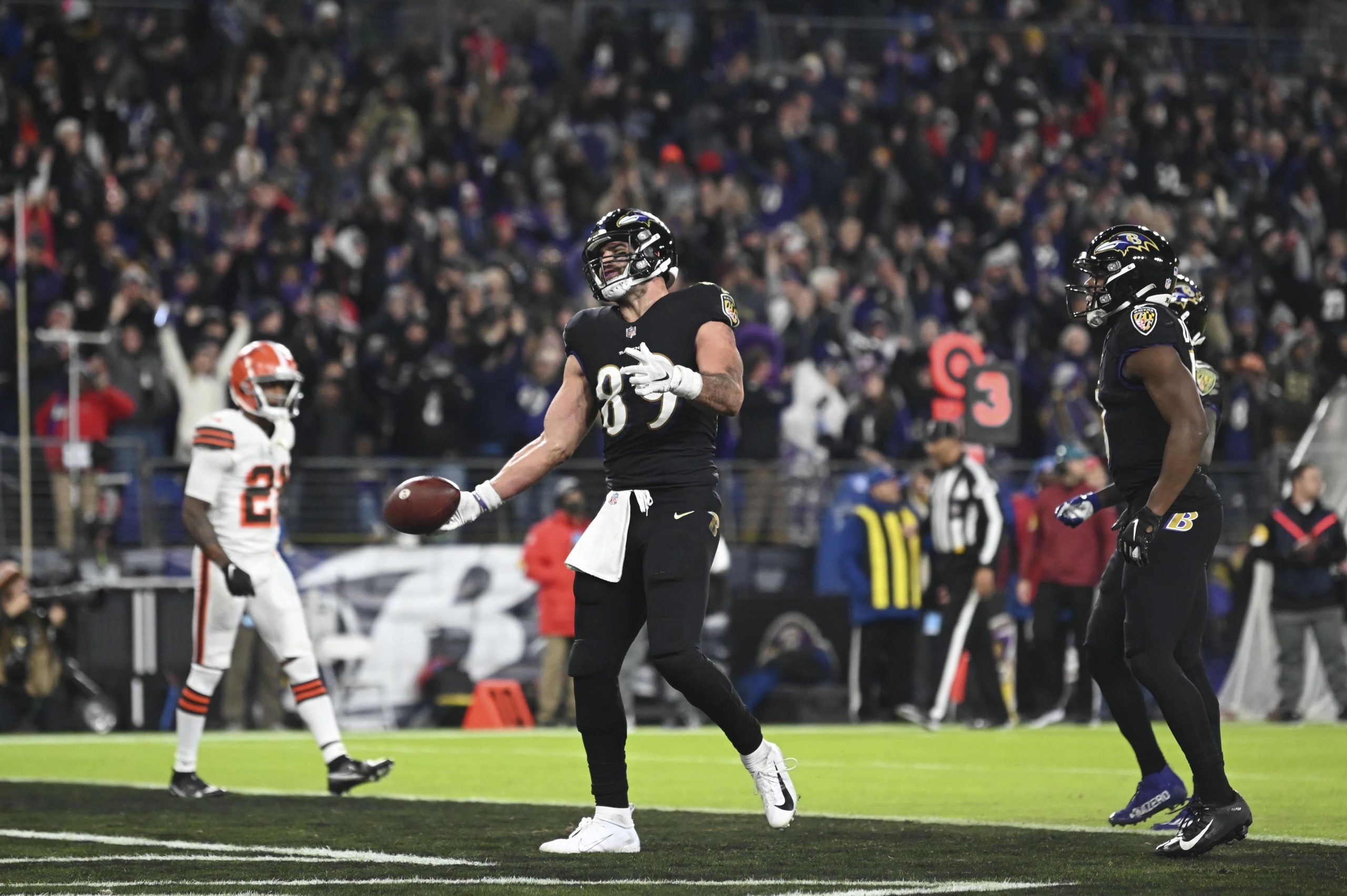 No team has a losing record in the AFC North this season, but there is beginning to be some separation between the 4 teams — with the Baltimore Ravens top of the division at 8-3 and the Pittsburgh Steelers in last place at 5-5-1 heading into Week 13.
This is the teams' first meeting this season and the Steelers will be desperate to give their fans something to cheer after the Bengals completed a season sweep over them last week.
This 4:25 pm ET kickoff (CBS) should be well contested and we have put together a 4-leg same game parlay for it, which pays +900 odds with DraftKings Sportsbook.
Baltimore Ravens -4.5
Lamar Jackson 225+ passing yards
Mark Andrews anytime touchdown scorer
Under 20.5 Pittsburgh Steelers points
Let's take a look at the reasoning behind each leg:
Baltimore Ravens -4.5
The Baltimore Ravens have found ways to make games they should have won easily into last-play wins and won games they looked to have thrown away this season, but it's hard to see them messing things up against the slumping Steelers. You can crab the Ravens for their effort in beating the Browns last week — quarterback Lamar Jackson threw 4 interceptions after all, so they had no real right to win if the visitors hadn't been so putrid offensively. But their defense bailed out their offense and even if the Ravens have a better record than their performances deserve, the same can be said to an even greater extent about the Steelers.
Pittsburgh has allowed 41 points in back-to-back games. In the first, against the Chargers, they at least managed to score 37 themselves (although they trailed by 17 after the third quarter), but in last week's humiliation against Cincinnati, they scored just 10, with their only TD coming in garbage time. While coach Mike Tomlin has promised changes, it's going to be hard for them to arrest their slide against one of the AFC's best teams. Take the Ravens on the spread to get our parlay started.
Be sure to check out our full game preview for Baltimore Ravens vs Pittsburgh Steelers
Lamar Jackson 225+ passing yards
Ravens QB Lamar Jackson has one of the worst passing games of his career last Sunday night against the Browns, but it was only the second time this season he has recorded under 235 passing yards, let alone the 225+ we can put in our parlay with DraftKings, so adding Jackson to have just an average passing day (he averages 261.2 ypg in 10 starts this year) in a bounce-back performance against an injury-hit defense seems sensible.
Mark Andrews anytime touchdown scorer
Tight end Mark Andrews made a crucial and ridiculously good catch in the win over the Browns on his way to a 65-yard day, and added a less spectacular 13-yard score for the Ravens' only touchdown of the game (less spectacular at his end, anyway as Jackson shook off the attentions of several defenders before being able to deliver it). Andrews is the man Jackson knows he can trust in among some up-and-down wide receivers and an injury-hit RB room, and he has scored all 5 of his TDs this season in Baltimore's last 7 games, with 2 in the last 3 weeks.
Under 20.5 Pittsburgh Steelers points
Three of Pittsburgh's last 4 games have gone over, but that's chiefly because they have allowed 41 points to each of their last 2 opponents, and they are still only 4-6-1 to the over this season. The Steelers themselves have scored under 20.5 points in 6 of their 11 games this season and their offensive outlook is getting worse by the week. QB Ben Roethlisberger has practised despite pectoral/shoulder injuries but if they haven't been affecting his play in his recent performances then something else surely has. Against a strong defense such as Baltimore's, which has limited the Bears and Browns to 13 and 10 points respectively in their last 2 games, it's hard to see Pittsburgh getting past 20.
Pickswise is the home of free NFL Picks and NFL Odds. Check out the latest NFL Prop Bets and NFL Parlays as well as expert NFL Underdog Picks and NFL Computer Picks.