NFL Week 14 millionaire money line parlay for Sunday's schedule (+169694 odds!): Jags to pull upset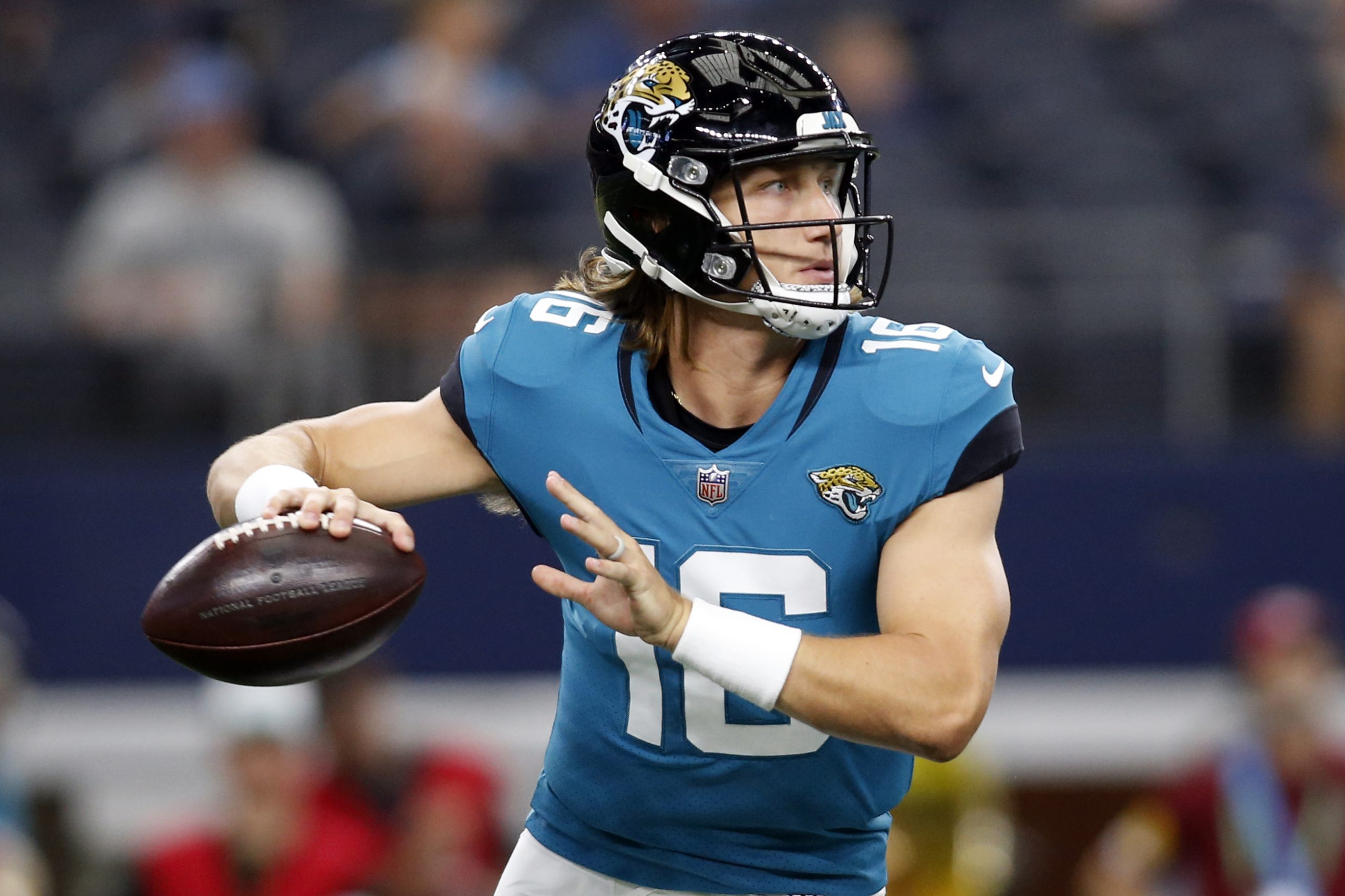 Whew! The 2021 NFL season sure have been a wild ride, and we're approaching the home stretch now. We have a great Week 14 slate continuing on Sunday, which will be highlighted by a classic AFC North rivalry game between the Ravens and Browns and a highly anticipated cross-conference showdown between the Bills and Buccaneers. It's an NFL Sunday; we might as well celebrate by trying to hit the jackpot and score a massive payday, right?
Each week we'll be doing a millionaire parlay, picking every Sunday game on the money line for the chance at a ridiculous payday. You never know!
Without further ado, here is our 12-leg Week 14 millionaire parlay.
Washington (+170) over Dallas Cowboys

What better way to start off a millionaire parlay than with a money line 'dog. People should continue to sleep on Washington at their own peril. The Football Team has been showing plenty of fight lately, rattling off 4 straight wins to climb back into playoff contention. Their march continues here against a fading Dallas squad.
Jacksonville Jaguars (+300) over Tennessee Titans
Why start the parlay with only one money line 'dog when we can start it with two? Jacksonville isn't a good team by any stretch, but neither is this current iteration of the Titans. Tennessee's offense has been abysmal with all their injuries and their defense is starting to regress, so there's no way they should be this large of a favorite.
Seattle Seahawks (-425) over Houston Texans
I'm no fan of the Seahawks, and I don't think they looked all that great even in their win over the 49ers last week, but I can't talk myself into the Texans here. Houston is just too lifeless on both sides of the ball right now, and the switch back to Davis Mills won't change anything.
Las Vegas Raiders (+320) over Kansas City Chiefs
Okay, back to the money line 'dogs. I also think the Raiders have some value. Kansas City's offense just isn't what it used to be, and it's time we all accepted that. The first meeting between these teams was a lot closer than the final score indicated.
New Orleans Saints (-240) over New York Jets
The Saints are a mess right now, but I'm not going anywhere near Zach Wilson against a defensive front that still has a lot of talent. They could eat the poor kid alive.
Atlanta Falcons (+120) over Carolina Panthers
Carolina fired their OC over the bye week, telling you everything you need to know about the current state of the team. Joe Brady got thrown under the bus, but the problems run much deeper than him. No matter who is calling plays, Cam Newton still won't fully grasp the offense.
Cleveland Browns (-145) over Baltimore Ravens
Something is seriously wrong with the Ravens. Cleveland just had their bye week to heal up and let Baker Mayfield rest, while Baltimore is coming off a tough and physical game against the Steelers. Lamar Jackson has been awful lately.
Los Angeles Chargers (-435) over New York Giants
It looks like Jake Fromm is going to start at quarterback for the Giants. Need I say more? The Chargers' defense is starting to get better, and it's a huge step down from Joe Burrow last week to Fromm this week.
Denver Broncos (-475) over Detroit Lions
The Lions got their first win of the season last week, and it was a great story, but they surely aren't going to make it two in a row. Not on the road against a tough Denver defense that is getting healthier and playing a lot better.
Cincinnati Bengals (+105) over San Francisco 49ers
I don't see why the Bengals should be home 'dogs here. They just caught a bunch of unlucky breaks last week against the Chargers, and still very nearly battled back from a 24-0 deficit. On the flip side, Jimmy Garoppolo just isn't it.
Tampa Bay Buccaneers (-165) over Buffalo Bills
The Bills are just 3-4 in their last 7 games, and I don't think they deserve to be treated like a top-tier team. They're soft against the run, and I don't see them slowing down the Bucs' weapons in the passing game without top corner Tre'Davious White.
Green Bay Packers (-575) over Chicago Bears
Justin Fields on the road at Lambeau Field in his first start back from missing 2 weeks with an injury? Yeah, I'll pass, thanks. Aaron Rodgers can continue his dominance of Chicago.
12-team parlay pays out +169694!
Pickswise is the home of free NFL Predictions  and NFL Odds. Check out the latest NFL Prop Bets and NFL Parlays as well as expert NFL Underdog Picks and NFL Computer Picks.