NFL Week 18 millionaire money line parlay for Sunday's schedule (+986810 odds!): Texans top Titans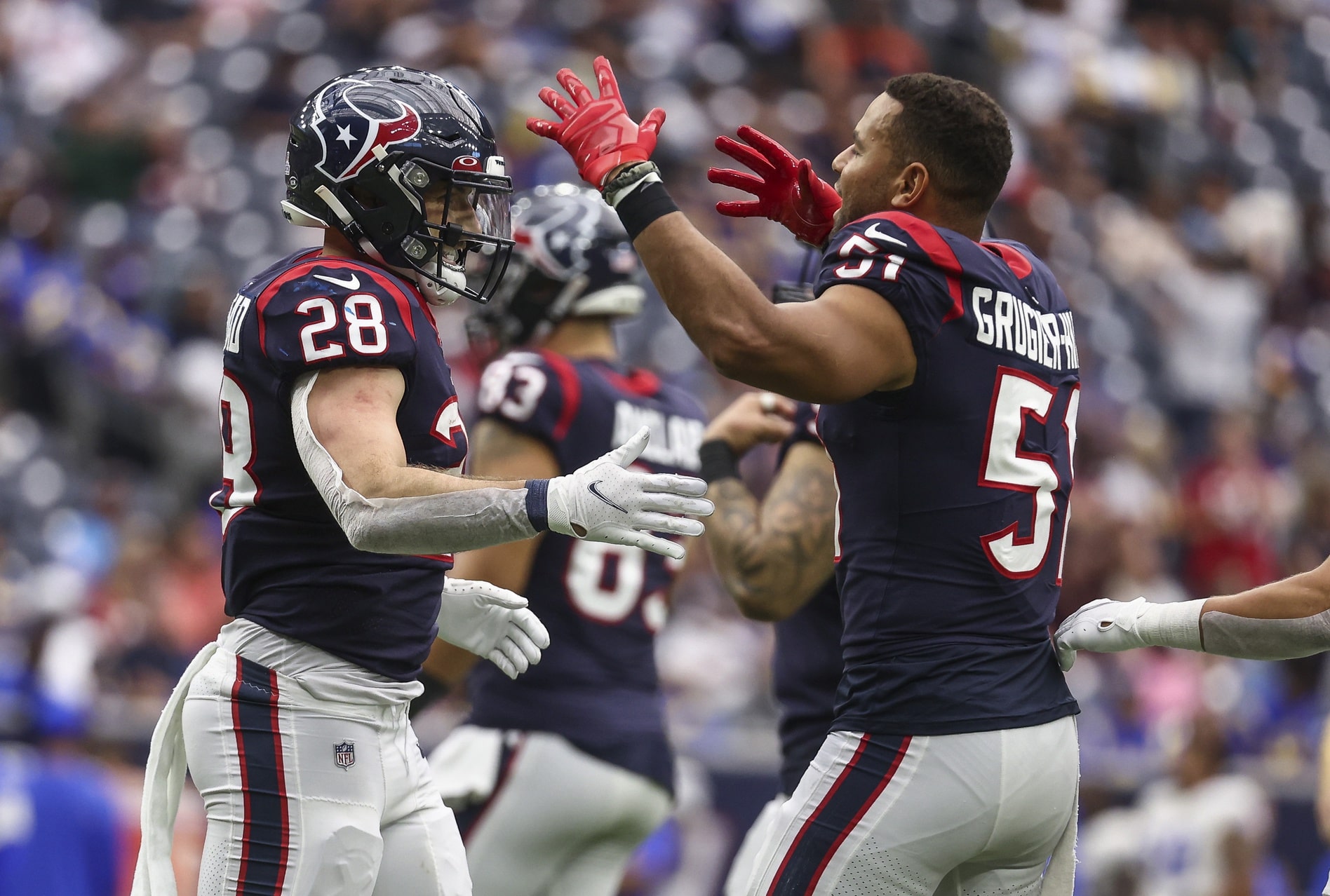 Whew! The 2021 NFL season sure has been a wild ride, and things are starting to wind down. We have a great Week 18 slate to wrap things up on Sunday, which will be highlighted by a win-and-in game between the Los Angeles Chargers and Las Vegas Raider. It's the last full NFL Sunday; we might as well celebrate by trying to hit the jackpot and score a massive payday, right?
Each week we'll be doing a millionaire parlay, picking every Sunday game on the money line for the chance at a ridiculous payday. You never know!
Without further ado, here is our 14-leg Week 18 millionaire parlay.
Make sure you check out our picks for EVERY NFL Week 18 matchup!
Detroit Lions (+155) over Green Bay Packers

Starting a parlay off with Lions money line, what could go wrong? Matt LaFleur has insisted his starters will play here, but the market doesn't seem to believe him too much. Green Bay would be a much larger favorite here if Aaron Rodgers was going to play the whole game. That means we're going to see a lot of Jordan Love, and we all remember what Love looked like the last time he saw the field. It wasn't pretty.
Indianapolis Colts (-1125) over Jacksonville Jaguars
Trevor Lawrence against a hungry Colts team that needs this game to get into the playoffs? A Jags run defense that has gotten gashed on the ground by teams like the Jets trying to stop Jonathan Taylor? Sounds like a recipe for disaster.
Washington Football Team (-305) over New York Giants
I have no interest in taking Mike Glennon against anybody, and especially not against a Washington team that I think is better than most people realize. A couple of their recent losses were at times when their roster was decimated by COVID.
Minnesota Vikings (-235) over Chicago Bears
There's just nothing to like about this Bears team when they don't at least have Justin Fields under center. Don't give them too much credit for beating the Glennon-led Giants last week.
Cincinnati Bengals (+200) over Cleveland Browns
The Bengals aren't going all-out to win this game, but neither are the Browns. Both teams are going to be missing their starting quarterbacks, and in a game with such high variance, getting 2/1 is just too good to pass up.
Houston Texans (+350) over Tennessee Titans
It wouldn't be a millionaire parlay without at least a couple of big money line 'dogs, right? Give me Davis Mills to shock the Titans in Week 18. The Texans already beat the Titans once this year, and that was in Tennessee with Tyrod Taylor at quarterback. Mills has looked a lot more promising than Taylor recently.
Baltimore Ravens (-190) over Pittsburgh Steelers
Big Ben's emotional farewell game against the Browns isn't going to get a sequel here. The Steelers will come crashing down to earth, and even in their win over Cleveland last week Ben Roethlisberger somehow managed just 2.7 yards per attempt.
Atlanta Falcons (+160) over New Orleans Saints
Taysom Hill shouldn't be this large of a road favorite against just about anybody. Matt Ryan has been better than he's gotten credit for this season, and Atlanta already won the first meeting between these teams in Atlanta.
Full game preview (we have a three-star play on the total!)
Buffalo Bills (-1250) over New York Jets
Zach Wilson going on the road in Buffalo and pulling out a win? Yeah, for some reason I just don't see it.
San Francisco 49ers (+175) over Los Angeles Rams
The Rams just haven't looked very good recently despite picking up wins. Last week they hardly looked inspiring as they beat Tyler Huntley with a last-minute comeback, and Matt Stafford has been a turnover machine.
Carolina Panthers (+290) over Tampa Bay Buccaneers
The Buccaneers almost got stunned by the Jets last week, and the Panthers will finish the job this time around. Tampa is running out of healthy receivers, and the Antonio Brown drama this week has been a huge distraction. When you combine that with the fact that the Bucs are no longer playing for the top seed in the NFC, I don't think they'll be fully locked in here.
New England Patriots (-260) over Miami Dolphins
Miami had a nice little run, but that was only because they had an incredibly easy stretch of scheduling where they played nobody besides the league's worst quarterbacks. Now they've been eliminated from playoff contention, and I expect things to continue to unravel here.
Arizona Cardinals (-290) over Seattle Seahawks
I'll happily take one last chance to fade Russell Wilson and the Seahawks. It looks like this could be Wilson's last game with Seattle, and he's been mostly awful the past couple of months.
Los Angeles Chargers (-160) over Las Vegas Raiders
Give me the Chargers for the final regular-season game of the 2021 NFL season. Famous last words, I know, but I'll take Justin Herbert over Derek Carr any day. The Raiders can't really run the ball, which is Los Angeles' main weakness. And when these teams first played, the Chargers dominated.
15-team parlay pays out +986810!
Pickswise is the home of free NFL Predictions  and NFL Odds. Check out the latest NFL Prop Bets and NFL Parlays as well as expert NFL Underdog Picks and NFL Computer Picks.