NFL Week 5 millionaire money line parlay for Sunday's schedule (+528842 odds!)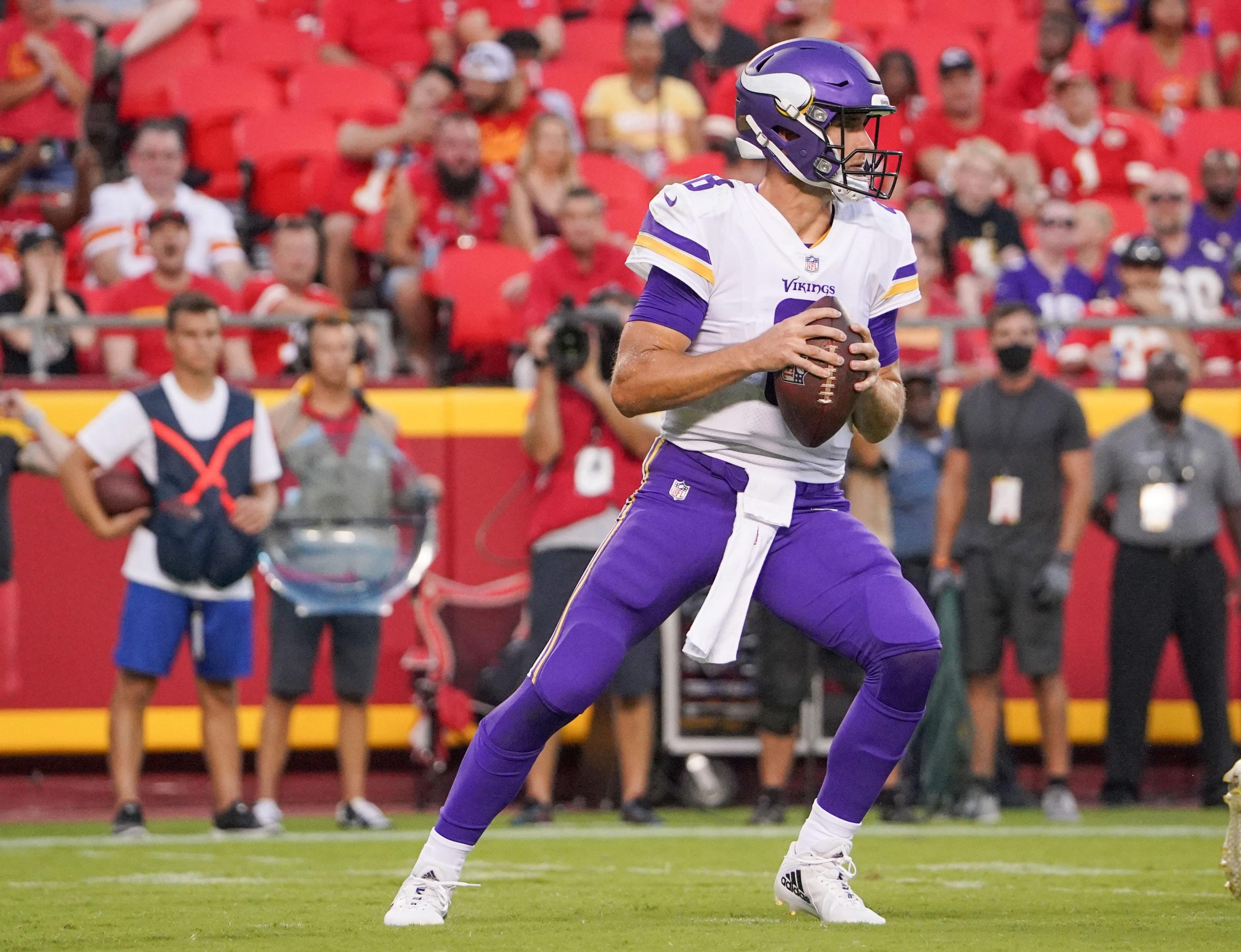 Whew! The first few weeks of the 2021 NFL season sure have been a wild ride. The action has been truly thrilling, and the return of pro football was well worth the wait. We have a great Week 5 slate, as well, which will be highlighted by a Sunday Night Football showdown between the Buffalo Bills and Kansas City Chiefs in a rematch of last year's AFC Championship Game. With the NFL back, we might as well celebrate by trying to hit the jackpot and score a massive payday, right?
Each week we'll be doing a millionaire parlay, picking every Sunday game on the money line for the chance at a ridiculous payday. You never know!
Without further ado, here is our 14-leg Week 5 millionaire parlay.
Atlanta Falcons (-145) over New York Jets

The Jets picked up their first win of the season last week, but I wouldn't bet on them making it two in a row. New York just benefited from a really banged up Titans team. Atlanta blew a late lead to Washington last week, but I'll still take Matt Ryan over Zach Wilson any day.
Carolina Panthers (-170) over Philadelphia Eagles
I'm not holding it against the Panthers for losing on the road to a very good Cowboys team. Carolina's offense actually played pretty well, and the Eagles' rushing attack isn't nearly as strong as that of Dallas. Sam Darnold and company will bounce back here.
Cincinnati Bengals (+130) over Green Bay Packers
Getting Cincinnati as a significant home 'dog has some value. I'm just not sold that the Packers have put all their issues behind them just because they've beat some struggling teams recently.
Houston Texans (+290) over New England Patriots
Go big or go home, right? To get this millionaire parlay the huge odds boost we deserve, we have to go with at least one big underdog. This is a good spot for the Texans. Their market perception is at an all-time low following their ugly loss to the Bills, while the public just saw the Patriots play the Buccaneers close. There's simply no reason for the Pats to be this large of a road favorite over anybody.
Jacksonville Jaguars (+160) over Tennessee Titans
We are backing another home underdog here–and another team which has reached rock bottom in the market. Now is the time to buy-low on the Jags after everyone has raked them over the coals in the media all week. I think the team comes out and surprises people on the heels of the Urban Meyer debacle. They very nearly beat the Bengals on the road last week, and Tennessee is still really banged up.
Denver Broncos (-105) over Pittsburgh Steelers
Sure the Broncos have some injuries right now, but Denver is still the much better team. Big Ben simply doesn't have much left in the tank, and he's made that abundantly clear. I don't see anything changing for this anemic Steelers offense against one of the best defenses in the league.
New Orleans Saints (-140) over Washington Football Team
Washington was lucky to beat the Falcons last week. Taylor Heinicke got away with a few throws, and he probably won't be as fortunate against a much tougher Saints defense. Washington's defense has been a big disappointment, so this is a prime bounce-back spot for New Orleans.
Minnesota Vikings (-425) over Detroit Lions
No case to be made for the underdogs here. The Vikings have to be the best 1-3 team in quite some time. If a few balls had bounced their way, they'd be 4-0. Detroit, on the other hand, is 0-4 and just got pummeled by the Bears.
Tampa Bay Buccaneers (-450) over Miami Dolphins
The Buccaneers have injuries in their secondary, but the Dolphins aren't the team to take advantage–certainly not with Jacoby Brissett under center. Brissett will fold in the face of the Bucs' pass-rush, and Tampa Bay will win this one comfortably.
Los Angeles Chargers (-125) over Cleveland Browns
The Chargers are the real deal. Brandon Staley has his defense playing at a high level and Justin Herbert looks like an MVP candidate on offense. The Browns won last week with 11 points, and they won't be able to do something like that again here. Baker Mayfield's shoulder is clearly bothering him, so I'm fading Cleveland.
Chicago Bears (+190) over Las Vegas Raiders
The Raiders' defense looked much improved…until they had to face a real offense last week. In hindsight, we can't give them too much credit for their performances against the Dolphins and Steelers. Justin Fields will give them more trouble in Week 5.
Dallas Cowboys (-320) over New York Giants
Fade the Giants, as they are riding high off their overtime win over the Saints. Beating the Cowboys on the road will be a much taller task. Dallas' offensive line looked downright dominant last week against Carolina.
Arizona Cardinals (-220) over San Francisco 49ers
It looks like Trey Lance will get his first career start for the 49ers, which is good news for the 4-0 Cardinals. Lance certainly didn't look ready to start during his first real action last week in relief of an injured Jimmy Garoppolo.
Kansas City Chiefs (-150) over Buffalo Bills
It's the trendy move to pick against the Chiefs right now, and while they certainly haven't played their best, I'm not ready to bet on the Bills coming into Arrowhead and stealing a win. Remember, last year's AFCCG wasn't particularly close.
14-team parlay pays out +528,842!
Pickswise is the home of free NFL Predictions  and NFL Odds. Check out the latest NFL Prop Bets and NFL Parlays as well as expert NFL Underdog Picks and NFL Computer Picks.