Opening NFL Week 13 betting lines, odds and spreads: Expect Jets buzz to take off
Week 13 of the NFL season is approaching, so it's time to look ahead to the opening NFL betting lines, odds and spreads. Our lead betting analyst Jared Smith offers insights into the lines and early betting takeaways for this week's games.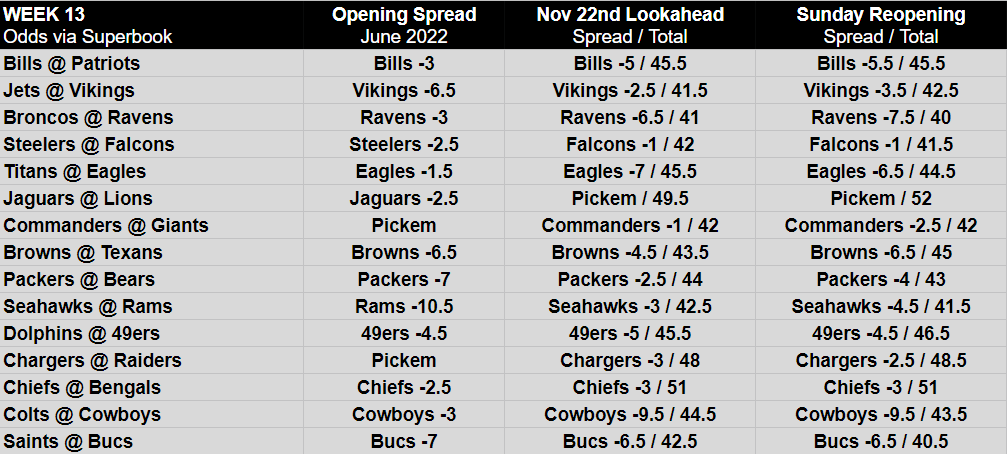 Stock Up: Jets vs Vikings
All hail Mike White. The Jets offense came to life on Sunday with the best EPA/play of any team heading into MNF. I know it was against a hapless Bears defense ranked 31st in schedule-adjusted efficiency, but White still completed almost 80% of his passes with a success rate of 60% in poor weather conditions at MetLife Stadium. He also spread the wealth to what seems like a suddenly deep complement of pass catchers, including the young duo of Garrett Wilson and Elijah Moore combining for 3 scores.
The Vikings are also coming off a win on Thanksgiving night in a game in which Kirk Cousins showed well in primetime. However the defense really struggled to contain Mac Jones and a relatively mediocre stable of Patriot pass catchers, which bodes well for Moore and Wilson again this week. The secondary has been an issue for Minnesota all season, entering last week ranked just 19th in DVOA against the pass.
This line reopened Jets +3.5 on Sunday but the hooks quickly dried up and now it's mostly 3s painted across the board. I would expect to see a battle surrounding that key number this week. Recency bias also matters here. The Vikings won last Thursday while the Jets will be the toast of the back pages on Monday. So while both teams are coming off wins, the Jets should be getting more buzz in the market this week.
Market prediction:  Sharp money has mostly faded the Vikings of late and I would not expect this to get back to 3.5 barring some unforeseen injury news for the Jets. So if you like the underdog, monitor the market closely this week and try to find a rogue 3.5 that pops up. If you like the Vikings, you should have no trouble finding -3 at any point throughout the week. 
Sell High: Browns vs Texans
Things are about to get weird in Cleveland. Not only is Deshaun Watson due back from suspension this week but the Browns are coming off a huge win over Tom Brady and the Bucs in overtime. It was also a rare situation in which the defense shouldered most of the load, finishing 7th in EPA/play compared to 19th for the offense. Cleveland allowed only 7 points in the 2nd half and overtime, and were aided by David Njoku's insane one-handed catch on 4th down to tie the game at the end of regulation. Long story short: I think this is a good spot to sell the Browns.
Well that's good in theory, but this week's opponent makes it very hard. The Texans got blitzed in the first half by the Dolphins, allowing 30 points and looking absolutely lifeless. However Kyle Allen came to life in the 3rd quarter and the Texans offense finished with the 8th-highest EPA/play of any team in the 2nd half this week entering MNF. The defense ranked 1st in EPA/play in the 2nd half but you also have to adjust for Skylar Thompson replacing Tua very early in the 3rd quarter. Regardless, it's fair to say this week will be the Super Bowl for Houston as their former franchise QB returns to town in his first game with a new team.
Market prediction: This line reopened Browns -6.5 on Sunday and immediately started pushing towards that key number of 7. Usually the first move is the sharpest, so clearly there is early love in the market for Cleveland, which makes sense after their win on Sunday. I doubt there's going to be a lot of people betting Houston this week, so we should have plenty of time to sit back and see how the market develops, but Texans +7 is the early leader in the clubhouse for my favorite contrarian play of the week. More to come later in this week's best bets column. 
Free Fall: Broncos vs Ravens
I have nothing nice to say about either of these teams right now. Usually the offenses are the culprit for both, but this week it was actually the defenses that let them down. Let's start with Denver, who allowed Sam Darnold to register a 66.7% success rate on dropbacks in his first start of the season. Meanwhile Russell Wilson looked completely lost once again and graded out 22nd out of 26 qualifying QBs in efficiency this week. Denver's 14.3 points per game is the lowest mark in the NFL since 2000 and I don't think there's any hope for improvement as long as Wilson is under center.
Baltimore's defense looked stingy for 3 quarters in Jacksonville but once again failed to finish, allowing Trevor Lawrence to pull off the signature victory of his young career. That's the 4th time Baltimore has blown a late lead this season, which makes them very hard to trust come January. I'm not really sure what's wrong with Lamar Jackson of late, grading out 28th out of 36 qualifying QBs in efficiency over the last 2 weeks. It's fair to question the health and quality of his supporting cast, but there's just too much inconsistency with Jackson's game right now and Baltimore hasn't topped 27 points since Week 3.
Market prediction: The line reopened Ravens -7.5 after a lookahead of 6.5 last week, which is noteworthy since it moved through a key number. We didn't see the initial Broncos buyback towards 7, which indicates to me this line could keep drifting towards 10 as the market braces for a Baltimore bounceback. I don't think I can lay more than a touchdown with this Ravens offense right now, even if it is against the flatlining Broncos. But as long as the line stays under 9, teasing Baltimore through 7 and 3 might be an appealing option if you can find a solid 2nd leg.