Opening NFL Week 16 betting lines, odds and spreads in Early Birds with Jared Smith
Week 16 of the NFL season is approaching, so it's time to look ahead to the opening betting lines, odds and spreads. Our lead betting analyst Jared Smith and Twinspires Director of Retail Sports Zachary Lucas offer insights into the lines and early betting takeaways for this week's games.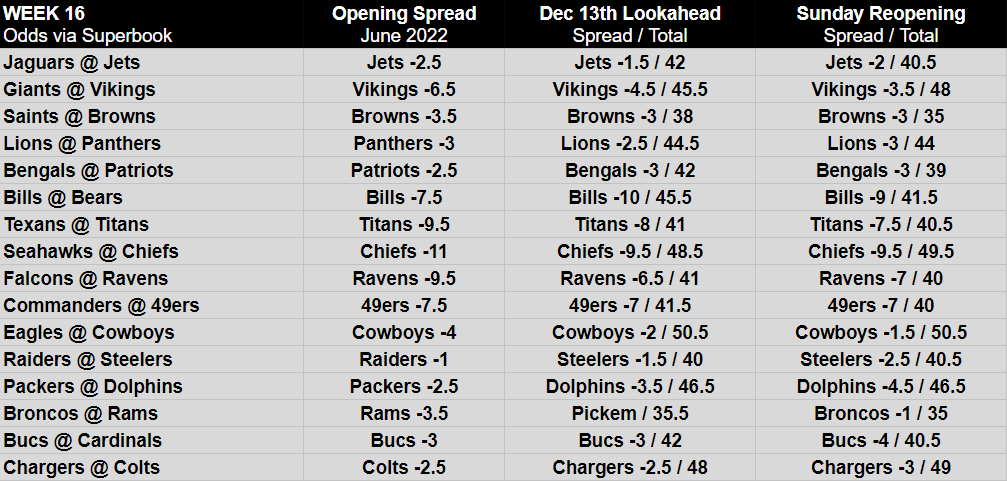 Buy Low: Titans vs Texans
We are buying the dip again with Tennessee. There are plenty of 7s available in the market at the time of publication after this line reopened at 7.5 following the Titans' push against the Chargers. I honestly thought head coach Mike Vrabel was going to go for 2 on that final touchdown drive and get us off the 3, but Brandon Staley smartly used his timeouts — which gave Vrabel a more difficult decision after Ryan Tannehill scored in the final minute.
Meanwhile, Houston is coming off another hard-fought loss against a contender. Thus it's fair to also call this a sell-high opportunity on a Texans team probably running on fumes. Derrick Henry torched Houston's defense for 219 rush yards and 2 touchdowns back in Week 8, a game Tennessee won by a touchdown despite Malik Willis starting at quarterback. I expect the Titans to exceed that margin this week with Tannehill under center and perhaps Treylon Burks also returning from concussion.
Zachary's prediction: I'm going with them  again. The Texans just played their Super Bowl vs the top team in the NFL and took them 12 rounds. The Titans should be able to dominate both sides of the ball.
Buy Low: Cowboys vs Eagles
This game lost a lot of its luster after the Cowboys collapsed in Jacksonville, but the Eagles also failed to meet oddsmaker expectations in Chicago so we aren't getting a major discount on Dallas. Casual fans will likely look at this line and wonder why the 13-win Eagles aren't favored, but the underlying metrics have been very high on Dallas this season despite Sunday's result.
It's hard to quantify the Cowboys mindset this week considering their NFC East hopes are all but dashed, but they can still ruin Christmas for their biggest rival — which should be motivation enough. Philly's front also showed a big weakness trying to slow down the legs of Justin Fields, who rushed for nearly 100 yards and looked unstoppable at times.
Zachary's prediction: Fields made it look easy even with a bad O-Line. The Cowboys' offense should be able to drop 28+ on Philadelphia. The Cowboys' D — while not that great — still has the capability of making plays. Dallas is a contrarian favorite.
Sell High: Jaguars at Jets
You can make a case for the Jets being a buy-low team, as well, but I think the stronger vibe is to sell the Jaguars off a miraculous comeback that climaxed with a fluky pick-6 in overtime. The Cowboys were gashing this Jacksonville defense for the first 40 minutes, but things just seemed to snowball towards the end of the 3rd quarter and the Jags were able to close the deal in the extra frame. Now they must refocus and travel north on a short week against a Jets team that has its back squarely against the wall after suffering its own gut punch on Sunday by blowing a late lead to the Lions.
Zach Wilson looked inconsistent at times but still showed flashes of brilliance and made enough plays to put his team in a position to win the game; instead, it was the defense and special teams that let the Jets down in the final minutes. It's already being widely reported that Mike White will miss this game as he continues to recover from fractured ribs, so Wilson will get another start.
Zachary's prediction: The Jets had that game and the Jags are feeling really good about themselves. Public perception at an all-time high for the Jags. I would jump on Jets +1.5 right now. The wrong team is favored.
Week 16 Early Birds
Titans -7
Cowboys -1.5
Jets +1.5