Pickswise's 2021 NFL Mock Draft - First Round 1-32 Picks: Offense set to dominate the early selections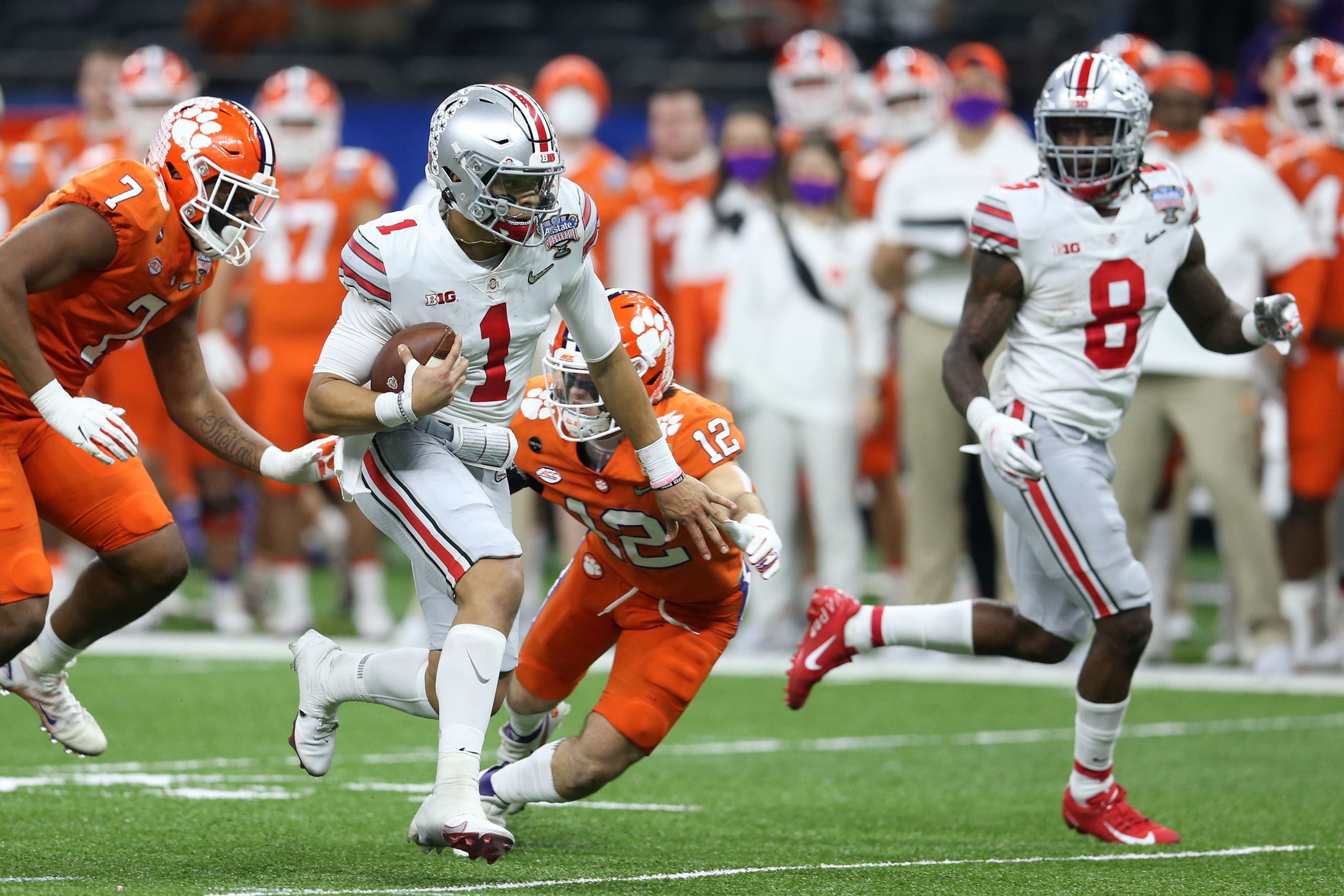 With the 2021 NFL Draft less than three days away, here is Pickswise's mock draft for how teams will draft when round 1 begins on Thursday, April 29.
1. Jacksonville Jaguars: Trevor Lawrence, QB, Clemson
Lawrence has obviously been a lock in this spot for a long, long time. The only intrigue came during the regular season, when the Jets couldn't quite out-tank the Jaguars.
2. New York Jets: Zach Wilson, QB, BYU
The first two picks are slam dunks, with Wilson following Lawrence's lead. It's a long way from Provo, Utah to New York, but the former BYU signal-caller has great potential.
3. San Francisco 49ers: Mac Jones, QB, Alabama
The first uncertainty of the 2021 NFL Draft comes at No. 3, where the 49ers have a decision to make between Wilson, Justin Fields, and Trey Lance. By all accounts, it sounds like head coach Kyle Shanahan wants Jones.
4. Atlanta Falcons: Kyle Pitts, TE, Florida
Given that we know the 49ers are going with a quarterback (but which one?), in a way the draft begins with the Falcons. They could go in any number of directions, including a trade down. If they stay put, look for Pitts to be the pick.
5. Cincinnati Bengals: Penei Sewell, OT, Oregon
As the Bengals found out the hard way, they need some more pass-blocking up front. Joe Burrow suffered a torn ACL last season and the franchise quarterback needs some protection.
6. Miami Dolphins: Ja'Marr Chase, WR, LSU
The Dolphins traded out of the top three because they don't need a quarterback before trading back into the top 10 because they need a star receiver. Chase will likely be that guy.
7. Detroit Lions: Jaylen Waddle, WR, Alabama
Detroit is in complete rebuilding bode. If this team is ready to roll with Jared Goff under center, he is going to need some weapons. With Kenny Golladay gone, it would make sense to replace him with Waddle.
8. Carolina Panthers: Rashawn Slater, OT, Northwestern
Not too much unlike the Lions, the Panthers are one of those teams that could be in the market for a quarterback but probably won't end up taking one. They would be better served helping out Sam Darnold with some protection.
9. Denver Broncos: Justin Fields, QB, Ohio State
One team that most definitely is in the market for a QB is Denver. The Broncos may be tempted to trade up in order go guarantee themselves either Fields or Lance, but Fields falling to them here would be a dream.
10. Dallas Cowboys: Patrick Surtain II, CB, Alabama
Jerry Jones probably wants to get his hands on Pitts, but that isn't going to happen without an expensive trade up. Dallas also needs a ton of help on defense, so Surtain makes sense.
11. New York Giants: DeVonta Smith, WR, Alabama
For a brief time, it felt like Smith would be reunited with Tua Tagovailoa in Miami, but that was before quarterbacks took over as the talk of this draft. Smith could fall a bit…right into the Giants' hands.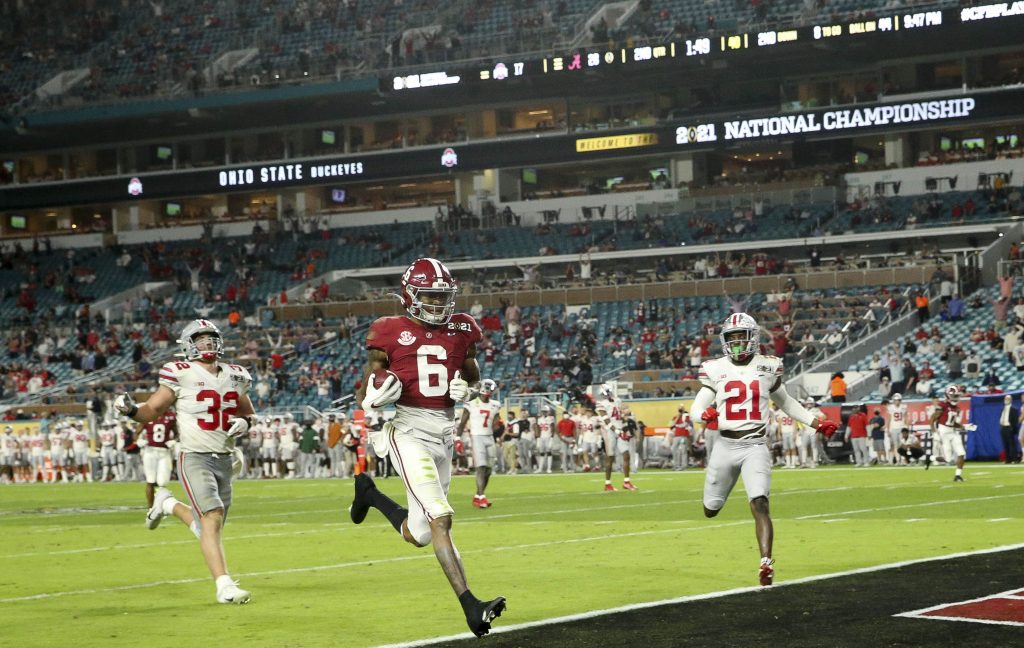 12. Philadelphia Eagles: Jaycee Horn, CB, South Carolina
It looks like the Eagles are no longer in play for a quarterback; they are going to give Jalen Hurts a chance. It's just as well, because Philly needs a cornerback. Darius Slay wasn't great last year and he is really all this team has at that position.
13. Los Angeles Chargers: Alijah Vera-Tucker, OG, USC
Justin Herbert was so good last season that the Chargers aren't picking in the top 20 this year—and probably not any time in the near future. This isn't a sexy pick, but bolstering the line in front of Herbert is a smart move.
14. Minnesota Vikings: Kwity Paye, DE, Michigan
The Vikings are also in the business of selecting an offensive lineman, but Paye still being available may be too much to pass up. He turned heads at Michigan and did the same during his pro day.
15. New England Patriots: Trey Lance, QB, North Dakota State
Lance probably won't fall all the way to No. 15. The Patriots probably won't wait around for him to do so. This may end up being a match, but will likely happen earlier than at No. 15.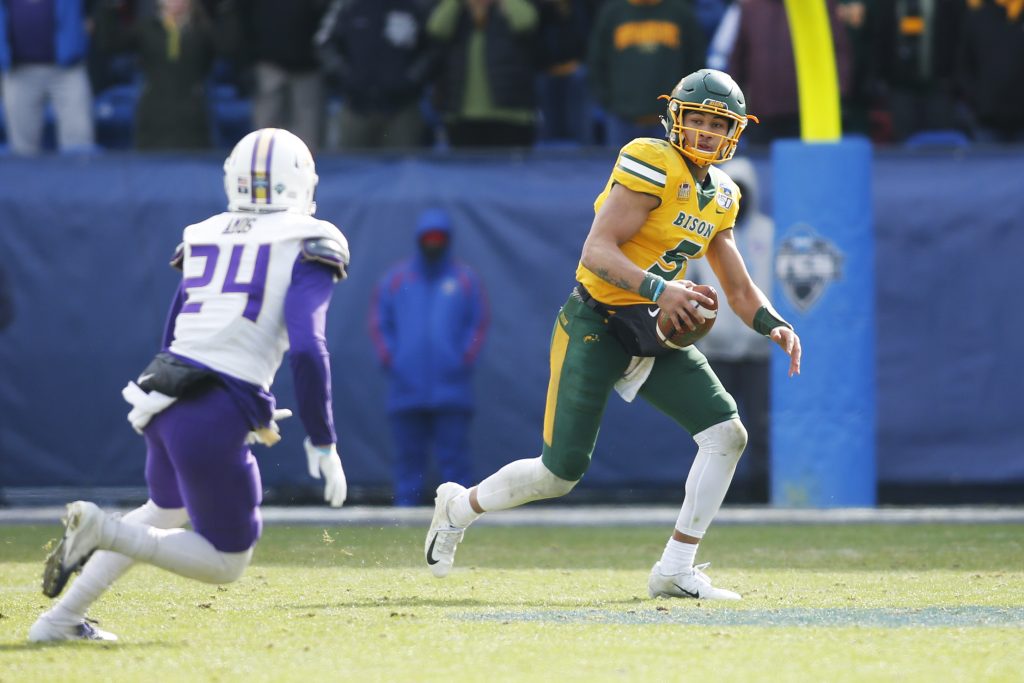 16. Arizona Cardinals: Caleb Farley, CB, Virginia Tech
Farley would in all likelihood be a top 10 pick if not for injury concerns. Farley's literal pain may be Arizona's gain, because he would be a steal in the middle of round one.
17. Las Vegas Raiders: Micah Parsons, LB, Penn State
Big Ten rivals Paye (Michigan) and Parsons (Penn State) are arguably the best in this class at getting to opposing QBs. The Raiders have needed such a player ever since the Khalil Mack trade.
18. Miami Dolphins: Jaelan Phillips, DE, Miami (FL)
Death, taxes, and the Miami Dolphins making multiple picks in the first round of drafts…. Those are basically the three certainties of life. Philipps revived his college career at Miami to cement his spot in the first round.
19. Washington Football Team: Jeremiah Owusu-Koramoah, LB, Notre Dame
Owusu-Koramoah is arguably the most versatile linebacker in this class. He can bring down opposing QBs, stop the run, and drop back into coverage. A Chase Young-led defense in the district would become even scarier.
20. Chicago Bears: Christian Darrisaw, OT, Virginia Tech
Is Andy Dalton really the answer under center in Chicago? Sitting down at No. 20 in the draft, the Bears don't have much choice barring a major trade. Darrisaw started 35 of 36 career games at Virginia Tech in the left tackle spot.
21. Indianapolis Colts: Azeez Ojulari, OLB, Georgia
A pass-rusher or an offensive lineman is what the Colts need, and there will be plenty of both available at this point. Ojulari, who is bit undersized but has great speed, has been shooting up boards of late.
22. Tennessee Titans: Teven Jenkins, OT, Oklahoma State
Isaiah Wilson was an unmitigated disaster, so the Titans are still looking for a right tackle. They should get it here in the form of Jenkins, although cornerback and receiver are also possibilities.
23. New York Jets: Greg Newsome II, CB, Northwestern
Wilson to the Jets is a sure thing at No. 2 overall. No. 23 is obviously far more uncertain, but cornerback has a great chance of being the play. Newsome has an injury history, but his potential is undeniable.
24. Pittsburgh Steelers: Gregory Rousseau, DE, Miami (FL)
Offensive lineman is a possibility, but the Steelers don't just need someone who can protect the quarterback; they also need someone who can get to the quarterback. Rousseau was a monster for Miami in 2019 before opting out in 2020.
25. Jacksonville Jaguars: Trevon Moehrig, S, TCU
The Jaguars have all kinds of picks in the 2021 draft, including this one from the Rams. After going with Lawrence No. 1 overall, head coach Urban Meyer will turn his attention to the defensive side of the ball.
26. Cleveland Browns: Zaven Collins, OLB, Tulsa
Cleveland has plenty of defensive studs on the line and in the secondary, but the linebacker corps is lacking. It would get a big boost in the form of Collins, who has big playmaking ability.
27. Baltimore Ravens: Jayson Oweh, DE, Penn State
The Ravens now have two picks in the first round and one will almost certainly be used on some kind of edge rusher. There is no Chase Young in this class, but the good news for Baltimore is that late in the first round is where may DEs and OLBs will go.
28. New Orleans Saints: Kadarius Toney, WR, Florida
It's a new era in New Orleans, where Drew Brees is out and either Jameis Winston or Taysom Hill is in at quarterback. Regardless of who is under center, the Saints must get deeper and younger at receiver.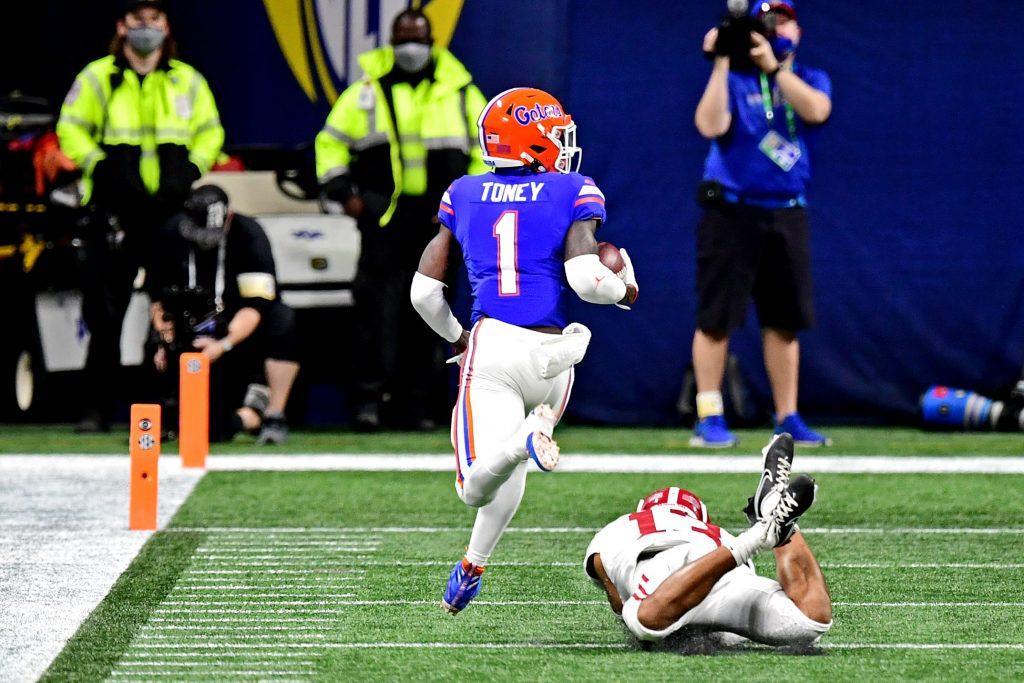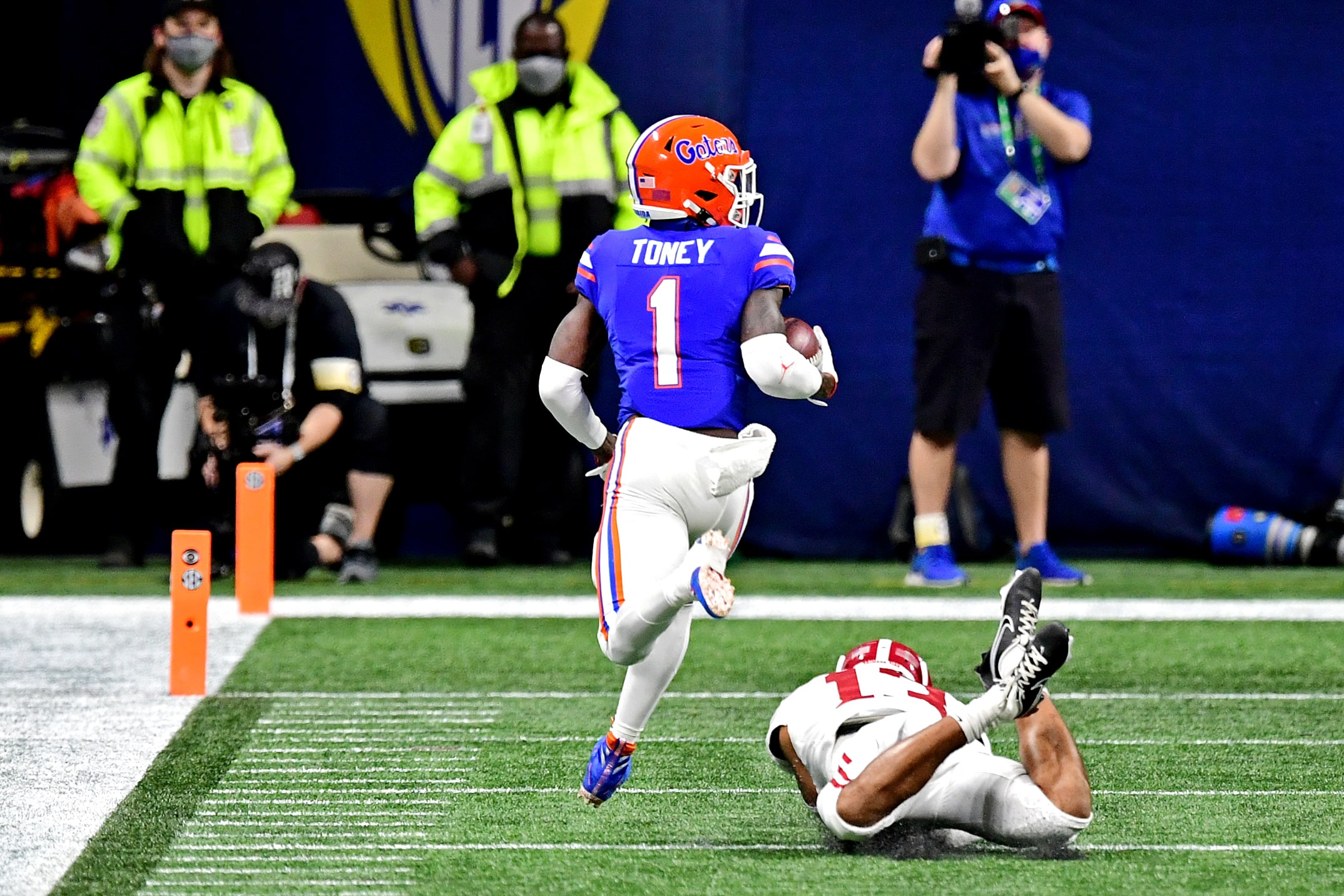 29. Green Bay Packers: Jamin Davis, LB, Kentucky
How many drafts is it going to take for the Packers to give Aaron Rodgers some help? Maybe at least one more, because it looks like defense is the direction they are going in this time around.
30. Buffalo Bills: Najee Harris, RB, Alabama
The Bills have stars at quarterback and wide receiver. They are decent at running back, but also having a true star at that position would make their offense just about unstoppable.
31. Baltimore Ravens: Dillon Radunz, OT, North Dakota State
One of the blockbuster deals of the offseason so far is Orlando Brown going from Baltimore to Kansas City in a deal that included this pick. The Ravens might as well replace Brown with an offensive tackle.
32. Tampa Bay Buccaneers: Elijah Moore, WR, Ole Miss
Moore wants to be known for something other than his dog-pissing celebration that cost Ole Miss the Egg Bowl in 2019. Being a first-round pick and teaming up with Tom Brady in Tampa Bay would give him his chance.
Can't wait for the NFL season to begin? Well, luckily Pickswise is also the home of free MLB predictions, NBA predictions , and NHL predictions.