Pickswise's 2021 March Madness Handicapper Contest: First Round Day One Expert Picks and Predictions
The NCAA Tournament is underway, and now is when the fun really begins. We've got 16 first-round games to salivate over, and our expert judges are here to give you their locks of the day and best bets for the Pickswise $10,000 Capper Contest! With the likes of Megan Nunez, Jeff Nadu, and Lightning Lockz all participating, make sure you find out who the best bettors around are backing before placing your own bets.
Also involved in the contest are top college basketball insider Jon Rothstein, and ex-player and talent expert Rashad Phillips. Make sure you also check out Jon's picks here.
Here at Pickswise, we specialize in providing free expert picks and predictions, and you can find all of our picks on the side and total for every game throughout March Madness.
Lock of the Day: Oregon State +7.5
So, as an SEC girl, me saying the SEC is an inconsistent league is not something I will get chirped for, as most SEC fans have realized this watching these teams this year. One of the most inconsistent teams is Tennessee. They have shown flashes of brilliance this year and have also looked like complete s*** at times.
On the flip side, you have the Oregon State Beavers who have gotten hot as of late but we all know time off is the worst thing that can happen to a red-hot team. However, +7.5 still seems like way too good of value here in a march madness game where anything can happen. Oregon State is 10-1 ATS in their last 11 and I trust that stat more than I have trusted SEC basketball. Go Beavers!
Make sure you check out our Oregon State Beavers team guide!
Additional Bet #1: North Carolina -1.5
So I'm not completely sold on Wisconsin (and maybe this thought process will come back to bite me) but with this Tar Heels team having my back I feel confident they can knock off Whisky. I know a lot of respected minds are on Wisconsin, and yes if they catch fire shooting I could be in for a long day. But Whisky has dropped six of the last eight, and on the flip side, UNC has turned up their final six games and seemed to be as close to tourney form as possible. I think UNC will completely control the glass, and Roy Williams will keep his steak alive of never losing a first-round NCAA tournament game.
Be sure to check out our full game preview for Wisconsin Badgers vs. North Carolina Tar Heels.
Additional Bet #2: Florida pk
Overall the Hokies have been the most consistent team, however in this tournament play I like to look at the teams that I feel are raw and willing to do what it takes to get the job done, and I think I found that in this Gator team.
Trey Mann has been outstanding for the Gators averaging 15 points per game but turning it up recently averaging 22 ppg. They are the top shooting team in the SEC and 58th in the country. Ultimately I believe this game will come down to the Gators making the clutch shots, but with not having to lay points in this spot, I think the value is definitely with the Gators.
Be sure to check out our full game preview for Virginia Tech Hokies vs. Florida Gators.
Stay in the moment. #MarchMadness #GoGators pic.twitter.com/3YdM1V8RAI

— Florida Gators Men's Basketball (@GatorsMBK) March 19, 2021
Lock of the Day: Oral Roberts vs. Ohio State over 156 points
I had a hard time envisioning where and how this game doesn't find its way into the 160s. Ohio State has been among the best offenses in the country all year and should destroy an Oral Roberts defense that might be the worst in the tournament. Lucky for them they have an offense led by the leading scorer in the country and match the Buckeyes at least for a while offensively.
In non-conference play, Oral Roberts faced five tournament teams and they gave up 79 plus in every game. On offense, they run a five-out motion offense and have some really terrific offensive talent in Max Abmas and Kevin Obanor. They have three players shooting it above 43 percent from three. Ohio State all year was a balanced offense and should push 90 here. It wouldn't surprise me if this is one of the higher-scoring games of the first weekend. The pace will be there, little defense will be played and both are terrific from the line. High one here… maybe 89-75 or something.
Be sure to check out our full game preview for Oral Roberts Golden Eagles vs. Ohio State Buckeyes.
Additional Bet #1: North Texas vs. Purdue under 126.5 points
North Texas is an elite defensive team. They are long, good against opposing bigs and force you into bad decisions and plodding long possessions. They clog passing lanes and force you into bad shots. They have faced their fair share of big men as well and should be able to handle Purdue big Trevion Williams. Williams struggled over the last few games of the season and was the subject of fouls more than most. But he is the best big man that North Texas has faced and they not only have him but behemoth Zach Edey who has a silky touch around the rim. Zach Simmons must stay on the court for NT, he is a great big and has the ability to change the outcome. Lucky for North Texas, he only fouled out once this year.
Both of these teams tempo-wise are extremely slow and this game screams low 60s. On offense, North Texas runs through PG Javion Hamlet. I expect him to struggle against a strong defensive guard in Eric Hunter who had no issues locking down Big Ten guards. Keep in mind against three teams this year in non-conference play that are in the tournament they averaged just 51 points per game. Purdue is really good defensively in their own right. This will be another struggle offensively for the Mean Green. I have this game at 61-51 ish. I just don't think North Texas can make enough shots and Purdue will get theirs but this game just won't feature much up and down basketball. A methodical dogfight.
Be sure to check out our full game preview for North Texas Mean Green vs. Purdue Boilermakers.
Lock of the Day: Texas Tech -4.5
What we have here is a team who played in one of the best conferences against a team who looks amazing in an awful conference. Clearly, most people thought Utah State was on the bubble yet somehow got seeded higher than they should have been. Texas Tech has experience and a coach who has never lost a first-round game.
Texas Tech doesn't have a lot of height, but they have one of the best shooters in the county and they will play this game attacking the big man of the Aggies. Remember Texas Tech's five losses were against teams all in tourney ranked 1-4. They have a great defense (24th defensive efficiency). They cause a lot of turnovers and give up only 63 points a game. They are the team, play in the better conference, and have better shooters. Texas Tech hits their shots, and they will advance against a team that was overseeded. Lay the 4.5.
Be sure to check out our full game preview for Utah State Aggies vs. Texas Tech Red Raiders.
March 17, 1996: 3-seed Texas Tech's Darvin Ham breaks the backboard on a dunk during a 92-73 second round NCAA Tournament win over 6-seed North Carolina. pic.twitter.com/WdAPhGjfRY

— This Day In Sports Clips (@TDISportsClips) March 17, 2021
Additional Bet #1: Oklahoma State -7.5
In March Madness, if one man takes over he can carry a team. We have seen it before with a guy like Kemba Walker and Carmelo Anthony. Cade Cunningham is that man this year. The best player in the country on a team that has been hot down the stretch. Liberty has been awesome winning 12 in a row against no one. Their best player is Darius McGhee and you know they will focus on him and shut him down. The Cowboys play great D, and they are not going down in the first round. Lay the 7.5 and watch the Cowboys shoot down the Flames.
Be sure to check out our full game preview for Oklahoma State Cowboys vs. Liberty Flames.
Additional Bet #2: Syracuse +3
Watching March Madness, there is always one team you want to avoid. Syracuse and their zone fits that category this year. They are not the same team as before, but the Orange got hot late, played great, and the coach's son can shoot. San Diego State plays in a weaker conference and they are not the same strong defensive team from the past. They do have a star in Matt Mitchell, but this game is a war, Syracuse will advance with their hot shooting down the stretch. Take the Orange, take the three, and let's move on to the next round with an outright winner.
Be sure to check out our full game preview for San Diego State Aztecs vs. Syracuse Orange.
Lock of the Day: Wisconsin vs. North Carolina under 139.5 points
My lock of the day is under 139.5 points in Wisconsin-North Carolina. Both teams tout top-20 defenses while neither has top-30 offenses. Although Wisconsin takes and makes many 3s, its offense has ranked outside the top 70 over the past 10 games. The Badgers play slowly (313th in tempo) and haven't beaten an NCAA Tournament team since late January — losing their last 7 chances. Meanwhile, UNC hardly takes or makes many threes, primarily relying on its size for offense, and has a top-10 defense over its last 10 games.
Trusting Wisconsin to snap out of its funk against a very good defense is a risky proposition and UNC is likely to turn to its interior scoring for points. This should be a slow, steady game between two supposedly evenly matched teams. I don't expect this to be an uptempo or explosive game. Snag the under on this 8-9 matchup.
Make sure you check out our North Carolina Tar Heels team guide!
Additional Bet #1: Virginia Tech pk
Virginia Tech jumped out to a 13-3 start, including wins over Villanova and Virginia before five of their last eight games were cancelled due to COVID. Florida's far too inconsistent, with three winning streaks of three-plus games and losing streaks of at least two games. The Hokies have shooting and an interior presence in Keve Aluma. I think they're the better squad.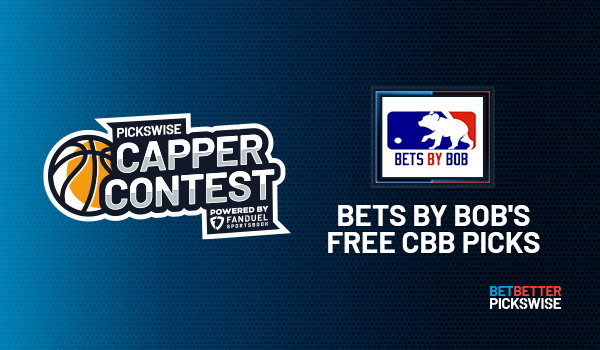 Click here to check out college basketball expert BetsByBob's picks!
Lock of the Day: Oral Roberts vs. Ohio State over 156 points
Oral Roberts is an elite shooting team from deep, as they hit at a 38.8% rate (11th in the country) and almost 50% of their shots are from the three. Oral Roberts has a player named Max Abmas who averages 24.2 ppg and shoots 43.3% from three. They can keep up with anyone out there. What I love about Oral Roberts is they have played good non-conference teams this year with Missouri, Wichita State, Oklahoma State, Oklahoma and Arkansas. Three out of those five games went over 156.5 and the other two landed at 154 & 155. That tells me that over 156.5 is the play for this game.
Oral Roberts is 16-7 to the O/U, while Ohio State is 17-12 to the O/U. Both these teams score a ton of points and I see the game ending in the 80s. The Golden Eagles are 285th in Adjusted Defensive Efficiency and don't defend the three-point line well (265th in the country). So even though Ohio State has a slow pace, they are the fourth efficient offense in the nation and shoot the three at a 36.5% clip.
I'm banking on Oral Roberts shooting well in this game for it to sail over 156.5.
Check out our Ohio State Buckeyes team guide!
Additional Bet #1: Villanova -6.5
Winthrop has no single dominating player on their team that could take over and make it hard for Villanova defensively. They are also 250th in the country in FT's so this could come to play with this short spread. Even though Winthrop went 23-1 their 2 best wins are UNCG and Furman. They haven't played any tough non-conference opponents and had a cupcake schedule.
I love fading the public, especially in March Madness. Everyone is picking Winthrop to upset Villanova especially after Villanova lost Gillespie and how they've played without him. I'm on the other side though. I see Villanova finally stringing it together without Gillespie and blowing Winthrop out of the water.
Justin Moore will step up with Gillespie out and Robinson-Earl is a nightmare for any defense. Winthrop has the 11th pace in the country, while Villanova has the 320th. Villanova will control the pace of this game and force Winthrop to be uncomfortable. If Winthrop is missing its threes and Villanova is efficient scoring while slowing the game down, it will be a long night for Winthrop.
Be sure to check out our full game preview for Villanova Wildcats vs. Winthrop Eagles.
Additional Bet #2: Wisconsin +1.5
Wisconsin has the 13th overall defense and doesn't turn the ball over. They are second in the country in turnover percentage. This matchup is one of the biggest differences in styles of play in the First Round. You have UNC as the 45th-paced team and Wisconsin as the 326th-paced team in the nation. If Wisconsin can take over & control the tempo, UNC will struggle to slow their pace down and miss shots.
I like that Wisconsin is a great FT shooting team at 76.7% (28th overall) so you can put your faith in Wisconsin closing the game out if it comes to that. UNC will have a HUGE rebounding edge, but I think as Wisconsin slows down the pace they will also close the gap in the rebounding department.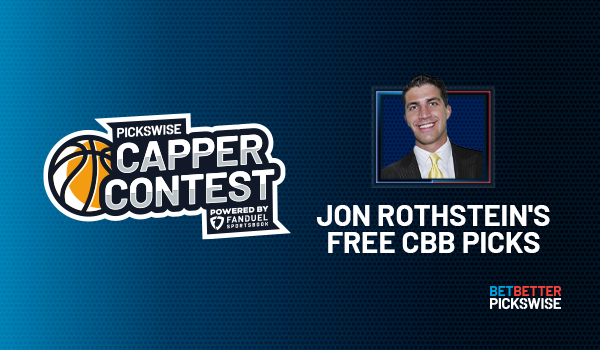 Click here to check out college basketball analyst and insider Jon Rothstein's best picks!
Lock of the Day: Oral Roberts vs. Ohio State over 156 points
There should be a lot of points in this one, as Ohio State ranks fourth in the country in adjusted offensive
efficiency, while Oral Roberts ranks 285th in adjusted defensive efficiency. The Buckeyes should have no issues scoring, but there's a lot to suggest that Oral Roberts should be able to score freely as well. The
Golden Eagles rank 73rd in offensive efficiency and are led by dynamic duo Max Abmas, the nation's
leading scorer, and Kevin Obanor. These two thrive in pick-and-roll settings, a play type that Oral Roberts uses at the 24th highest rate in the country.
Not only do they run it a lot, but they are also very good at it as well, ranking ninth in the country in points per possession on pick and roll. This should cause some concern for Ohio State's defense, as the Buckeyes rank in just the 17th percentile in pick and roll defense, per Synergy. Finally, Oral Roberts is the nation's best free-throw shooting team at 82.6 percent. There's a clear path to big offensive days for each team in this one, so the over is a strong play.
Additional Bet #1: Houston -20
It's a big number, but this is an awful matchup for Cleveland State. On the surface, Cleveland State's
defensive metrics look pretty good, ranking 122nd in Kenpom's adjusted defensive efficiency. However,
there are some signs that would suggest this ranking is a bit fluky.
To start, Cleveland State ranks 312th in the three-point attempt rate allowed. Despite giving up this many threes, their opponents shot just 30.6 percent on those threes, which was 36th lowest in the country. In other words, they were fortunate to have opponents miss. Shot quality data would support this as well, as the Vikings ranked just 260th in defensive shot quality, significantly worse than the 122 in Kenpom. Houston will make shots against them, and when they don't, they'll just grab the rebound and shoot again. Houston ranks eighth nationally in offensive rebounding rate, while Cleveland State ranks 302nd in defensive rebounding rate. A recipe for a blowout.
Be sure to check out our full game preview for Cleveland State Vikings vs. Houston Cougars.
Welcome to the Madness

Narrated by @g_robinson1 #MarchMadness#ForTheCity x #GoCoogs pic.twitter.com/bivXrsBtAJ

— Houston Men's Hoops 🏀 🐾 (@UHCougarMBK) March 19, 2021
Additional Bet #2: North Texas vs. Purdue under 126.5 points
This game will feature an incredibly slow pace, as both teams rank near the bottom in Kenpom's
adjusted tempo metric. North Texas actually ranks as the eighth-slowest team in the entire country.
Their most recent game against Western Kentucky finished regulation tied at 48 and finished the game
with just 65 possessions after overtime.
Not only do the Mean Green play very slowly, but they're also a very good defensive team, ranking 41st in the country in defensive efficiency. Against Purdue, the big question is how you handle Trevion Williams and Zach Edey. North Texas doesn't have that kind of size, but they have a very good interior defense. Per Hoop-Math, North Texas ranks 33 rd in the country in shots allowed near the rim. They've also seen, and done well against, players similar to Williams such as Derek Culver, Cam Krutwig, and Charles Bassey.
Finally, there could be a decent amount of turnovers in this game, as both teams rank outside the top-50 in protecting the ball. In a game projected for just 62 possessions, every possession that ends in a turnover versus a shot attempt carries a lot of weight.
Check out our Houston Cougars team guide!
Jacob Herr (Pickswise contest winner):
Lock of the Day: San Diego State -3
Additional Bet #1:
Cleveland State +20
Additional Bet #2: Wisconsin +1.5
Want more March Madness thoughts and predictions? Check out our huge NCAA Tournament preview show, which features Jon Rothstein, and Rashad Phillips, and Aaron Torres!
Pickswise is the home of March Madness Predictions. Check out all of our March Madness Picks, including daily March Madness Parlays throughout the NCAA Men's Basketball Tournament.