Pickswise's 2021 March Madness Handicapper Contest: Monday Second Round Expert Picks and Predictions
The NCAA Tournament is well underway, and the fun continues on Monday with the conclusion of round two. Following two jam-packed days of first-round action and eight Sweet 16 berths handed out on Sunday, we have eight more games to salivate over and our expert judges are here to give you their locks of the day and best bets for the Pickswise $10,000 Capper Contest! With the likes of Megan Nunez, Jeff Nadu, and Lightning Locks all participating, make sure you find out who the best bettors around are backing before placing your own bets.
Also involved in the contest are top college basketball insider Jon Rothstein, and ex-player and talent expert Rashad Phillips. Make sure you also check out Jon's picks here.
Incredibly, Rashad was able to successfully predict ALL THREE upsets of Abilene Christian to beat Texas, Oral Roberts to beat Ohio State, and Ohio to beat Virginia. Rashad then followed that up by once again picking Oral Roberts to get the job done, this time against Florida. Read all of Rashad's picks for today's games here.
Here at Pickswise, we specialize in providing free expert picks and predictions, and you can find all of our picks on the side and total for every game throughout March Madness.
Lock of the Day: Alabama -6
I may have assessed the SEC poorly before the tournament. I truly thought the SEC was the most inconsistent conference but the Big East and Big Ten are up there as well. Look, I know Maryland looked dominant in their upset win over UConn but this Alabama team is a different kind of athlete. Alabama plays at a high pace that I don't believe Maryland has seen this kind of offense all season. I believe this Bama team is deeper and ready to play like a team and get the cover.
Be sure to check out our full game preview for Maryland Terrapins vs. Alabama Crimson Tide.
Additional Bet #1: Ohio +5
Rolling with the hot hand in the Bobcats. They have shown they are indeed deserving of the glass slipper coming off of that huge upset over UVA. This is a team where every starter is currently averaging double digits. The Bluejays looked pretty bad against the Gauchos and honestly should have lost the last game. I had high hopes for Creighton at the start of the year but they have just seemed to be lingering which is something that won't be advance you in this tournament. I'll definitely catch 5 points with the hot team in the bobcats 
Additional Bet #2: LSU +5
This is starting to feel like a fade of the Big 10 and maybe it is. Between Illinois, Ohio State, Wisconsin etc all of the elite Big 10 pressure rides on Iowa and Michigan and I think that pressure will be too much. LSU had multiple scoring options with Cam Thomas and Watford running the show. Michigan is somewhat banged up, they are playing a gritty SEC team, who has done nothing but covert against top notch defenses. I'll take my Tigers with the points.
Be sure to check out our full game preview for LSU Tigers vs. Michigan Wolverines.
Hello America, meet Logo Cam. pic.twitter.com/VLVRDmuB3p

— LSU Basketball (@LSUBasketball) March 20, 2021
Lock of the Day:
Colorado +1.5
Maybe the Pac-12 is good? Colorado used a sharpshooting display to dispatch upstart Georgetown and I have to think there's some modicum of success here again. All year they have been sorely underrated offensively. They don't turn it over, they make their threes, and they are the best foul shooting team in America. They are big and physical as well which as far as athletes are concerned they can match up with huge Florida State.
The difference in this game is something I have been talking about all year: point guard play. Colorado has one of the best in the country in McKinley Wright, Seminoles don't have a PG and continue to struggle with turnovers. Tad Boyle defensively will bother the young Seminoles and Colorado is the one team that can own the glass against FSU. Gimme the Buffs to go to the Sweet 16 carried by McKinley!
Additional Bet #1: Iowa vs. Oregon Over 147.5
Oregon/Iowa OVER 147.5: I'm sick of not playing OVERS involving Iowa. They make everything and no one can contain Garza. While Oregon is  solid defense they aren't gonna get in front of the Hawkeyes who are so balanced. Oregon has found their stroke offensively as well fully healthy and have quietly been one of the best offenses in the country. Keep in mind Oregon is 17-9 to the OVER this year. Iowa has had issues all year on the perimeter defensively and ultimately was the reason they couldn't cover against the Grand Canyon Lopes. This one should be a pretty one to watch on the eyes. Pretty solid tempo wise and both teams have really good guard play that doesn't turn it over. Seems like a 78-75 type of game.
Be sure to check out our full game preview for Oregon Ducks vs. Iowa Hawkeyes.
Additional Bet #2:
LSU +5
LSU +5 vs Michigan- When I saw the bracket this was the spot where I worried for Michigan. LSU is potent, is starting to defend, and playing their best basketball of the season. The three-headed monster of Watford down low, and Smart and Cam Thomas as the guards have been very difficult to contain. Michigan offensively right now is missing something and we know what it is, No Isaiah Livers has hurt and it puts more pressure on young Hunter Dickinson to do it all. Darius Days has been an elite rebounder and he can be the difference in this game, he crashes the glass as good as anyone in the country. LSU will live on the offensive glass and at the line and the 3pt defense is really good. Offense will struggle for Michigan. I think this is where they go down. LSU isn't a one man team, they are balanced and rolling right now.
Lock of the Day: Iowa -4.5
So, Oregon got lucky and gets a free pass into the next round. 10 days off between games and they are not off a great performance. IOWA has a huge advantage and its height in the form of LUKA Garza. The best big man in the game some say. Oregon is led by a 6'8 forward and not much depth in size that they used this year. How will they stop Garza is the question because he is a big man who can shoot from the outside. Iowa can hit 3's and play with Oregon but Oregon can't play with Iowa. This is a bad matchup for the ducks. Iowa can score with them, but Garza will be the key and move Iowa into the Sweet 16. Rust will come into play so expect a hot start from the Hawkeyes.
Additional Bet #1: Creighton vs. Ohio Under 149
Everyone has now heard of Jason Preston. He is a superstar in the making and has taken over. Creighton on the other hand has been awful recently. They can't hit a shot, they have no tea unity, they barely survived. Clearly you can see the internal issues with the coach have affected the game. Ohio is hot. They played the Virginia game and beat them. Creighton has been awful offensively averaging 20 made baskets a game the last 3. This total says we need a game in the mid 70's and the way these guys are playing we just do not see it. Expect a game in the high 60's or low 70's which will easily go under. IF Creighton plays like they have been recently this total has no chance.
Be sure to check out our full game preview for Ohio Bobcats vs. Creighton Bluejays.
Additional Bet #2: LSU +5
Anyone can lose. We have seen a #1 lose and Michigan can easily lose in this wild corner of the bracket where it's been an upset city. NO livers is huge for Michigan. LSU on the other hand should have beat Bama, has been the hottest team in the SEC and they have tons of offensive talent.  Toss out the # 's they don't matter. LSU can score, that's what matters.  4 guys averaging double digits.5th in offensive efficiency   these guys can score and a dog who can score is huge. This will not be a shocking upset. LSU was under seeded, they beat Tenn, Ark and they were an 8. Michigan got a bad matchup here look for LSU to possibly upset the Wolverines without Livers. The points are just icing here. Possible outright win LSU moves on.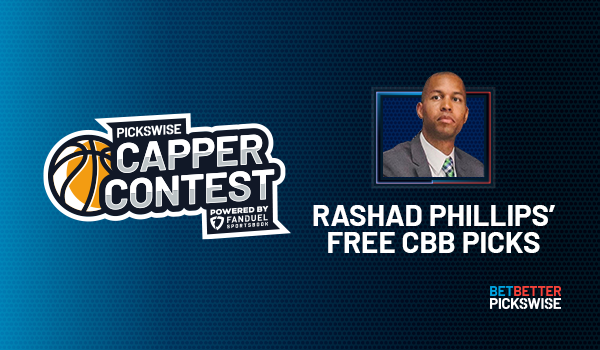 The king of March Madness upsets, Rashad Phillips, is back with his best picks for day two of the second round. Read his predictions here.
Lock of the Day: Iowa vs. Oregon Over 147.5

My lock of the day is over 147.5 in the Oregon-Iowa game. Both of these teams are high-powered offenses with underwhelming defenses. The Hawkeyes and Duck are prolific shooting teams that take long balls at a moderately high clip. They have interior presences to collapse defenses and generate open shots from deep. I expect this to be a explosive scoring affair with lots of high efficiency shots at the rim and beyond the arc from players who excel from those regions. Take the over and enjoy a prolific battle between these squads.
Additional Bet #1: Gonzaga -14.5
Oklahoma is still without one of its best players, De'Vion Harmon, and doesn't have the size to test Gonzaga in the frontcourt. The Zags are coming off a massive win and remain the best team in the country. This is not a good matchup for the Sooners, particularly without a key dribble-drive creator in Harmon.
Be sure to check out our full game preview for Oklahoma Sooners vs. Gonzaga Bulldogs.
Additional Bet #2: Kansas +1.5
Picking Kansas to cover is partially contingent on Jalen Wilson returning to the lineup, which is up in the air. But the Jayhawks have been playing quite well as of late, boasting the second-ranked defense over their past 10 games. This is going to be a close game but I like Kansas' stout defense and experience on the perimeter to propel them to a win.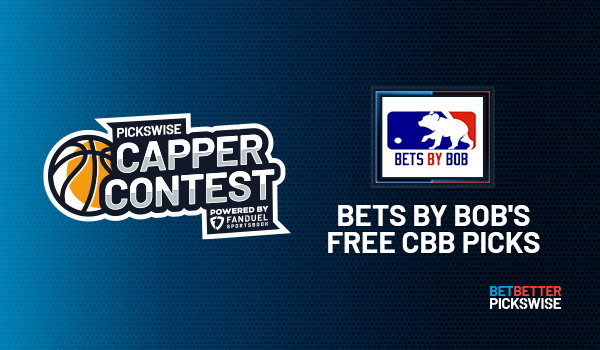 Don't forget to check out the picks and predictions for our college basketball expert tipster, BetsByBob!
Lock of the Day: Florida State -1
I'm buying low on Florida State here and selling high with Colorado. Colorado made 16 threes against Georgetown, while Florida State had ZERO. Yes, zero. The last time FSU played a game with zero three-pointers was February 25, 2018! Florida State has the 12th-highest three-point percentage in the nation at 38.3%. FSU will make more than zero threes in this game. I see Colorado coming back to earth struggling against FSU's lengthy defenders. If Florida State gets hot, they can easily replicate a Colorado-like performance against Georgetown.
This is the game Colorado finally slows down. Florida State has held its last six opponents to 37.6% from the field and 29.5% from the three-point line. FSU has been to the Sweet 16 3 times under Leonard Hamilton and we will see #4 against Colorado. This is the 1st time FSU has played a Pac-12 since December 2008. They play in a much superior conference and it will show in this game.
Additional Bet #1: Abilene Christian +5
What ACU did to Texas was incredible. Watching that game, it looked like the Texas players forgot how to play basketball. Mind you Texas was playing their best basketball of the season up to that point. ACU's defense completely stifled the Longhorns & I see the same outcome here against the Bruins. I was initially going to take the under, but I like ACU's chances to cover and win outright here. Texas has more length than UCLA and ACU still managed to beat the Longhorns. I see UCLA cooling off big time in this matchup here and turning the ball over a lot with ACU's constant pressure.
Be sure to check out our full game preview for Abilene Christian Wildcats vs. UCLA Bruins.
Additional Bet #2: Kansas +1.5
Kansas is getting Jalen Wilson back for this game according to Self. His minutes might be limited, but as we can see McCormack was limited coming back from Covid in the last game too. McCormack looked like a beast with 22 points & 9 rebounds. If Wilson can have a comeback from Covid like McCormack, the Jayhawks will coast to victory.
I see this USC team as very overrated. Everyone loves the Mobley brothers, but the Jayhawks have the length and perimeter shooting to disrupt the Trojans. Agbaji, Garrett, & Braun will come out sharp and knock down clutch 3's. I like the Jayhawks guard play more than USC so I'm going to take Kansas +1.5 here.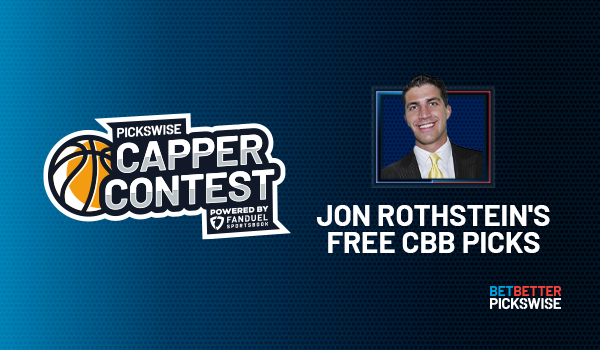 Check out college basketball analyst and insider Jon Rothstein's best picks for today's action!
Lock of the Day: Iowa -4.5
Oregon is definitely a dangerous team, especially considering Dana Altman's success in March, but this is a good matchup for Iowa in my opinion. Per Synergy, Oregon uses their press defense at the 16th highest rate in the country. They used said press to lead the PAC 12 in defensive turnover rate. The problem in this matchup is that Iowa leads the entire country in taking care of the ball. If Iowa can handle the press, I think this is a matchup where Luka Garza can dominate, as Oregon ranked just 177th in two-point field goal defense. On the other end, the popular statement is that Iowa doesn't play any defense. Since January 1st, Iowa's defense ranks 54th in Bart Torvik's efficiency rankings. By comparison, Oregon ranks 105th. Iowa isn't a great defense team by any means, but with that offense, they don't need to be.
Additional Bet #1
: Florida State -1
This is a bit of a buy low, sell high spot in my opinion. Colorado scored 96 points on Georgetown thanks to shooting 16/25 from three, while Florida State needed a late run to pull away from UNC Greensboro. Florida State did not make a single three in their nine attempts against UNC Greensboro, but I certainly don't expect that this time around, as the Seminoles rank 13th in the country in three-point percentage. This should be a good game, but I expect Florida State's perimeter to give the excellent McKinley Wright enough issues, leading to a Florida State win and cover.
Be sure to check out our full game preview for Colorado Buffaloes vs. Florida State Seminoles.
Additional Bet #2: USC -1.5
USC should win this game on the strength of their interior defense. USC ranks 28th in shots allowed and eighth in field goal percentage allowed at the rim. Kansas primarily plays through David McCormack, who ranks top 75 in the country in the usage rate. If McCormack isn't able to score inside consistently against USC's stout interior defense, it means all the pressure falls to Kansas's jump-shooting ability. KU ranks outside the top 100 in both three-point and two-point jumper percentage, so I don't like their chances to score effectively.
Jacob Herr (Pickswise contest winner):
Lock of the Day: Colorado +1
Additional Bet #1: Kansas +1.5
Additional Bet #2: Gonzaga -14.5
Pickswise is the home of March Madness Predictions. Check out all of our March Madness Picks, including daily March Madness Parlays throughout the NCAA Men's Basketball Tournament.