Back
Sports Betting 101: How To Bet On Sports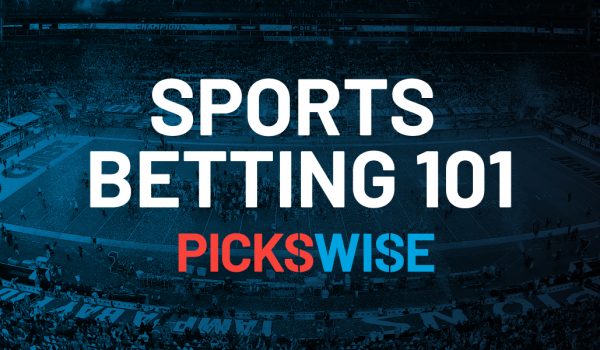 2:06PM
Mon 15th March 2021
2:06PM
Mon 15th March 2021
Sports betting in the United States became legal on May 14, 2018, and in the time since, we've seen 20 states legalize sports betting, with it projected that over half the US States will have legalized sports betting by the end of 2021.

With this, legal sports wagering is entering the mainstream and providing sports fans a safe, legal and exciting way to get involved in their favorite sports and pastimes.

With legal sports betting still relatively new, and more states going live all the time, many new sports bettors will find themselves with many questions about sports betting, from how to bet, where to, the types of bets, and ways to bet.

Placing your first wager at a Top Online Sportsbook, while it may not seem it, is the easy part, consistently finding winning bets and turning a profit is where the challenge lies.

Check out the guide below for all of the need-to-know sports betting information.
How Does Sports Betting Work
Until May 14th, 2018, the US's legal sports betting was confined to Nevada. Since the U.S. Supreme Court's landmark decision to overturn the Professional and Amateur Sports Protection Act, which gave each state the choice of legalizing sports betting, we've seen 20 go live with either in-person or mobile sports betting. While not all states will legalize sports betting, the majority of them are expected to do so, so this number is expected to grow exponentially in the next few years.

The majority of states that have legalized sports betting have legalized both retail and online betting, with the majority of retail operations based within established casinos in the state. One exception to this rule is Tennessee, which in 2019 only legalized online betting and not in-person, retail sports betting.

Nearly all states with legal sports betting allow bettors to wager on professional sports from around the world, be it the primetime NFL game or a soccer tournament in Europe. Some restrictions do apply when wagering on collegiate sports, in certain states such as New Jersey, Illinois, and Virginia where you cannot bet on in-state collegiate teams.

For example, you might be a big Virginia Cavaliers, or Illinois Fighting Illini's basketball fan and have them as your March Madness Pick this year, but if you are in Illinois you cannot bet on home schools in-state, just as Virginian's cannot place any wagers on the Cavaliers or any other in-state team. This is in place in certain states to try to protect college athletes from having their heads turned by sports bettors who may look to influence the outcome of a game, line, or wager.  
If you are new to sports betting and want to learn more about how to bet, which ways you can bet and the type of markets and sports that are widely available, this guide is perfect for you. Check them out below.
How To Place A Bet On Sports
There is a common misconception, particularly amongst new sports bettors that wagering on sports, particularly online is a difficult task, and it's not. It's a simple process from registering for a new account through to placing that first bet. Be sure to make the most of our Free Bets for new customers.

To make things even easier, most sportsbooks follow the exact same process from registering through one of our bonuses, right until withdrawing those winnings. Check out our handy step-by-step guide on how to place a bet on sports below, which has all of the need-to-know information.

 Registering for a sports betting account


The first step is to register for your online sports betting account. The great thing about new accounts is the bonuses sportsbooks will offer, and if March Madness is your thing, check out all of our best

March Madness Free Bets

which include a Risk-Free Bet up to $1,000! With

FanDuel Sportsbook.



Registering for an account takes a matter of minutes. The sportsbook will ask for details such as First Name, Last Name, Address, Contact Details, and some account verification/recovery information.

 Depositing funds into your sports betting account


Once registered, the next step is to add funds into your sports betting account to fund your wagers. Some sportsbooks will give you the option of depositing into your account at the end of the registration process, while others you must go through the

'my account'

option, usually in the top right corner of the page, and then hit

'deposit'

. Each sportsbook will have its own specific deposit methods, all of which can be found on their website or app, but also in our

Online Sportsbook Reviews

pages.

Finding your wager or pick
Once you have registered and deposited into your sports betting account, the next step is to find the bet you want to wager on. Most sportsbooks follow the same navigation pattern on their websites and apps, with popular sports or events at the top of the page and a more comprehensive list of sports on the left, usually in A-Z order. Hit the sport you wish to wager on and you'll find an assortment of leagues, competitions, and even countries depending on which sport. Use these to narrow down your search to find the event you are looking for. Click on the event or match will open a page displaying all of the markets you can wager on. Check out the section below for a list of popular wagers you can bet on.
Adding your pick to your bet slip and locking in the bet
When you find the list of possible betting markets on the particular game you wish to bet on, you will see a list of betting odds next to each pick – Check out our Sports Betting Odds Explained Guide for more on understanding and calculating odds. Clicking the odds next to a pick will add it to your bet slip which will automatically appear on the side of the page. The bet slip shows you your pick and the odds, it also has a box for the stake or the amount you wish to wager. Entering an amount into this box will also calculate your potential winnings, so no math needed here!

When you are ready and happy with your wager, hit the place bet button and that will lock in your bet. Now it's time to kick back and enjoy the game.
What Sports Can You Bet On
There is no real limit to which sports you can bet on with the exception of betting on in-state collegiate teams in states such as Illinois, New Jersey, and Virginia to name a few. The main difference in which sports you can bet on is the sportsbooks themselves and which sports they regularly offer odds on.

Which sports a sportsbook offers is often a deciding factor for bettors on where to sign-up and wager, particularly for those more obscure sports and overseas leagues. Pretty much all sportsbooks will offer odds on the main four US sports in the NFL, NBA, NHL, and MLB, as well as the main two collegiate sports and tournaments like March Madness, and College Football. The majority will also cover sports such as Soccer, UFC, Golf, and Tennis.

FanDuel Sportsbook is the most popular sportsbook in the US and their wide range of sports on offer is a leading reason why. They currently offer 19 sports and this increases throughout the year depending on which big events are taking place. Check out which sports FanDuel currently offers below.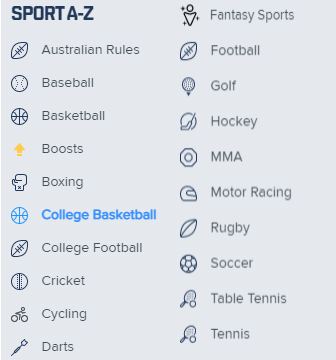 Last updated: Mon 15th March 2021