Sunday Night Football reaction: Chiefs no longer reign supreme over AFC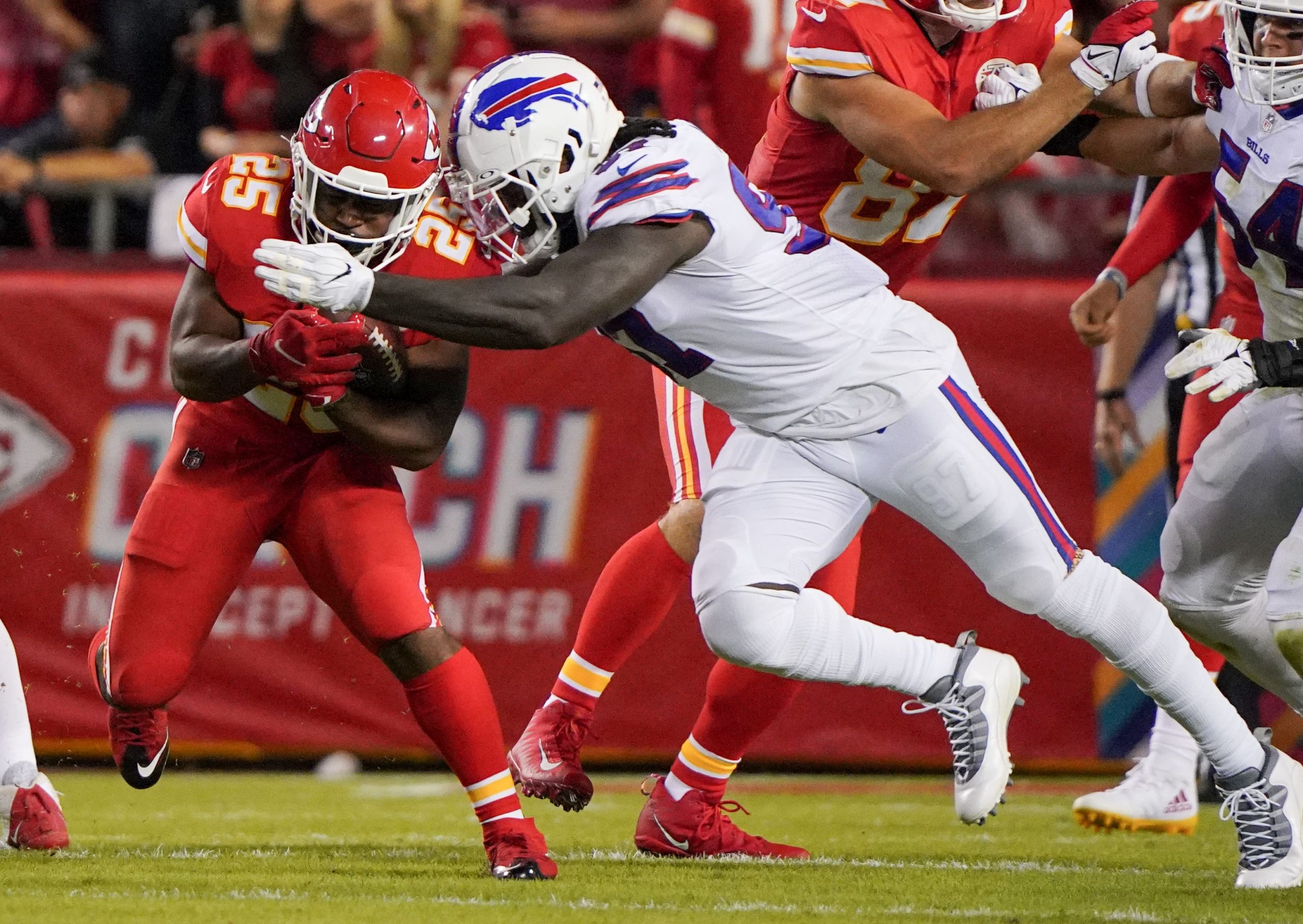 One of the most highly anticipated games of the season is in the books. We got another entertaining standalone contest for Sunday Night Football as the Buffalo Bills took on the Kansas City Chiefs to wrap up the slate. It was a rematch of last year's AFC Championship Game, and Buffalo got their revenge in emphatic fashion.
The Bills won 38-20, dropping the Chiefs to 2-3. Imagine someone telling you that at the beginning of the season. Buffalo made a statement, while Kansas City is no longer the clear top dog in the AFC. Following SNF, the Bills became the favorites to win the Super Bowl at DraftKings, with the sportsbook moving them down to +550. Let's digest what we just saw, and what it means moving forward:
The Chiefs' reign is over
Hands up, I'll happily admit it. I didn't see this coming. I thought the Chiefs' struggles in the first 4 weeks were mostly just some flukey self-inflicted wounds that would be easily corrected. Surely in their big AFCCG rematch, they'd lock in and bring their best effort. But that was far from the case.
I didn't think the defense was good by any means, but I thought it was a little better than it had looked through 4 weeks. It turns out it might be worse. The Chiefs can't stop anybody, and before the weather got rainy, Josh Allen was tossing the ball downfield to wide open receivers.
It's no longer deniable, the defense is an absolute sieve and by far the worst unit that Patrick Mahomes has been paired with in his career. There's plenty of time to get things turned around, but it's clear that the team is no longer the undisputed king of the AFC. Their reign is over.
They very well may make the Super Bowl. But they can no longer be considered a clear favorite. Not only did the Bills just demolish them, but the Chargers are now two games up on them in the AFC West. Los Angeles is a real contender, as is Baltimore (who also already beat them).
The AFC hasn't felt this wide open in a long time. We've seen Chiefs GM Brett Veach be aggressive in the past, so it'll be very interesting to see if Kansas City goes out and makes any bold moves to upgrade the defense.
Josh Allen is currently averaging 29 yards per completion against this Chiefs defense 😳 pic.twitter.com/c6dIufKzAk

— Pickswise (@Pickswise) October 11, 2021
Bills impress, and then some
The Bills made quite a statement. Their last few weeks had been impressive, but they came against some of the worst competition imaginable. Buffalo's first four games were against Pittsburgh, Miami, Washington, and Houston. They played three backup quarterbacks and a washed Ben Roethlisberger.
I didn't think they were frauds, but I also wanted to see them get it done against a fellow elite team. They did that and then some on Sunday night. Allen put up the kind of numbers that have him firmly back in the MVP mix. Sean McDermott's defense is back to being top-tier after a somewhat disappointing 2020.
All that being said, I'm not ready to anoint them Super Bowl favorites just yet. I'm not too interested in the +550 price DraftKings is offering. This was their first test against a real quarterback, and although they played pretty well I certainly didn't think the defense looked impenetrable.
The Chiefs actually moved the ball for most of the night, Mahomes was just uncharacteristically inaccurate at times. Buffalo is going to breeze through the AFC East, that's for sure. But with so many teams in the conference playing so well right now, including the Chargers, Ravens, and Browns, I just don't see the appeal in chasing Bills futures when their market perception is at an all-time high.
To me, the AFC just feels more wide open than it does like the Bills' to lose now. In any case, hats off to Buffalo for a heck of a game. I can't wait to see how the Ravens follow up on Monday Night Football tomorrow night, and don't forget to check out our full game preview for Indianapolis at Baltimore.
Pickswise is the home of free NFL Picks and NFL Odds. Check out the latest NFL Prop Bets and NFL Parlays as well as expert NFL Underdog Picks and NFL Computer Picks.