Sunday Night Football reaction: Packers' comeback starts the clock on Jimmy G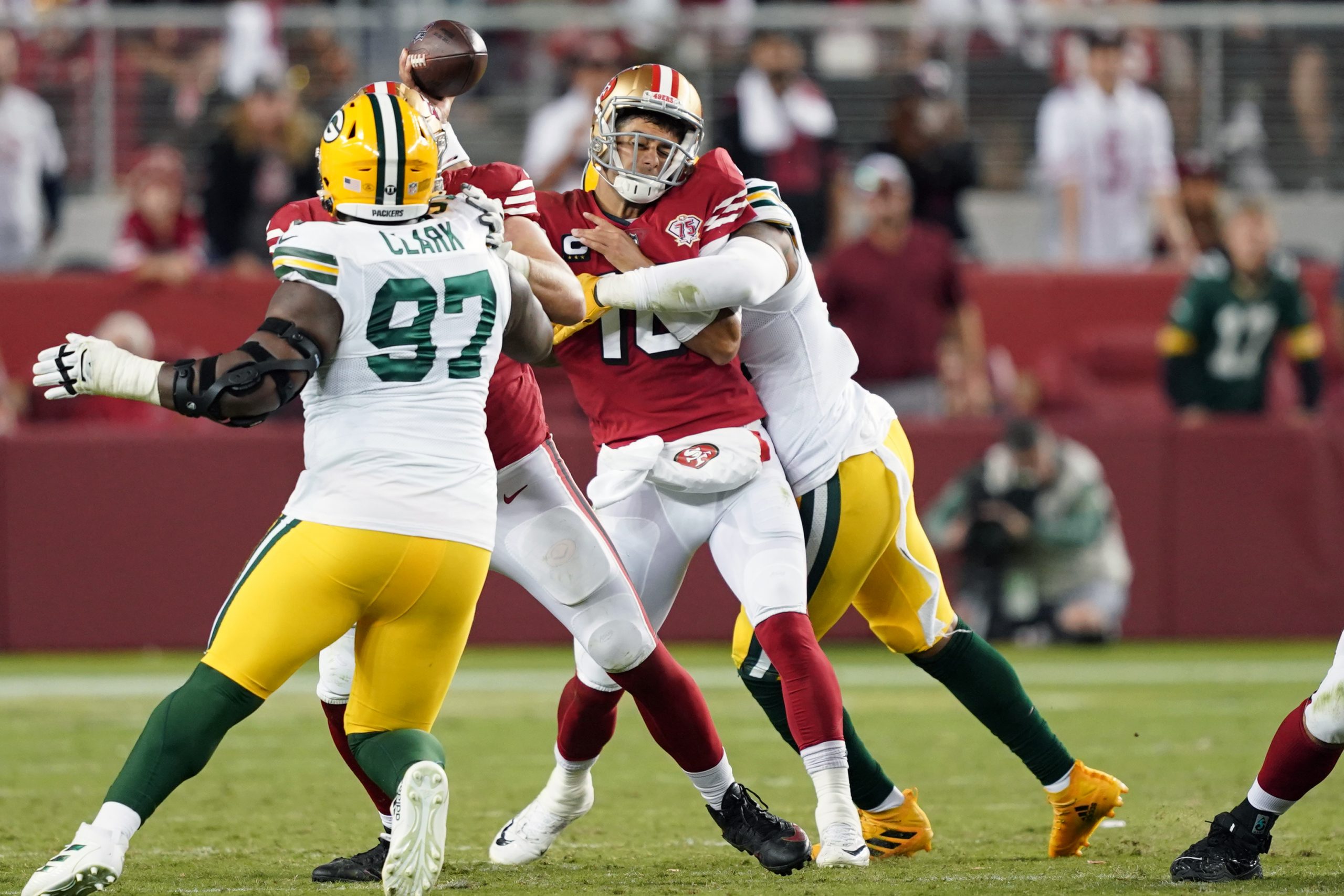 This has to be the best few weeks of primetime games to open a season ever, right? Almost every standalone nationally televised game has been an entertaining thriller, and Sunday Night Football Week 3 certainly didn't disappoint. Two NFC heavyweights threw down, and the Green Bay Packers emerged with the narrowest of victories over the San Francisco 49ers.
The Packers did a lot to alleviate the panic that set in after their Week 1 blowout loss to the Saints, while it became even more clear that Jimmy Garoppolo isn't the answer under center for San Francisco. Let's look at the couple of main takeaways from what we just witnessed:
The clock has started on Jimmy G
The 49ers picked up a nice win over the Eagles last week, but it definitely wasn't because of Garoppolo. Kyle Shanahan asked him to do very little in that game other than throw screens, and he finished with only 189 yards. It's clear that he's not capable of carrying an offense.
Up until the 49ers' final drive, which will soon be forgotten thanks to Mason Crosby's ensuing game-winning field goal, Garoppolo looked completely overwhelmed. He frequently held the ball too long, and took four sacks. That's against a Green Bay pass-rush that already lacks juice, and was playing without their best edge rusher in Za'Darius Smith.
At home against a lackluster Packers defense that just made Jared Goff look pretty good the week before, Garoppolo had an incredibly uninspiring performance. I almost forgot to mention his inexcusable fumble that quite possibly cost his team the game. One or two more games like this, and the calls for Trey Lance are only going to grow louder. It'll be very interesting to see what Shanahan does moving forward.
No change is imminent, but after Sunday Night Football it feels like the writing is on the wall. This game exposed the bottom line. Garoppolo simply doesn't have the upside as a passer to outduel the league's best offenses. It's only a matter of time before Lance is in the starting lineup.
JIMMY G OH NO pic.twitter.com/87aqd97fPf

— Pickswise (@Pickswise) September 27, 2021
Packers quell concerns, for now
After beating Detroit last week, a lot of people were quick to declare the Packers back. I was a little more hesitant. I'm still hesitant, but this was an encouraging performance. Most importantly, Joe Barry's defense looked by far the best it has this season.
If the Packers' defensive front could play like that every week, I'd view them as a legit Super Bowl contender. Aaron Rodgers made it abundantly clear that his heart is, in fact, still in the game. That narrative never had any basis in reality. And Davante Adams is still the top receiver in the NFL.
All that being said, there's still plenty to worry about. The 49ers are really banged up right now, particularly in the secondary. I don't think San Francisco is as good as most people thought. Green Bay has a pretty soft schedule in the next few weeks, but that won't last forever.
Starting October 28 with a game at the Cardinals, they begin a brutal five-game gauntlet. At Arizona, at the Chiefs, home to the Seahawks, at the Vikings, and home to the Rams. That stretch will tell us what this team really is. I remain a bit skeptical of this defense, and of their offensive line, but they're trending in the right direction.
Pickswise is the home of free NFL Picks and NFL Odds. Check out the latest NFL Prop Bets and NFL Parlays as well as expert NFL Underdog Picks and NFL Computer Picks.