Sunday Night Football reaction: Rams impress, but warning signs persist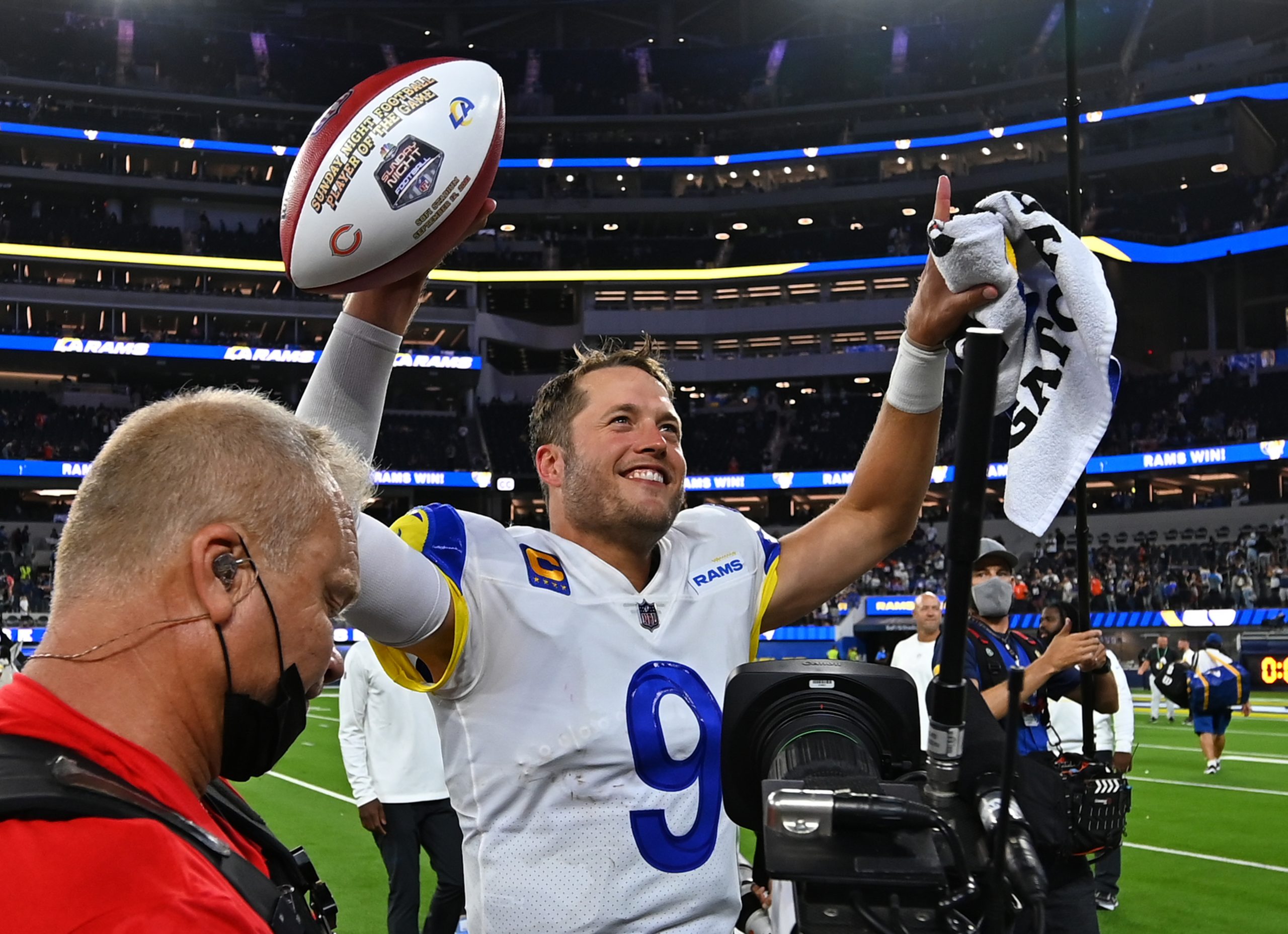 What a day of football. The first full Sunday of the 2021 NFL season certainly didn't disappoint. The slate wrapped up with a Sunday Night Football showdown between the Chicago Bears and Los Angeles Rams. While it wasn't the most thrilling game we saw today, it was still interesting and revealing for many reasons.
We got to see the debuts of two quarterbacks with their respective new teams, Andy Dalton with the Bears and Matthew Stafford with the Rams. The Rams emerged with a 34-14 victory, but I'm not so sure it was quite as dominant as it seemed.
Let's break down what we just saw on SNF:
Warning signs persist for Rams
It was an impressive first start for Stafford. I expected big things from him in his new partnership with Sean McVay, and he delivered. The former Lion was ripping off chunk plays left and right, and that's all great. But it's not the passing game I'm worried about. The rushing attack and defense would concern me moving forward if I was a Rams fan.
Quite simply, Los Angeles was lucky to give up only 14 points. The Bears actually managed to move the ball reasonably well for most of the night; they just failed to convert on a series of 4th downs in Rams territory. Dalton also threw an interception in the endzone after getting down inside the five-yard line.
Unfortunately for McVay, his defense won't have the luxury of facing Dalton every week. I had questions about how this Rams defense would look after losing a bunch of key pieces. Whizz kid defensive coordinator Brandon Staley left to become the head coach of the Chargers and star safety John Johnson signed a big contract with the Browns.
The Rams also faced an incredibly easy slate of opposing quarterbacks last year, when their defense was elite. Aaron Donald didn't make any of his trademarked splash plays against the Bears, and the Rams really didn't get much pressure on Dalton despite the woeful state of Chicago's offensive line.
Without Cam Akers, the Rams also struggled to get anything going on the ground. If these are signs of things to come with the defense and backfield, everything won't be as rosy for Los Angeles moving forward.
Check out our betting reaction to the Sunday Week 1 games, where the return of fans didn't see a return of home-field advantage
COOOOOOOP

The Rams extend their lead to 20-7 in the 3rd quarter.

— Pickswise (@Pickswise) September 13, 2021
Matt Nagy, stop the charade
One thing abundantly clear from Sunday Night Football was that Bears head coach Matt Nagy is still not the right man for his job. Nagy put Justin Fields in the game at various times and the rookie flashed the promise that has given Bears fans some semblance of hope in recent months.
This Chicago team is clearly not a Super Bowl contender. How long Nagy continues with the Dalton charade and delaying the inevitable is anyone's guess, but it's already been too long. Fields is the future, and there's no point in pretending otherwise.
If the Bears still had their top-notch defense and a team capable of winning with Dalton, maybe it would be a different story. But they don't. The secondary got torched by Stafford repeatedly and their once ferocious pass-rush is apparently a thing of the past.
This team isn't going anywhere, so it might as well start developing Fields and stop wasting time.
Make sure you check out our MNF same game parlay for Ravens vs Raiders (+1273 odds!)