Sunday Night Football reaction: Titans' defense is legit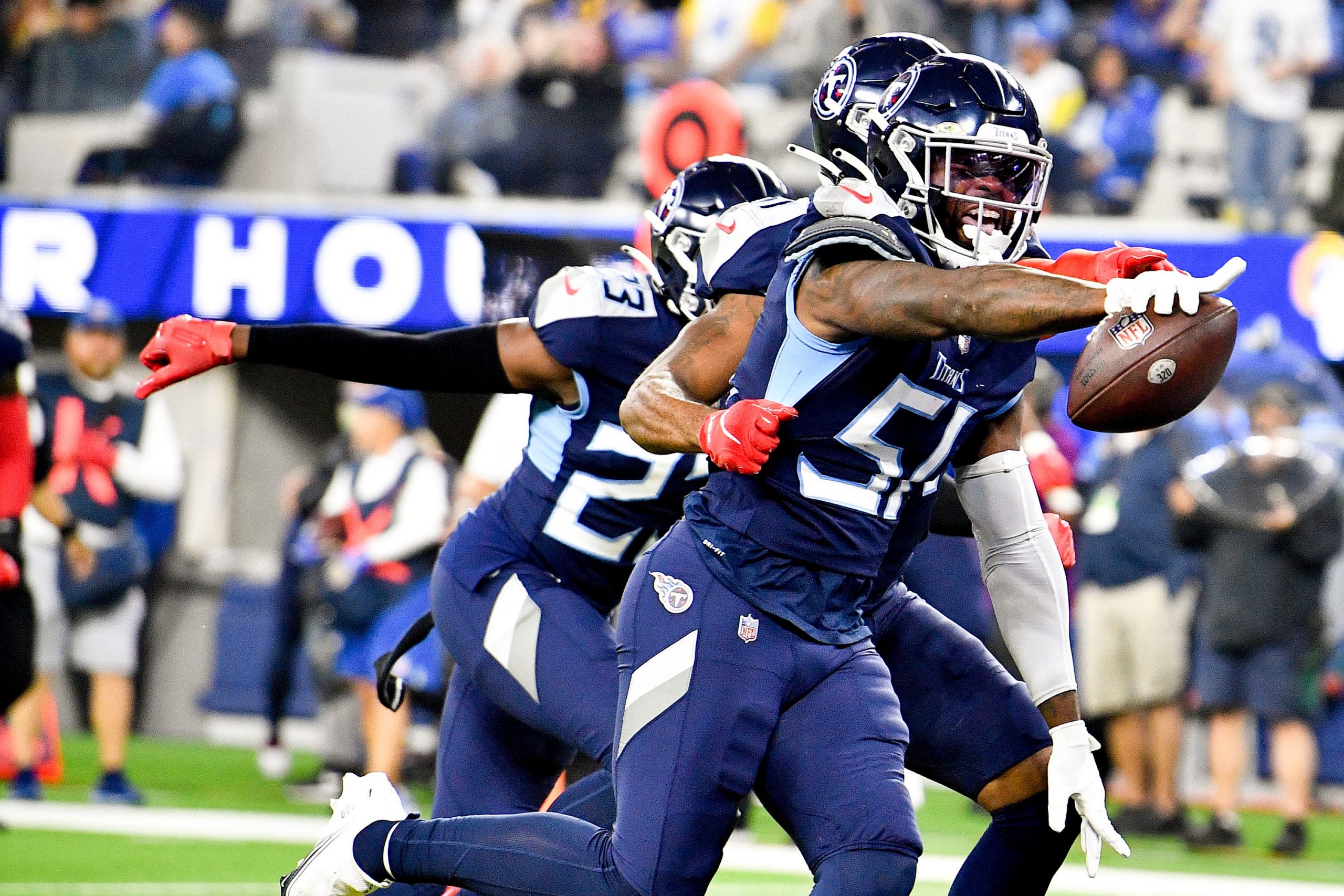 That wasn't the best primetime game we've seen all year, but we still learned a lot. One of the highlights of the Week 9 slate saw the Los Angeles Rams host the Tennessee Titans for Sunday Night Football. In the end, the Titans emerged victorious by 28-9. Tennessee held the Rams' highflying offense without a touchdown, and silenced any lingering doubts about their ability.
The Titans are now 7-2 with some impressive recent wins, while the Rams are in danger of falling significantly behind the Cardinals in the NFC West. Let's break down what we just saw, and what it means moving forward:
Titans' defense is legit
For a long time, the perception was that the Titans had one of the worst defenses in the league. Not only is that completely untrue, they're trending toward being an upper-tier unit. First they held Patrick Mahomes and the Chiefs to just 3 points. Then they made Carson Wentz have easily his worst game as a Colt.
Finally, to prove they're legit and this recent run was no fluke, they dominated the Rams' offensive line on Sunday night. Matthew Stafford was routinely feeling pressure, and it's clear at this point that Mike Vrabel has an elite defensive line. Jeffrey Simmons is wrecking things up the middle, and they're getting plenty of outside rushing help from Harold Landry as well.
The secondary still has some question marks at corner, but safety Kevin Byard is playing at a really high level. What they did to Kansas City and Los Angeles in that span of just a few weeks is nothing short of incredible. If they're going to play like this on defense, the loss of running back Derrick Henry really might not hurt them too much.
Defensive coordinator Shane Bowens deserves a ton of credit for the creative stuff he's doing. After mostly dominating three very good offenses in a row, the Titans will get something of a reprieve next week against the Saints' more uninspiring passing game.
The Rams have real issues
It's not all sunshine and roses for Stafford and Sean McVay any more. Sunday Night Football signaled the official end of the honeymoon era. It also signaled potential significant issues that could rear their head in the near future. The Rams have been a media darling for the past couple of months, generating countless positive headlines.
But things were likely never as great as the 7-1 record suggested. Look at who they had played recently. Their previous 3 games before the loss to the Titans were against the Texans, Lions, and Giants. Remember, they very nearly lost to Detroit, too. Perhaps most notably, Tennessee exposed the problems the team has along the interior offensive line.
Stafford's numbers look great, but he's quietly struggled in some of the team's biggest moments. He was dreadful during the first half of their last primetime game against the Seahawks too. The interceptions he threw against Tennessee were inexcusable.
All that being said, there's no reason to panic for the Rams. They're still 7-2, and their defense is about to get another boost when Von Miller joins the lineup. That defense played really well on Sunday night, and the Titans scoring 28 points was pretty misleading as 14 of them came directly off Stafford's interceptions. They're still a Super Bowl contender, but Week 9 showed they have a lot to clean up and the coronation was premature.
Pickswise is the home of free NFL Picks and NFL Odds. Check out the latest NFL Prop Bets and NFL Parlays as well as expert NFL Underdog Picks and NFL Computer Picks.