NFL
Back
Super Bowl LV: Kansas City Chiefs Strengths, Weaknesses & What the Chiefs need to do to beat the Bucs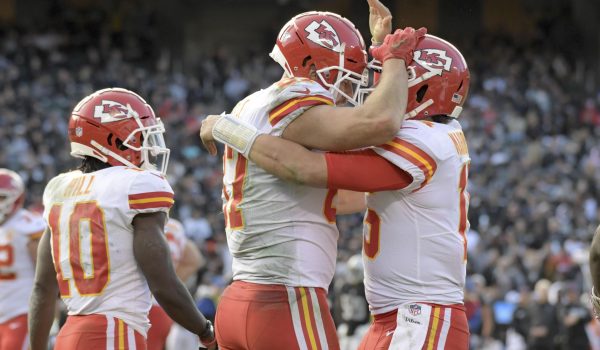 NFL
10:00AM
Tue 2nd February 2021

NFL
10:00AM
Tue 2nd February 2021
Phil Agius
See Bio
Phil Agius

@philagius
phil.agius@racingpost.com
I've been writing about the NFL and a host of other sports for the UK's top daily betting paper the Racing Post for more than 20 years. An incurable Browns fan (1-31 survivor), I also specialise in all kinds of motorsport betting including F1, MotoGP, IndyCar and NASCAR.
By Phil Agius

@philagius
phil.agius@racingpost.com
See Bio
I've been writing about the NFL and a host of other sports for the UK's top daily betting paper the Racing Post for more than 20 years. An incurable Browns fan (1-31 survivor), I also specialise in all kinds of motorsport betting including F1, MotoGP, IndyCar and NASCAR.
We are now just a handful of days away from Super Bowl 55 and a mouthwatering contest between the Kansas City Chiefs and the Tampa Bay Buccaneers. The oddsmakers expect a fairly even matchup with the Chiefs only favorites by a field goal, and it will be interesting to see how Patrick Mahomes fares against this relentless Bucs team headed by Tom Brady.
Make sure you check out our full-game preview for the Chiefs vs. Buccaneers, where we have our best picks on the side and total, but right now we're focusing on Kansas City.
Here is a breakdown of the five things the Chiefs need to do in order to beat the Bucs and win their second consecutive Super Bowl:
1. A solid performance from their depleted offensive line
One of the key factors behind the Chiefs' successful return to the Super Bowl was continuity and only one of their 22 starters in last year's victory against San Francisco — linebacker Reggie Ragland — is no longer associated with the team. 
But one area that has seen changes as the season has gone on is their offensive line, and they need their reshuffled lineup to hold up to allow their playmakers to perform.
Center Austin Reiter is the only member of the line set to start on Sunday who played in the same spot last season. 
Guard Laurent Duvernay-Tardif is a doctor who admirably became the first player to opt-out of this season in order to help fight the COVID-19 pandemic. Fellow guard Stefen Wisniewski had left to join Pittsburgh but was injured and is back in the Chiefs starting lineup via a spell on the practice squad. 
Both starting tackles are different, though. Mitchell Schwartz, one of the best right tackles in the league, has been out with a back problem since October, and left tackle Eric Fisher tore his Achilles in the AFC Championship game.
Journeyman Mike Remmers and Andrew Wylie, better known as a guard, are set to start in the tackle positions against the Buccaneers with Nick Allegretti at left guard. Their performances could be crucial to the outcome of the game.
2. Conjure up some Mahomes magic
It is almost taken for granted that Chiefs quarterback Patrick Mahomes will provide miracles whenever his team needs them, but lost in the euphoria of Kansas City's win last season was the fact that the Super Bowl had been one of his weakest games of the year.
Mahomes led the Chiefs back from 20-10 down to a 31-20 victory with three touchdowns in the final seven minutes against the 49ers, but it was only his 12th-best performance of the season according to QB rating.
The 25-year-old's magic touch gives his teammates an unshakeable belief that they are never out of a game, though. 
He has brought his team back from a deficit of nine points or more in four playoff games over the last two seasons and not only led them to victory but incredibly they won by 11 points or more each time.
.@Greek_Gambler delivers his insight as to when you should be placing your bets for this year's Super Bowl, where Mahomes and #ChiefsKingdom are currently favored by 3️⃣ points Vs. Brady and #GoBucs

Full episode here 👇https://t.co/HeHBJyiXVT pic.twitter.com/Hbr66YYTUr

— Pickswise (@Pickswise) January 29, 2021
3. Use Tom Brady's nemesis to their advantage
Tom Brady must be ecstatic to be playing in his 10th Super Bowl at the age of 43 after making the bold decision to leave New England last summer. But the one man he won't be happy to see on the opposing sideline is Kansas City's defensive coordinator Steve Spagnuolo.
Spagnuolo was with the New York Giants when their defense befuddled Brady and denied the Patriots a perfect 19-0 season in Super Bowl XLII in 2008.
After winning the big game for a second time in his first season with Kansas City last year, Spagnuolo got the better of Brady again in their regular-season meeting in Week 12, goading the veteran passer into throwing two interceptions.
He favors a blitz-heavy approach to put pressure on quarterbacks and could have success again with the Tampa Bay running backs not the best at assisting with blitz pick-ups.
4. Exploit their offensive depth
No defensive coordinator in the world would take the threat of Tyreek Hill and Travis Kelce lightly, nor ignore the skills of Chiefs running backs Clyde Edwards-Helaire and a fit-again Le'Veon Bell.
That should create opportunities for the less headline-grabbing members of the KC offense to make the most of their matchups against single coverage and the more vulnerable elements of the Tampa Bay defense.
Sammy Watkins, Mecole Hardman, DeMarcus Robinson, and Byron Pringle are the players likely to be toward the bottom of Tampa Bay's priority list for defensive attention but they are all capable of making a crucial game-changing play.
Hardman had four receptions for 58 yards in the Chiefs' opening playoff game against Cleveland and scored their first TD against Buffalo in the AFC Championship game, while also gaining 50 yards on a rushing play.
The Buccaneers have conceded TDs to secondary receivers in each game of their playoff run, with Washington's Steven Sims, Tre'Quan Smith of New Orleans (two), and Green Bay's Marquez Valdes-Scantling all scoring against them.
Leadership!

Kelce and Mahomes picked up Hardman after his muffed punt.

(Via @NFLFilms) pic.twitter.com/k2C4IqFN8r

— NFL UK (@NFLUK) January 26, 2021
5. Delve into Andy Reid's box of tricks
Give Kansas City head coach Andy Reid time to think and he will usually come up with something special.
Reid is famous for his awesome record when he has more than one week to prepare for a game and the Chiefs' serene progress this season means he may well have plenty of innovative plays up his sleeve ready for their first outing in the Super Bowl.
Reid has a career 19-3 record in matches following his teams' bye weeks during the regular season, and extended his stats to 6-2 following a playoffs bye with this year's divisional-round success over Cleveland.
An example of Reid's creativity came in last season's Super Bowl when running back Damien Williams was stopped at the one-yard line on a direct snap using a play inspired by one Michigan ran in the 1948 Rose Bowl game.
Tampa Bay had better watch out if Reid and offensive coordinator Eric Bieniemy have had time to get their heads together again.
Free Super Bowl 55 Picks and Predictions
Be sure to check out our full-game preview for the big matchup:
We also have plenty of expert articles to make sure you're fully informed before making your Super Bowl bets:
Pickswise is the home of free Super Bowl Predictions. Check out our free Super Bowl Prop Bets ahead of Super Bowl LV.
Last updated: Sun 7th February 2021