The Burning Question: Can the Raiders recover their season after Jon Gruden's departure?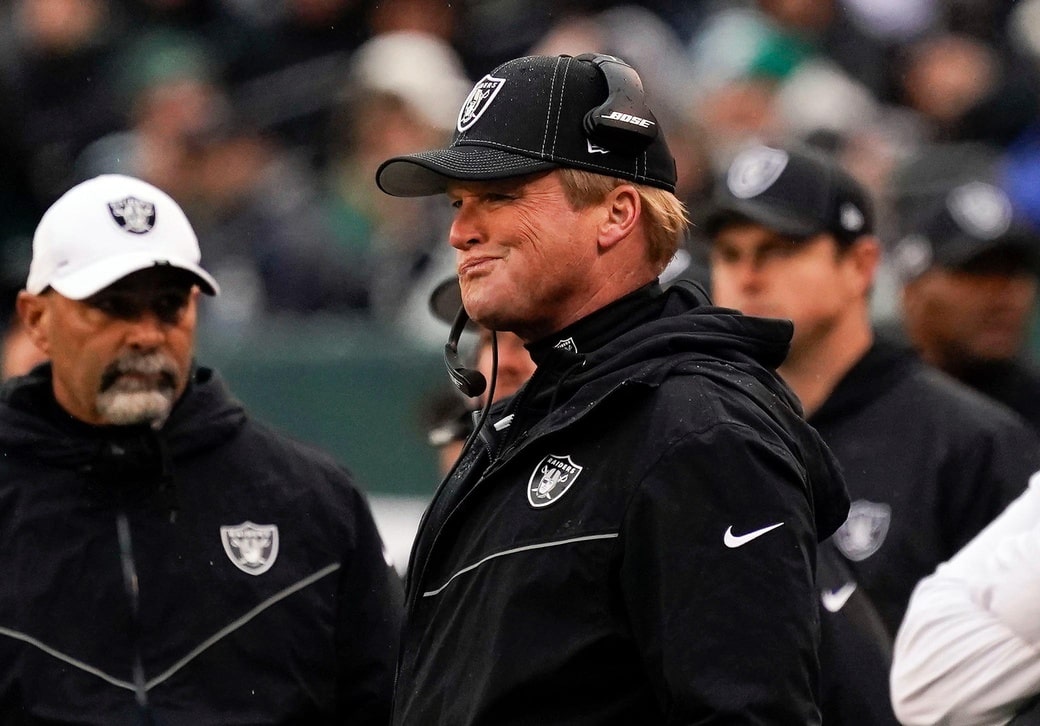 Welcome to The Burning Question, where three of our NFL experts give their thoughts on a big talking point coming out of the past week's football action.
Jon Gruden resigned as head coach of the Las Vegas Raiders on Monday night following a series of leaked e-mails. After starting their season 3-0, the Raiders have lost their last two and are now looking for a head coach. In between all of this, they have a tough divisional matchup this weekend on the road against the Broncos and will desperately be looking for some stability after such a bright start. The question is: can the Raiders recover their season now that Gruden has departed? Are they destined for another middling season without playoff football, or can the likes of Derek Carr galvanize the players and bounce back from this situation? Our NFL experts — Jared Smith, Andrew Ortenberg, and Ricky Dimon — give their thoughts on the Raiders.
Jared Smith: Don't count out Rich Bisaccia
The Raiders interim head coach has been on the staff for the last four seasons and has a ton of NFL experience previously with the Bucs, Chargers and Cowboys. Former Jaguars head coach Gus Bradley is also the defensive coordinator, and Greg Allen has been the offensive coordinator for the past four seasons under Gruden, so there is a ton of experience and continuity on this staff.
The Raiders looked flat on Sunday against the Bears, likely due to the impending axe the team knew was about to get dropped onto their head coach, but the laws of positive regression say they will bounce back with some emotion on Sunday in Denver. In fact, I would not be shocked at all if they escaped Mile High with a win, especially considering the state of the Broncos. Long term, it would be surprising if the Raiders finished the season above .500, but in the short term, I can see them being galvanized and actually playing better this week.
Find out Jared Smith's best early bets for Week 6 of the NFL season in his Early Birds column!
Andrew Ortenberg: No. No chance. Absolutely not.
I was already skeptical of the Raiders' early success, so I don't see any way they recover from this. Especially not in a brutal AFC West. They already lost at home to the Bears as a sizable favorite, before this scandal got blown wide open. Las Vegas has lost back-to-back games, failing to top 14 points in either of those contests.
They were already declining rapidly, and the shocking revelations about Gruden will just be throwing kerosene on an already raging fire. It's not just that the ongoing scandal will be a distraction to the team in the locker room, it'll also hurt them on the field.
From a football perspective, Gruden was one of the best parts of the team. It's been his play design and play-calling that led Derek Carr to progress like he did. Remember, before he got paired up with Gruden Carr was always pretty inefficient, and many were wondering whether he was actually a long-term starting quarterback in this league. I'd expect some significant regression from Carr, and this team will start to circle the drain pretty quickly.
Ricky Dimon: Stick a fork in 'em
I had been relatively bullish on the Raiders in recent weeks, but I am diving off the bandwagon and doing so without hesitation. A head coach abruptly leaving at this point in the season and in the fashion in which this particular one has done so is an unmitigated disaster. This isn't some wayward head coach on a struggling team getting canned in hopes of turning a franchise around. This is one of the most well-known coaches in the business whose team was in good enough shape at 3-2 through 5 weeks. And Jon Gruden was the Raiders. He was — or so we thought — a perfect fit for this franchise. A victory lap while high-fiving the fans following a Week 1 overtime win over Baltimore embodied everything about Raider Nation.
Fast forward a month and — despite a winning record — the ship has sunk. And it's not just because Gruden is gone. The Raiders have lost two straight games to the Chargers and Bears, scoring only 9 points last week against Chicago. Two of their wins have required OT, including one at home against Miami. This team was nothing more than average even with Gruden at the helm.
Throw in the fact that the Chargers are 4-1 and the only team that Las Vegas leads in the high-powered AFC West is Kansas City, and it's clear an uphill battle is fought. I can't see how this team finishes anything better than third in the division, and fourth (also behind Denver) is the likeliest result.
It's over.
Pickswise is the home of free NFL Picks and NFL Odds. Check out the latest NFL Prop Bets and NFL Parlays as well as expert NFL Underdog Picks and NFL Computer Picks.