Three things we learned from college football Week 2: The PAC 12 shines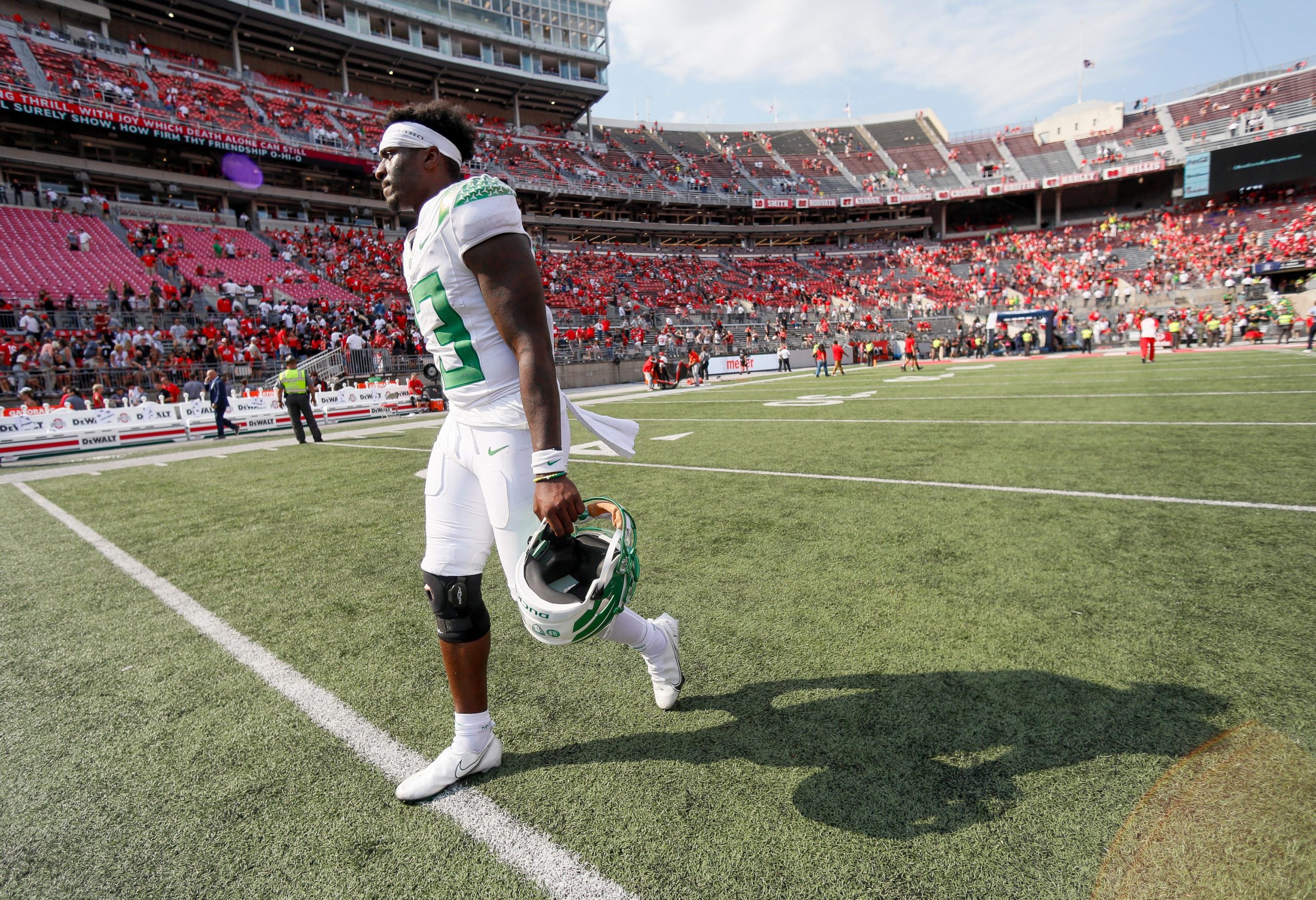 College football is officially back. Week 1 was so good, I wasn't sure how this Saturday would be able to live up to the lofty expectations. But it did. Week 2 brought just as much excitement, and there's a lot to digest. Hopefully your wagers went well. Lines for next week will be out soon, and we can't wait to dive into the Week 3 slate. But before we move on, let's break down what we just witnessed. Here we go:
Texas … isn't back
Texas was riding an epic high to begin the Steve Sarkisian era after an impressive opening win over Louisiana. The euphoria lasted all of one week. The Longhorns came crashing down to earth in Week 2, getting thoroughly embarrassed by Arkansas. We've heard seemingly a million premature declarations that Texas is back over the past handful of years, but we never learn our lesson. Last Saturday, redshirt freshman quarterback and five-star recruit Hudson Card was declared the savior of Texas football.
This Saturday, he went 8/15 for 61 yards and got benched. Easy come, easy go. Texas just got worked physically, getting gashed for 333 yards on the ground, allowing 7.1 yards per carry. There's a lot of football left to be played, but it's clear the hype got a bit out of control. Everyone understandably got excited, and carried away. Plenty of people placed ill-advised futures bets after Sarkisian's debut. Props to our very own Jared Smith for wisely abandoning ship and getting out with no damage…
I really appreciate @BetMGM keeping their cashout feature open during the games and giving me a full refund on this idiotic Texas future we made last week 🙃 pic.twitter.com/oBRkTF5FDm

— Jared Smith (@jaredleesmith) September 12, 2021
The PAC 12 shines
The PAC 12 had its moment, again. Last week the conference got a ton of great press from UCLA's win over LSU, and Oregon followed up this week with something even better. As underdogs of more than two touchdowns, the Ducks went into Columbus and shocked Ohio State. It wasn't all great for the PAC 12 (Washington is clearly headed for a down year), but what matters is the top line.
The conference has been a doormat and somewhat of a punchline the past few seasons, but it looks like Oregon may be able to get them some respect again. Colorado also had a strong showing, very nearly knocking off #5 Texas A&M as 17-point underdogs. It'll be very interesting to see whether oddsmakers adjust and start shading lines a bit toward PAC 12 teams as non-conference play winds down.
On the flip side, it might be time to panic for Ohio State fans. The Buckeyes struggled in the first half against Minnesota in Week 1, and that looks a lot worse now. Minnesota beat Miami (OH) by only 5 on Saturday. The defense just isn't as good as we're used to seeing, and they've given up at least 31 points in back-to-back games now. Ohio State has two games to get right against Tulsa and Akron before Big Ten play starts, but the margin for error is now zero. The Buckeyes still can make the College Football Playoff if they win out and take home the Big Ten title, but if they keep starting out so sloppily they won't come close.
Notre Dame's defense is a big issue
Speaking of big-time programs with defensive issues, it's time to sound the alarm on Notre Dame. The Fighting Irish were shaky in Week 1, letting Florida State hang around and almost upset them. They let the Seminoles run all over them despite not having much of a passing game, but recreational bettors weren't concerned. Notre Dame -17 was one of the heaviest public sides of the entire Week 2 slate.
Not only did they not even come close to covering that point spread, they were lucky to beat Toledo at all. They escaped with a 3-point victory, and trailed by 5 with barely more than a minute left in the game. Jack Coan has done a pretty good job taking over for Ian Book, but this defense is really troublesome. They gave up 29 points to Toledo the week after getting killed by Florida State in the running game.
For context, FSU just lost to FCS school Jacksonville State. The Fighting Irish are still in the top 10 for now, but a date with Wisconsin in a couple of weeks looms large. The Badgers have a ferocious rushing attack, and depending on what the line is I'm probably going to be looking to back Wisconsin there.