View from the Front Office Week 11: Why you shouldn't celebrate the NFL trade right away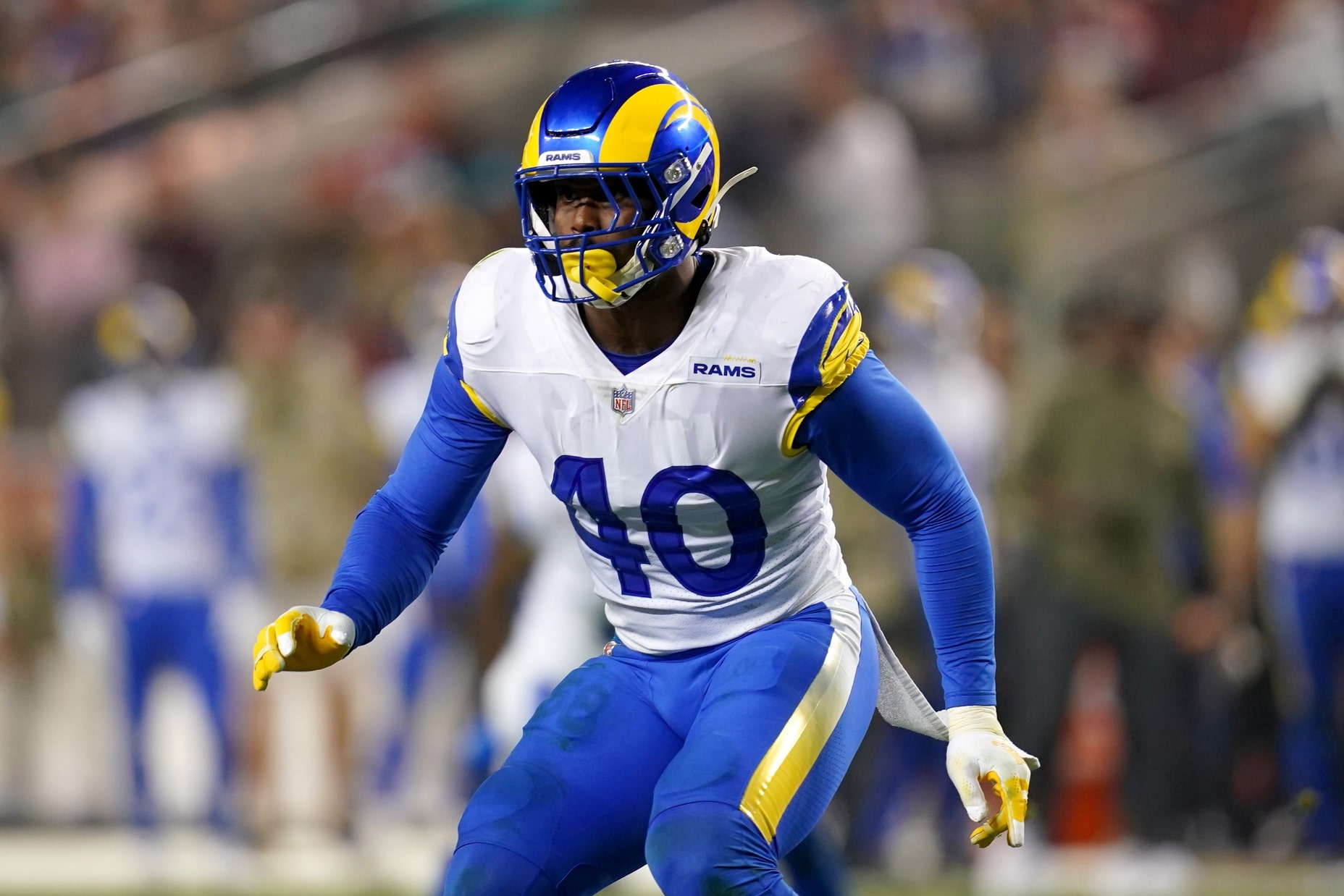 It always feels like a win for the front office when pulling off a trade or signing a big-name free agent, but acquiring the player does not always improve the team. Take it from me, be careful of celebrating the transaction before the results are proven on the field!
Right now, it is too early to judge the trade the Rams made for DE Von Miller and their signing of WR Odell Beckham. Neither made an impact in their first game on Monday night in the loss to San Francisco. The Panthers brought back QB Cam Newton which in my opinion seems like a desperate move, but Newton did produce in a limited role in their win against Arizona. Newton has not looked the same to me since his shoulder surgery at the end of 2018.
In Buffalo when I was Director of Player Personnel, we felt like we made two trades that were going to make a difference, but the results were minimal. In March 2014 we traded a sixth-round pick to Tampa Bay for WR Mike Williams, who our head coach Doug Marrone previously coached in college at Syracuse. Marrone was running around the hallways with joy announcing to the assistant coaches we acquired Mike Williams. In December of that year, we released Williams. He was always battling injuries and off-the-field issues that prevented him from producing on the field, and explained why Tampa was ready to deal him to us. 
In that same year in 2014, we traded for RB Bryce Brown from Philadelphia. Brown was 23 years old with size and speed that enamored us but was not getting carries with the Eagles playing behind Shady McCoy. In a game against the Chiefs, Brown had the ball punched out from his grasp when he was three steps away from scoring and we ended up losing that game. That was not the reason we lost but Brown took that hard and never recovered from that mentally. He was inactive for 10 of 17 games that we had him, and we waived him in September 2015.
The one trade that did work out for us during the season was sending QB Matt Cassel to Dallas for a future 5th-round draft selection. The Cowboys were in need after the injury to Tony Romo and Cassel was not playing for us after beating out by Tyrod Taylor. Cassel went 1-6 in his seven starts for Dallas, recording a 70.6 QB rating.
Just like you should not celebrate too hard on draft day, the same goes for trades and signings midway through a season. The production on the field will give you the answer to your question if the move was correct or not.
GM in the Sauna: Mayday for Mayock
The Raiders won their first two games after former head coach Jon Gruden was forced to resign, but since then have lost two straight which has forced GM Mike Mayock to enter the sauna.
After spending 14 years on NFL Network, Mayock was hired by Gruden to be the Raiders GM in December 2018. When I was on the road as a college scout for the Saints, I would always run into Mayock at Pro Days. He would ask a lot of questions, trying to understand the process, and you could tell that he had a passion for scouting. In no way did I know you could become an NFL GM without ever having worked for a team.
First-round draft picks define you as a GM. Mayock has made four first-round picks in his three drafts. In 2019 the Raiders selected DE Clelin Ferrell who is a backup right now after registering 6.5 career sacks. Mayock used his two first-round selections in 2020 on WR Henry Ruggs and CB Damon Arnette. Ruggs was released for his involvement in a tragic car accident and Arnette was released after a video appeared showing him threatening someone with a gun. The 2021 selection of tackle Alex Leatherwood has already been a disappointment and they have moved him to guard due to his pass=blocking struggles on the edge as a tackle. 
Raiders owner Mark Davis will have a busy off-season, especially if Vegas fails to make the playoffs. Even if Gruden remained as head coach he was likely to use Mayock as a scapegoat in my opinion, but with poor first-round selections and failure to make the postseason, Davis has validation to move on from Mayock and pair the next head coach with another general manager.
Top 5 QBs from Week 10
Josh Allen (BUF) – Allen answered questions about the Bills' struggles on offense, completing 75% of his passes for 366 yards. More importantly, he rediscovered star receiver Stefon Diggs.
Mac Jones (NE) – The rookie is becoming more than a system QB. The Patriots now rank 10

th

in yards per attempt and 4

th

in third-down conversion percentage, showing his improvement for the push to make the playoffs.

Jimmy Garoppolo (SF) – His timing and accuracy over the middle of the field kept the Rams on their heels all game in an impressive win for the 49ers.
Taylor Heinicke (WFT) – His toughness always stands out but this week he was accurate and consistent. Each time Tampa looked to gain momentum, Heinicke answered the score.
Dak Prescott (DAL) – After looking rusty in Week 9, Prescott appeared healthy and like an MVP candidate.
Bottom 5 QBs from Week 10
Mike White (NYJ) – The Bills' defense had White confused. He was under pressure and not making good decisions.
Jared Goff (DET) – Awful weather in Pittsburgh was no excuse. He is showing no arm strength or ability to sustain drives.
Colt McCoy (ARZ) – Relentless pressure from the Panthers caused McCoy to force throws. He did not look comfortable playing from behind.
Tom Brady (TB) – Strange to see him in the bottom, but it happens. Everyone has a bad game and that is what this was for Brady, who did not expose a poor WFT pass defense. 
Russell Wilson (SEA) – It looked like his first game back from an injury. He did not play fast or make throws that we are used to seeing from him, contributing to his first shutout in 10 years.
Jim Monos' NFL Week 11 picks
Dallas Cowboys +2.5 over Kansas City Chiefs (-110)
To beat the Cowboys you have to stop the run. The Chiefs rank 18th in rushing yards allowed per game but also rank 30th in passing yards per attempt on defense, which will not help them to stop Dak Prescott's play-action attack down the field.
Arizona Cardinals -2.5 over Seattle Seahawks (-110)
Whether it's Colt McCoy or Kyler Murray, they will not face pressure against a Seahawks defense who rank 31st in sack percentage on defense. The Cardinals can expose Seattle's 26th-ranked run defense to take some pressure off the QBs to make for manageable third downs. I do not think Russell Wilson is healthy enough to carry a very average Seattle team.
Pickswise is the home of free NFL Picks and NFL Odds. Check out the latest NFL Prop Bets and NFL Parlays as well as expert NFL Underdog Picks and NFL Computer Picks.