2022 NFL preview: LA Chargers futures, Super Bowl odds, predictions and best bets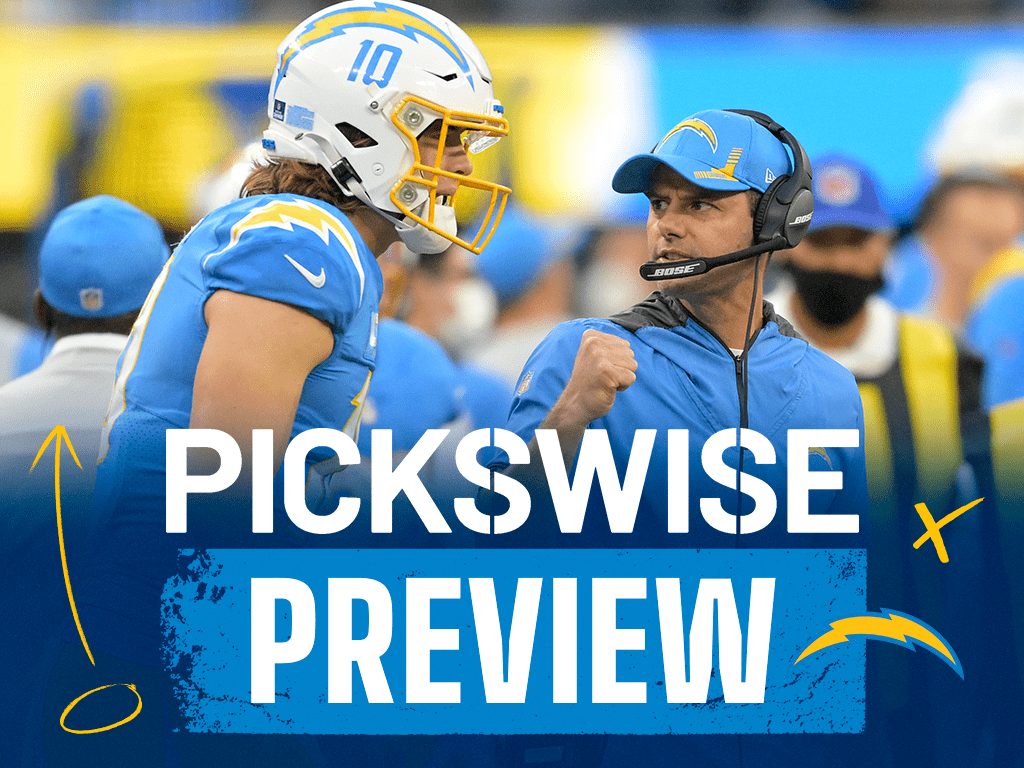 It's year 3 for Justin Herbert and expectations are sky-high. It was a let-down season for the Chargers in 2021 with several bad losses that left a bad taste in their mouth when the season was over, but Los Angeles added several key pieces to their defense for the upcoming campaign which should help immediately. The Chargers haven't played playoff football since the 2018 season, so is Herbert ready to get the Bolts back to the postseason in 2022?
Los Angeles Chargers breakdown
2021 record: 9-8
2021 ATS record: 8-9
2021 O/U record: 10-7
Key players in: Gerald Everett (TE), Khalil Mack (LB), Kyle Van Noy (LB), J.C. Jackson (CB)
Key players out: Justin Jackson (RB), Andre Roberts (WR), Jared Cook (TE), Oday Aboushi (OG), Michael Schofield (OG), Bryan Bulaga (OT)
2022 Draft class: Zion Johnson (OG), JT Woods (S), Isaiah Spiller (RB), Otito Ogbonnia (DT), Jamaree Salyer (OL), Ja'Sir Taylor (CB), Deane Leonard (CB), Zander Horvath (FB)
Los Angeles Chargers 2022 NFL season odds
Odds courtesy of DraftKings Sportsbook
Los Angeles Chargers Super Bowl odds
The Chargers have the 6th-best odds to win Super Bowl 57  at +1400.
Los Angeles Chargers AFC Championship odds
Los Angeles is the 3rd favorite to win the AFC at +750, trailing the Buffalo Bills (+300) and Kansas City Chiefs (+600).
Los Angeles Chargers AFC West odds
The Chargers are the second favorites to win the AFC West division with +220 odds, as Kansas City is the favorite at +175.
Los Angeles Chargers win total odds
The Chargers' win total is set at 10, with -135 odds on them to win 11 or more games in the 2022 NFL season, and +115 for them to win 9 or fewer games. If they win exactly 10 games, the bet will be ruled a push and stakes will be returned. They are -200 to make the playoffs for the first time since 2018 and +160 to miss out.
Head to our NFL Odds page for odds on all the main NFL betting markets
Los Angeles Chargers schedule 2022
vs Las Vegas Raiders, September 11
at Kansas City Chiefs, September 15
vs Jacksonville Jaguars, September 25
at Houston Texans, October 2
at Cleveland Browns, October 9
vs Denver Broncos, October 17
vs Seattle Seahawks, October 23
BYE
at Atlanta Falcons, November 6
at San Francisco 49ers, November 13
vs Kansas City Chiefs, November 20
at Arizona Cardinals, November 27
at Las Vegas Raiders, December 4
vs Miami Dolphins, December 11
vs Tennessee Titans, December 18
at Indianapolis Colts, December 26
vs Los Angeles Rams, January 1
at Denver Broncos, January 8
We'll have NFL picks for EVERY matchup of the 2022 season
Los Angeles Chargers 2021 season recap
The Chargers were the most inconsistent team in football last year. They had several excellent wins, including a season sweep over the Kansas City Chiefs and a 41-22 win over the Cincinnati Bengals, which made people wonder if the Chargers were a top 3 team in the AFC. But they also had their share of bad losses. Those notable defeats included a 34-6 loss to the Baltimore Ravens and somehow losing 41-29 to the Houston Texans. However, Justin Herbert shined in his sophomore season as he threw for over 5,000 yards and 38 touchdowns, which moved him up the ranks to being considered one of the best quarterbacks in the league.
Read our Super Bowl 57 predictions and best bets, including a +4500 longshot
Los Angeles Chargers 2022 NFL season predictions
In year 3, Herbert is expected to lead the Chargers back to the playoffs for the first time since 2018. Los Angeles has one of the most talented offenses in the NFL, with Herbert, Keenan Allen, Mike Williams and Austin Ekeler headlining the group. One of the bigger weaknesses the Chargers had in 2021 was their offensive line, which offered below-average protection to Herbert, so the Chargers made solving that problem their main priority. They used their first-round draft pick on Zion Johnson from Boston College to help bolster their offensive line, which should make an immediate impact in 2022. It won't be easy since they're in the AFC West with the Chiefs, Raiders and Broncos, but the Chargers are more than ready to make some noise in the west.
Best bet: Los Angeles Chargers over 10 wins (-135)
The Chargers' schedule features a lot of weak opponents, especially in the first half of the season. From Week 3 to Week 9, the Bolts play the Jaguars, Texans, Browns (without Deshaun Watson), Broncos, Seahawks and Falcons. That will be their easiest stretch of the season by far, but the Chargers should hopefully come out of that 6 game span with 6 wins if all goes well. That means Los Angeles only needs 5 more wins in 11 games which seems more than feasible for one of the best offensive teams in the NFL. 10 wins is attainable for the Bolts in 2022.
Los Angeles Chargers season record predictions
An 11-6 season seems the most realistic to me. An underdog win against the Chiefs or Rams could lead them to 12 wins, but that's hoping they get lucky in a few games. Winning 11 of their 17 games would put the Chargers in a great spot to end their playoff drought and grow Herbert's legacy.
Check out our best bets to win the AFC this season
Pickswise is the home of free expert NFL Picks and NFL Odds. Be sure to check out all of our season previews and NFL Futures Bets leading up to the 2022 NFL season.