Key Super Bowl Matchups That Will Decide The Kansas City Chiefs vs. Tampa Bay Buccaneers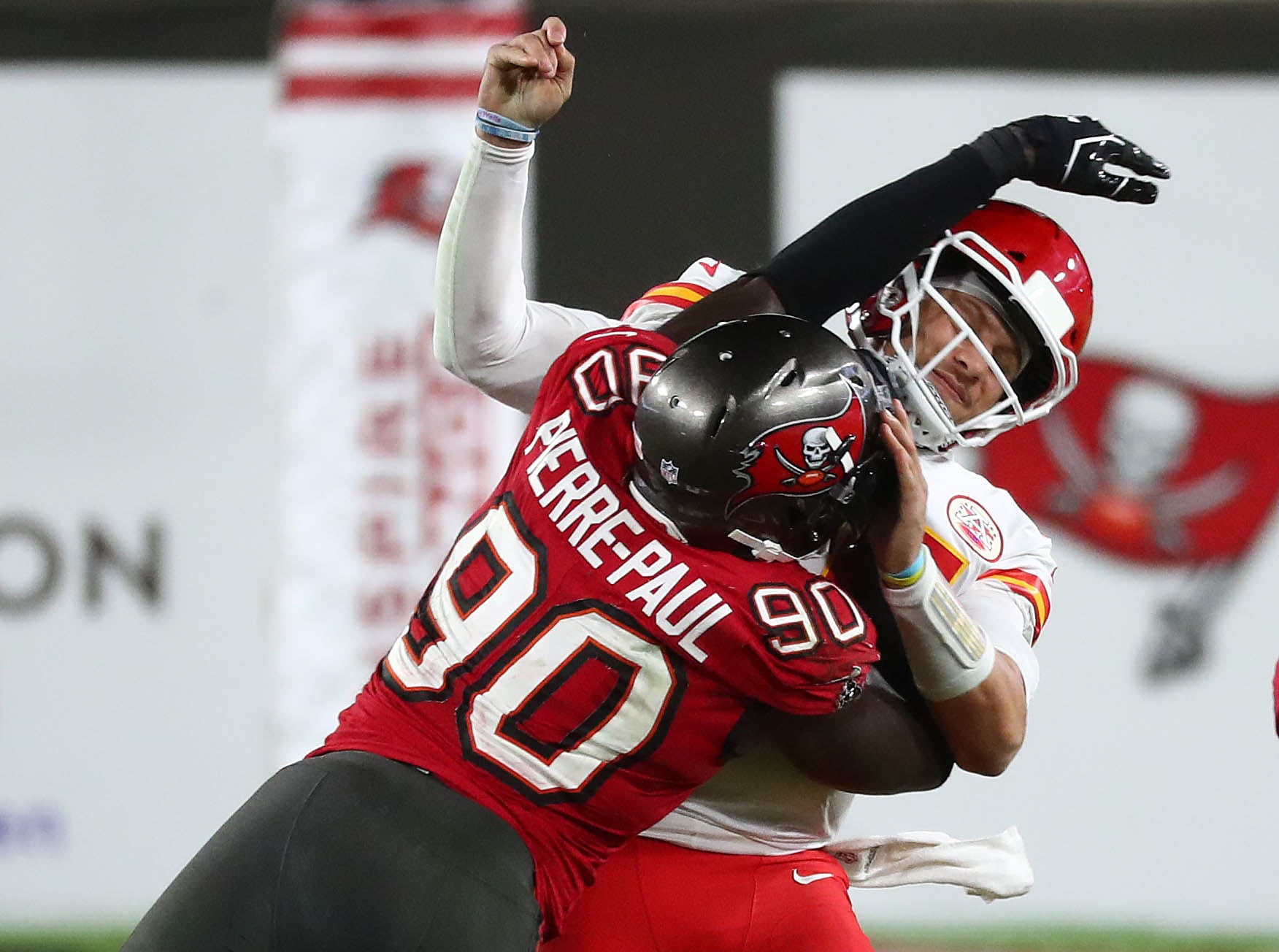 We're only a few days away now from Super Bowl LV. Patrick Mahomes and Tom Brady facing off once again in the playoffs as the Tampa Bay Buccaneers host the Kansas City Chiefs. Will Brady pick up his seventh Lombardi Trophy, or will Mahomes get his revenge for his loss in the AFC Championship Game two seasons ago?
It should be a great game, and we've of course got plenty of thoughts on the side and total which you can read in our full game preview. These teams have both come a long way since the beginning of the season, and there's a lot to break down. Football is the ultimate team sport, and an edge from any of the 22 guys on the field at the same time can dramatically shift the game.
With that in mind, today we'll be talking about some of the positional matchups, and how we see them playing out. Let's dive in:
Chiefs Offensive Tackles vs. Bucs Defensive Ends
This may be the most important positional matchup of the game. On Sunday, the Chiefs will become the first team in NFL history to play the Super Bowl without both of their starting tackles from Week 1. Left tackle Eric Fisher tore his Achilles in the AFC Championship Game, and right tackle Mitchell Schwartz is still sidelined with a back injury. That means it'll be backups Mike Remmers and Andrew Wylie filling in for the biggest game of the season.
Against a solid edge-rushing duo of Shaq Barrett and Jason Pierre-Paul, that could pose serious problems. Thankfully for the Chiefs, they've had a lot of time to prepare. They got the week between games to account for Fisher's absence, and they've been without Schwartz for months. Remmers has been a full-time starter in the league the past five seasons, and he's already started ten games in 2020, so it's not like he's some scrub.
Remmers will move from right tackle to left, while Wylie will be kicking out from guard to right tackle. Wylie has also been playing all season, so he's not being thrown to the wolves. I trust Andy Reid to scheme accordingly, and expect Kansas City to send plenty of help their way in the form of chips from tight ends and whatever else they need. I don't think this will be as big of a liability as some seem to expect.
Bucs Wide Receivers vs. Chiefs Cornerbacks
The Buccaneers had one of the most impressive receiving corps we've seen assembled in quite some time this season, with Mike Evans, Chris Godwin, Antonio Brown, Scotty Miller etc. It's unclear if Brown is going to play here, but even if he doesn't then the Chiefs' secondary will still have their hands full. Fortunately for Kansas City, it's a unit that I think is really underrated. Rookie corner L'Jarius Sneed has been extremely impressive, and I don't think he's going to be at all overwhelmed here.
The Chiefs also have Bashaud Breeland at cornerback, who has been playing really well this season. They'll also get plenty of help from teammates, including from roving safety Tyrann Mathieu, aka the 'Honey Badger', who is always a threat to make a big play. This is a unit that just completely shut down Buffalo's potent passing attack, so I don't think Evans and Godwin have any sort of mismatch in this one.
Tyrann has been ballin out this season 🍯🦡 @Mathieu_Era @Chiefs pic.twitter.com/g6eDmKW9TN

— The Checkdown (@thecheckdown) January 31, 2021
Bucs Offensive Line vs. Chiefs Defensive Line
The Chiefs obviously have the aforementioned issues with their offensive line, but I'm really interested to see how this matchup plays out as well. Tampa's offensive line has arguably been the unit most responsible for getting them to this point, as they've done an incredible job protecting Brady in the playoffs. Against Washington and their talented young defensive front in the wild card round, he was barely touched.
In the divisional round against a Saints team that also has a really tough defensive front, it was the same story. He was mostly sitting pretty against Green Bay as well. But Kansas City's pass-rush has really come alive in the playoffs, and I'm excited to see if they can keep it going. Frank Clark will be coming off the edge, but the thing I'd be most concerned about if I were a Bucs fan would be Chris Jones in the middle. Stud Bucs guard Alex Cappa went down against Washington, and he's been replaced by Aaron Stinnie.
Stinnie is a 2018 UDFA who had never started an NFL game before these playoffs. He's held up well against New Orleans and Green Bay, but Tampa hasn't faced a defense with someone like Jones coming up the middle. Brady often struggles with pressure up the gut, so this will be important to monitor.
Special Teams
It wouldn't surprise me if this game came down to special teams. Ryan Succop has enjoyed a late-career resurgence with the Bucs this season, while Harrison Butker has been shaky, particularly on extra points. Kick coverage will also be crucial here. Chiefs returner Mecole Hardman is obviously blazing fast, and if you'll recall the Bucs gave up a couple of huge punt returns early in their playoff game against the Saints.
One of those was a touchdown that luckily got called back on a questionable penalty. If their coverage units make a similar mistake here, Hardman will burn them. Of course, Hardman also muffed a punt in the AFC Championship Game against the Bills, and a gaffe like that here could cost them a Super Bowl.
Be sure to check out our full-game preview for the big matchup:
We've also got plenty of expert articles to make sure you're fully informed before making your Super Bowl bets:
Pickswise is the home of free Super Bowl Predictions. Our expert handicappers break down their best Super Bowl Picks, including our best free Prop Bets.