Jared Smith's "Back to the Futures" NFL odds analysis: Mac Jones now Rookie of the Year favorite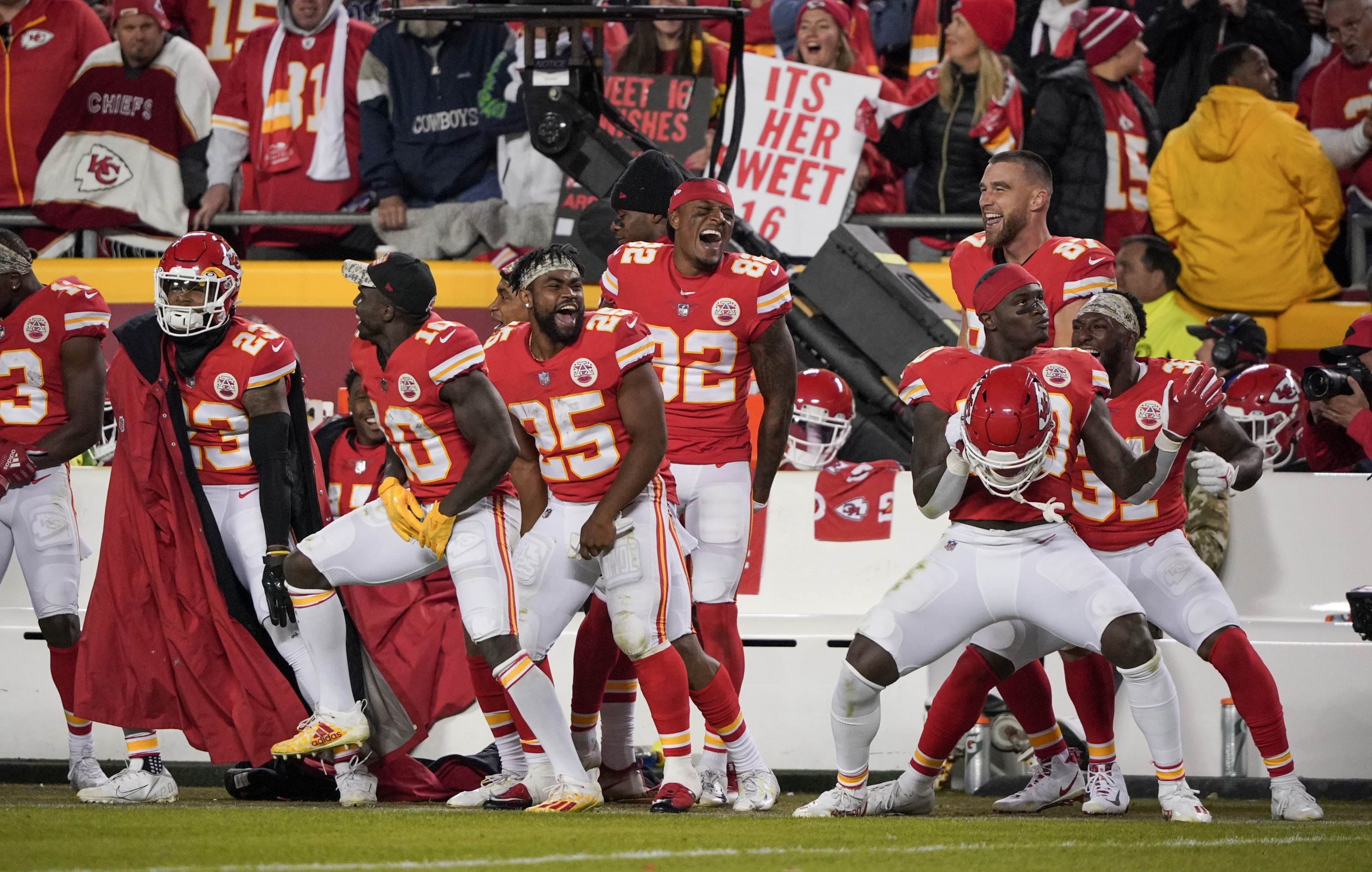 There was a shakeup at the top of the Super Bowl odds board this week, as four first-place teams (Bills, Cowboys, Packers, Titans) all lost outright. The Titans falling at home to the Texans as double-digit favorites was the biggest upset of the week, but the Bills getting blown out by the Colts had the most impact on the futures market.
At the Westgate SuperBook, Buffalo dropped from +600 to +1000 to win the Super Bowl, now the fourth favorite on the board. Kansas City will assume the role of AFC favorite heading into Thanksgiving week at +300, with Buffalo falling +280 to +500. More on the Chiefs in a moment, but first a post-mortem on the Bills — who are starting to show cracks in their once impenetrable armor.
"I really don't know how good this team is," said TwinSpires trading analyst Zachary Lucas. "A lot of concern right now with their rushing defense and they've beaten up on teams with bad records."
The Bills' strength of schedule is ranked 13th in the NFL so far this season, but. they lead the league in variance according to Football Outsiders, with a historically high rating. Their best win is over the Chiefs, which is looking stronger by the week, but their other five victories are against very sub-par opponents (Dolphins twice, Washington, Texans, Jets).
Buffalo's schedule will stiffen over the next month with two games against the Patriots and games against the Saints and Bucs. If the Bills struggle during that stretch and fail to win the AFC East, their odds will drop significantly — setting up a potentially difficult road to the Super Bowl.
"They could end up on the road in January, when you know how much they'd love to force a warm-weather team to play in Buffalo," said FoxBet commercial and integration specialist Jacob Blangstead-Barnor. "They are still a good team, if not for every other good team also having awful weeks I'd be more worried."
Not everyone is concerned with Buffalo, as WynnBET trader Sawyer Johnson feels that "this is the time to buy low on them" after dropping the Bills from +500 to +750 to win the Super Bowl. However, the mixed reaction by oddsmakers is enough to keep me away this week.
In the NFC, things are very tight at the top, with five teams priced  shorter than +500 at FanDuel to win the conference. For context, there are just two in the AFC. I asked oddsmakers this week to rank the Bucs, Packers, Cardinals, Rams and Cowboys, and each one gave me a different order. That lack of market separation is certainly puzzling at this stage of the season. FoxBet's Blangstead-Barnor says "normally by now, a team is around +300 for the Super Bowl" and WynnBET's Johnson believes the lack of a clear favorite to win league MVP is even more surprising.
"It almost seems like no player wants to win it," said Johnson. "My only guess is that players must have seen that the MVP hasn't won the Super Bowl in a long time."
Let's examine some other notable moves in the futures market, and whether or not I will be adding any new positions this week.
Mac Jones: +100 to win Offensive Rookie of the Year at FoxBet
It's been a steady climb up the board for Jones over the past month, and he has finally overtaken Ja'Marr Chase as the favorite to win the award. While Chase is having an elite rookie campaign, there has been a recent bias towards quarterbacks; a wide receiver has not won since Odell Beckham Jr. in 2014.
"Jones has been the best of a very poor quarterback showing from the rookies so far, and while Chase has been one of the top wide receivers in the league, we know there is a QB bias," said Blangstead-Barnor. "Zeke led the league in rushing and still didn't win it over Dak in 2016."
Back in September, I detailed my strategy on the OROY market, with heavy exposure to Jones, so I will not be adding to my position this week — or at all for the rest of the season. However, if you have no current exposure to this market you could do worse than betting Jones at even money considering I think his odds to win are better than a coin flip.
New England Patriots: +250 to +110 to win the AFC East at TwinSpires
The Pats were as long as +1000 to win the division at some shops just a few weeks ago, so this is a massive drop in a short period of time. Oddsmakers have taken notice, but are not ready to put them ahead of Buffalo.
"The Bills are still favored on a neutral field but it wouldn't surprise me to see New England beat them," said Lucas. "They've been rolling so it's hard to not start taking them seriously."
The Bills and Pats set to play twice over the next four weeks, and for that reason I expect these odds to fluctuate wildly. My advice if you are a believer in the Pats is to just bet them straight up against Buffalo. I'm passing for now.
Tennessee Titans: +1100 to +1600 to win the Super Bowl at WynnBET
The Titans were due for a letdown, as noted last week in our best bets column, and oddsmakers agree Tennessee's Super Bowl price was also overvalued after reeling off six straight wins.
"It's crazy how much recency bias is factored into some of these futures markets," said WynnBET's Johnson.
Considering the Titans are nearly a touchdown underdog in New England this Sunday, it's a good bet their odds will dip further before the schedule eases down the stretch with games against the Jaguars, Dolphins and Texans.
"I wouldn't downgrade them too much but it shows when Tannehill struggles and he doesn't have Henry to rely on, this team is very beatable," said Lucas. "I'm expecting Henry to return in time for the playoffs, which should give this team a much needed boost."
I have exposure on Tennessee to win the AFC at +650 from two weeks ago, and I'm comfortable with staying firm in that position.
Kansas City Chiefs: +1000 to +700 to win the Super Bowl at FoxBet
Four weeks ago I advised to buy low on the Chiefs at +1600 to win the Super Bowl and +700 to win the AFC. Since then, Kansas City has reeled off four straight wins and their defense is becoming a factor, ranked 8th in DAVE (weighted DVOA) by Football Outsiders this season. While oddsmakers agree the Chiefs deserve to have the shortest price of all the AFC contenders, there is still some debate about whether or not they are the best team in the conference.
"I think they are certainly the most experienced in the playoffs now compared to teams like Buffalo and Tennessee,"  said Blangstead-Barnor. "Weirdly enough, they are the only good team that hasn't lost to a pretty poor team."
The Chiefs' four losses this season have come to the Chargers, Titans, Bills and Ravens — teams with a combined record of 27-13. Meanwhile the other AFC contenders have all dropped stinkers. The Bills lost to the Jags, the Titans lost to the Jets and Texans, and both the Patriots and Ravens lost to the Dolphins.
"This conference is wide open," said Lucas. "Chris Jones has been huge and the newly revamped offensive line has looked a lot better. If their defense continues to dominate they'll be a tough out in the playoffs."
While the top seed in the AFC is very much up for grabs, I am confident Kansas City has the pedigree — and finally the defense — to pull away down the stretch. For that reason, I will be adding to my Super Bowl position this week.
The best odds I could find were +750 at DraftKings, and by adding another half-unit at that price, my new position will be a full unit priced at +1175 (0.5u at +1600, 0.5u at +750). In the finance world, we call this dollar-cost averaging, which is an investment strategy that divides up the total amount across periodic purchases, in an effort to reduce the impact of volatility of the overall position.
This Week's New Investments:
Chiefs to win Super Bowl +750 (0.5u at DraftKings)
Pickswise is the home of NFL Picks. Check out our latest playoff picks and round-by-round analysis as well as our free Super Bowl predictions.