Jared Smith's NFL Week 7 best bets and market insights: Brady batters Bears, Colts' resurgence continues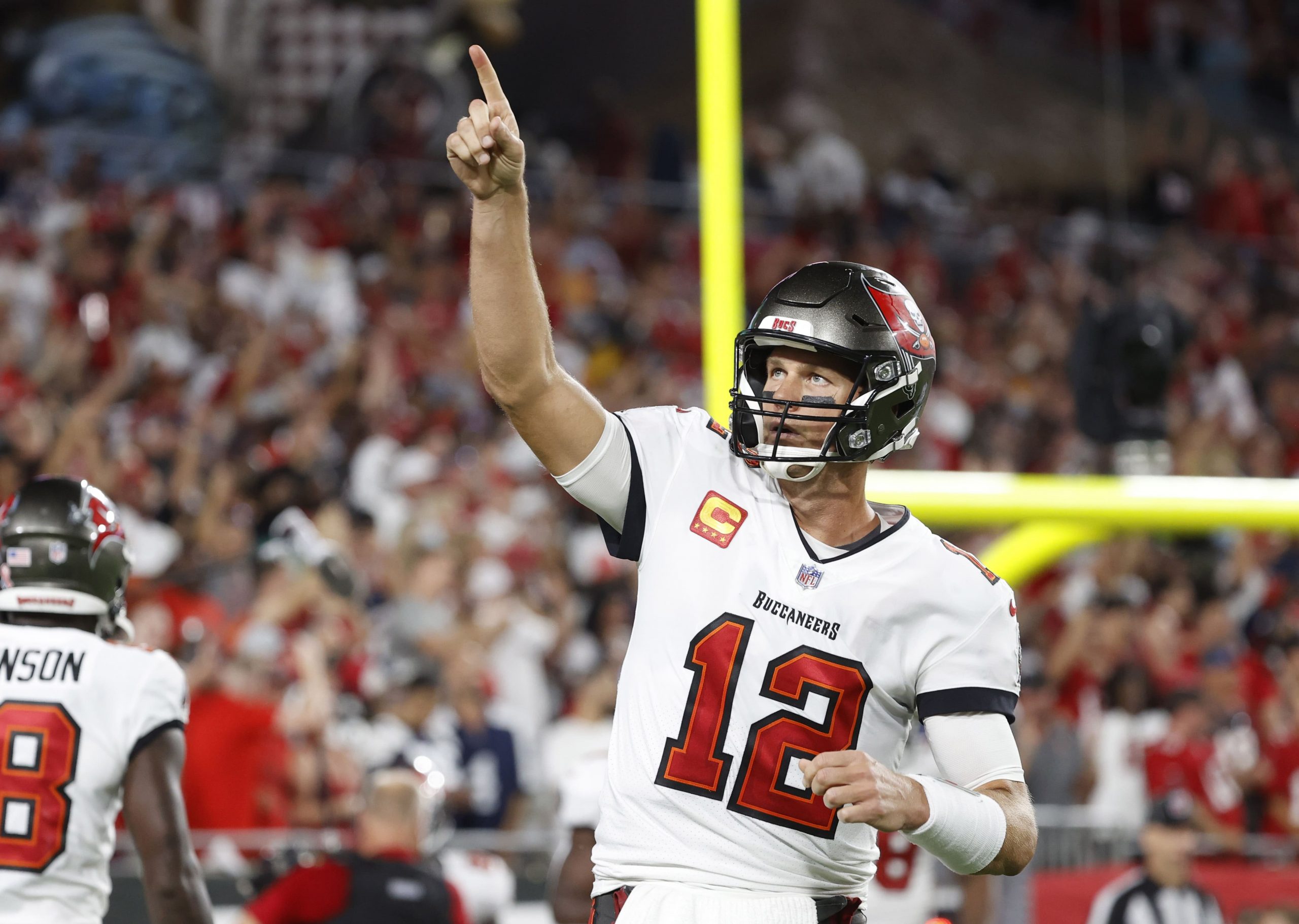 The Arizona Cardinals are the NFL's lone remaining unbeaten team in 2021, they are also the biggest favorite on the board this week. Arizona is laying a whopping 17.5 points to the Texans on Sunday, but bettors are unafraid of the chalk. WynnBET is reporting more tickets for Arizona than any other team in the early stages of the market cycle. TwinSpires also is seeing the handle skewed towards the Cards.
"The bets we have seen on Houston have been pretty small," said TwinSpires Trading Analyst Zachary Lucas. "I think this could be a good game to bet live if Arizona gets up 3-4 touchdowns and starts to rest players. With Green Bay next up on a short week, you have to figure they'll play conservative."
The Texans/Cardinals game is not on our list of best bets this week, but I'm not against a small play on Arizona, and to keep an eye on the live betting strategy for Houston, as mentioned above.
As for the official selections, last week was mediocre with a 3-3 record, and the Cowboys' crazy overtime cover against the Patriots cost us a winning week. You might notice some of my picks this week are pretty chalky, and some might consider them "square," but despite a small sample size, double-digit favorites are 5-2 ATS this season, so don't judge a book by its "cover" (pun intended).
Chicago Bears at Tampa Bay Buccaneers
Buccaneers -12
*Bet Wednesday at SuperBook, line widely available at time of posting
This line moved very quickly off the lookahead of Bucs -10 as the smart money is showing strong support for the defending champs. It makes sense on paper, Tampa Bay is allowing an absurdly low 54.8 rushing yards per game this season and has the most efficient offense in the league according to DVOA. Tom Brady is also aging like the finest of wines. The reigning Super Bowl MVP leads the NFL in passing yards and is trailing only Patrick Mahomes (by one) for the lead in passing scores.
"How can you not be on Tampa Bay? Their opponents have all but given up trying to run against its stout rush defense and the Buccaneers have a handful of offensive weapons," said WynnBet Senior Trader Grant Tucker.
It's also easy to fade the Bears, who are 29th in Net YPP and might be without one of their best defenders, Robert Quinn, who was put on the COVID list Monday. I would also not be surprised if Justin Fields had another rough performance against a strong defensive line like he did in his first start against the Browns four weeks ago when Chicago failed to find the end zone.
Be sure to check out our full game preview for Chicago Bears vs Tampa Bay Buccaneers
Detroit Lions at Los Angeles Rams
Rams -14.5
*Bet Tuesday at DraftKings, line widely available at time of posting
I know 14.5 is "a lot of points" but the talent gap in this game is truly massive, perhaps the biggest of any game this season. The media will hype up the Stafford vs Goff revenge angle, but bookmakers aren't putting any stock in that. What they are putting stock in: the players around both quarterbacks.
"It's intriguing that they are playing against their old teams, but I frankly don't think of it as much of a revenge spot for either quarterback," said Tucker. "Goff doesn't have any wide receivers to throw to, and the Rams' defense should have a field day. But, I'm sure Stafford will enjoy torching his old team with a bevy of options to connect with through the air. Simply put, I'll go with Stafford."
After the Bills' lackluster performance on defense Monday, the Rams have pulled even with Buffalo at the top of the Net Yards Per Play rankings, while the Lions are dead last. Los Angeles is also 4th in DVOA, Detroit is 27th. The smart money quickly pushed this through the key number of 14 from a lookahead of Rams -13.5, and I think it's playable up to 17.
Be sure to check out our full game preview for Detroit Lions vs Los Angeles Rams
Washington Football Team at Green Bay Packers
Packers -9.5
*Bet Tuesday at SuperBook, line widely available at time of posting
The optics of this game certainly favor Green Bay, as Washington is off a bad loss to the Chiefs and their injury report is robust, with key pieces like RB Antonio Gibson and WRs Curtis Samuel and Terry McLaurin all missing practice with various ailments.

"The Washington offense currently ranks in the bottom third of the league in efficiency. I am not too high on the Packers' defense, especially with the absence of Jaire Alexander. But, this could be a tough day for the Football Team," said Tucker. "Interestingly, we took a handful of notable wagers on Washington earlier this week at +9.5."
I don't love the idea of being on the other side of "notable wagers" but my eyes tell me Washington struggled to score against a weak Chiefs defense last week even with Patrick Mahomes gift wrapping two interceptions, so it's hard to see them putting up a big number on the road against the Packers. The backdoor will likely be open at Lambeau, but I'm not sure Taylor Heinicke (3 INT in last 2 games) will be able to get through it.

Be sure to check out our full game preview for Washington Football Team vs Green Bay Packers
Indianapolis Colts at San Francisco 49ers
Colts +4.5
*Bet Sunday at Unibet, line widely available at time of posting
The Colts have covered three straight and have looked very impressive doing so, erasing a lot of doubts about Carson Wentz in the process. The defense is banged up with three starters missing practice Wednesday (LB Darius Leonard, DE Kwity Paye, CB Rock Ya-Sin), and Julian Blackmon going down with an Achilles injury. However, DeForest Buckner is healthy and will get a crack at the team who traded him away for a first-round pick two years ago. Despite an 0-3 start and lots of injury concerns, the smart money continues to favor the Colts. 

"The sharps were on the Colts last season as well," said Tucker. "At this point, I feel like they have a bias toward Frank Reich. They have a great rushing attack and an above-average defense."
On the other side, the 49ers limp in having covered just once in their first five games, with major concerns at quarterback. It looks like Jimmy Garappolo will be healthy enough to play this week, but it will be his first action in three weeks, and he will be without security blanket TE George Kittle, who remains on IR. Up front, T Trent Williams and DT Javon Kinlaw both missed practice Wednesday, so despite coming off the bye, San Francisco is still relatively banged up.
6-point Teaser -120
Giants +9
Patriots -0.5
The Giants are in desperate need of a strong performance at home after getting blasted by the Rams last week, but they "have shown they can compete with the middle-to-bottom-tier teams," according to Lucas. They'll welcome the Panthers to MetLife Stadium in a homecoming of sorts for Sam Darnold. Carolina has lost three straight after a 3-0 start, and the former Jets quarterback is facing the first real adversity with his new team. It's not easy backing the Giants, who have looked truly dreadful at times, but in a low total game (42.5 at DraftKings), it is appealing to move the underdog through two key numbers.
The Jets offense has been wildly inconsistent this season with rookie gunslinger Zach Wilson wowing us at times, but also failing to do a lot of the little things well. That lack of attention to detail will likely cost him Sunday against a resurgent Pats defense ranked 11th in DVOA. It's also hard to forget Wilson's 4 INT performance in Week 2 against New England, continuing a trend of utter domination for Bill Belichick against rookie quarterbacks. In fact, a rookie has never won at Foxboro while Belichick has roamed the sidelines (13-0), and I can't see that happening this week.
Bonus 6-point Teaser -120
Packers -1.5
Colts +10.5
I detailed the specifics on the Packers earlier in this column, so I won't go into too much detail, but similar to the Jets and Zach Wilson, I just can't see Taylor Heinicke strolling into Lambeau and getting a win, so getting Green Bay under a field goal is an attractive option.
Also, please scroll up if you want to read again why I like the Colts in their matchup against the Niners, but I'll add that this game has a relatively low total in the mid-40's,  which makes it an ideal candidate for teasing through two key numbers.
—
Last week: 3-3, -0.30u (Sides: 2-3 / Totals: 0-0 / Teasers: 1-0)
2021 season: 20-16-1, +2.10u (Sides: 13-11-1 / Totals: 1-3 / Teasers: 6-2)
Pickswise is the home of free NFL Picks and NFL Odds. Check out the latest NFL Prop Bets and NFL Parlays as well as expert NFL Underdog Picks and NFL Computer Picks.