Monday Night Football reaction: Bills come down to earth, AFC is wide open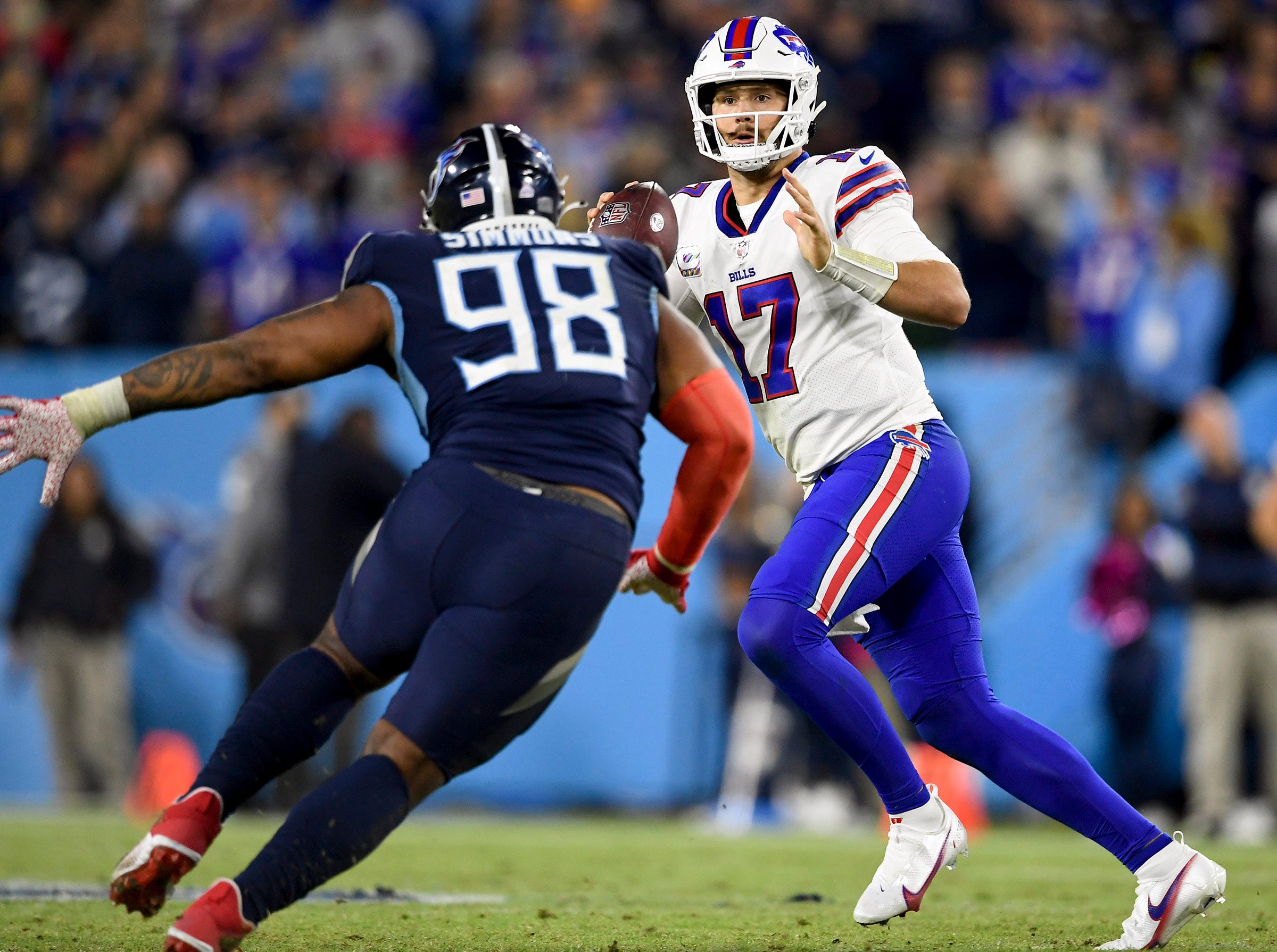 Another primetime game, another thrilling matchup that went down to the wire. The standalone games have been phenomenal this NFL season, and the finale of Week 6 certainly didn't disappoint. The Buffalo Bills and Tennessee Titans played in a shootout, with the Titans eventually emerging with a 34-31 victory.
It taught us several things, including that the Bills aren't invincible like some in the media had suggested, and that Derrick Henry is on his own planet as a runner. Let's digest what we just saw together, and what it means moving forward:
Bills aren't the team to beat, the AFC is wide open
The Bills started the 2021 campaign off with a big disappointment, a surprise loss at home to the Steelers as large favorites. Then they rattled off four straight wins, three of them lopsided and the other against the Chiefs. After the upset win over Kansas City at Arrowhead, Buffalo was quickly anointed the team to beat in the AFC.
Sportsbooks moved the Bills up to be the new favorites to win the Super Bowl. All of it was premature. I expressed some skepticism at the time, and I think my feelings have been validated. It turns out the Chiefs just had very real issues. And Kansas City was still able to move the ball almost the whole game in their loss to the Bills, they just shot themselves in the foot one too many times.
Don't get me wrong, this team is still great. Sean McDermott's defense just isn't as elite as some would have you believe. And that got exposed on Monday night. Their first four games were against Ben Roethlisberger, Jacoby Brissett, Taylor Heinicke, and Davis Mills.
Both the Chiefs and Titans scored on them with relative ease. All that leads me to the bottom line. The Bills very well may make it to the Super Bowl, but they shouldn't be considered a favorite. The truth is, the AFC is more wide open than ever before.
There are at least four teams who could all easily beat each other right now. The Chargers, Ravens, Bills, and Chiefs. It should be a fun ride the rest of the way, and home-field advantage is truly up in the air. If there's one takeaway from tonight, it's that we should never overreact too much to one game like everybody did with the Bills' win over the Chiefs.
TITANS (+220 ML) GET THE FOURTH DOWN STOP!

(Via @NFL)pic.twitter.com/chaXbfPNEc

— Pickswise (@Pickswise) October 19, 2021
Titans win, but I'm not too impressed
The public was all over the Bills as a six-point favorite, and then the Titans won outright. Tip your cap to Tennessee. They beat a Super Bowl contender as a sizable underdog, that's nothing to sneeze at. I'm just not too moved off my previous take on this team, which is that they aren't very good.
The secondary is extremely suspect, and it's also really banged up. Starting cornerback Kristian Fulton was out for this one, and fellow starting cornerback Caleb Farley had to be carted off during the game.
They don't have much of a pass-rush, and the coverage problems may only get worse. Tennessee has a somewhat comfortable two-game lead over the Colts in the AFC South, but I wouldn't be feeling too confident if I were a Titans fan.
Ryan Tannehill didn't look great tonight, and if the passing game has taken as big a step back as it appears to have, they can't count on Henry to bail them out every night. Julio Jones re-injured himself, and they have to play the Chiefs on a short week in Week 7. I'm not too optimistic about their prognosis moving forward. One narrow win over the Bills doesn't change that…
Pickswise is the home of free NFL Picks and NFL Odds. Check out the latest NFL Prop Bets and NFL Parlays as well as expert NFL Underdog Picks and NFL Computer Picks.