Monday Night Football reaction: Bucs win, and any win in the NFL these days is a good one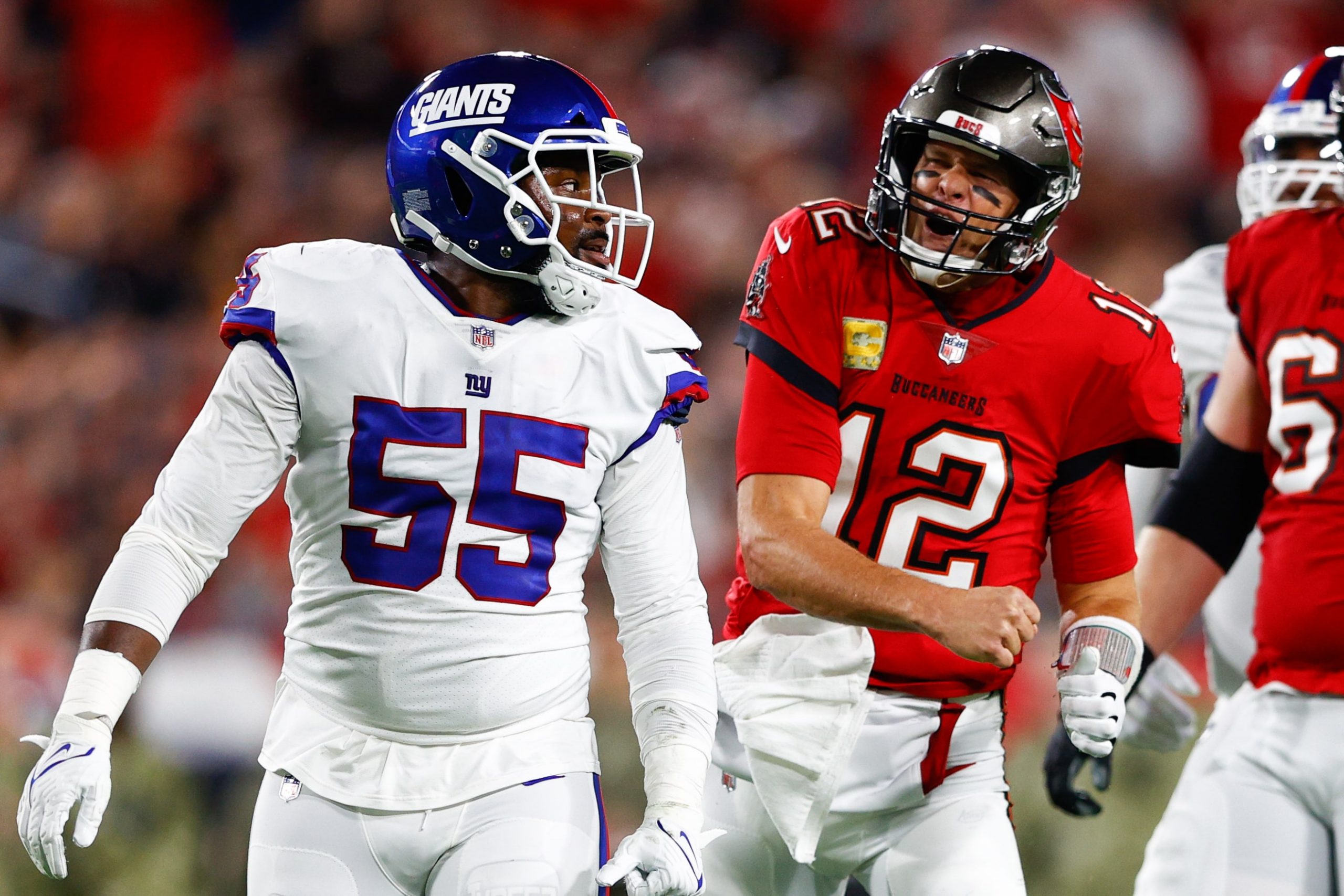 The Tampa Bay Buccaneers did what they were supposed to do and took care of business at home as -11 favorites over the New York Giants on Monday Night Football. There was nothing special about Tampa Bay's 30-10 victory, but if we have learned anything from this NFL season so far it's that any win is a good win. Just ask the Titans how much they would have liked a win over Houston in Week 11, or how much they would have liked a win over the Jets last month. Ask the Bills how much they would have liked wins over their last two opponents in the Jaguars and Colts.
So the Bucs got the job done, which is more than a lot of heavy favorites can say in 2021. There really isn't much to say about the game, as it produced few surprises and even less drama. Honestly I'm just glad I won my fantasy matchup. I trailed by 3.14 points going into Monday night with Saquon Barkley and Chris Godwin still to play while my opponent had Daniel Jones. Godwin propelled me into the lead by becoming the game's first touchdown scorer and I maintained it comfortably thanks in part to Jones' 2 late interceptions.
As for the game itself, let's recap what happened in Tampa Bay on Monday night and break down what – if anything — it means.
Still the champs
In any sport the defending champions are still the champions until they are eliminated the following year, and that has never been more true than it is with this particular NFL season. After all, the only thing we seem to know from the 2021 campaign is that there are no great teams. Thus it would be hard to argue against going with the team that won it in 2020, and that team is Tampa Bay. The Bucs are +275 favorites to win the NFC and +600 favorites to win the Super Bowl, and I think it's deserved. They are now tied with Dallas and Green Bay in the loss column (3) and have just one more than a banged-up Arizona's squad that has been without Kyler Murray and DeAndre Hopkins in recent weeks.
With Godwin, Tom Brady, Mike Evans, Antonio Brown, Rob Gronkowski, Leonard Fournette, and Ronald Jones II, Tampa Bay's offense has playmakers all over the field. Its defense is getting healthier and just limited New York to 215 total yards.
On paper this team is the best. Now – as other top teams flounder – it's starting to be the same on the field.
Anyone have a Chris Godwin (+800 to score first TD) ticket?

(Via @NFL)pic.twitter.com/3mKl75z2V8

— Pickswise (@Pickswise) November 23, 2021
Time to start giving Barkley more reps
Saquon Barkley returned from an ankle injury for the first time since Week 5. It's true that he wasn't especially effective against Tampa Bay's stout run defense, but neither was anyone else on New York's offense and therefore he should have got more touches (I'm not saying that just because I had him in fantasy). Even if you can't run the ball, you still have to try just to keep the defense honest. The Giants kept it on the ground 13 times on Monday, while Jones attempted 38 passes. What is basically a 3-to-1 pass-to-run ratio isn't the answer. And Barkley averaged a respectable 4.2 yards per attempt, so it's not like he was entirely hopeless.
At 3-7, the Giants are out of it. Now they can focus on playing the spoiler role, and in the next 5 weeks they face NFC East rival Philadelphia twice and Dallas once. Let's hope New York showcases a more balanced offensive attack in those contests.
Pickswise is the home of free NFL Predictions  and NFL Odds. Check out the latest NFL Prop Bets and NFL Parlays as well as expert NFL Underdog Picks and NFL Computer Picks.